Note: Supplemental materials are not guaranteed with Rental or Used book purchases.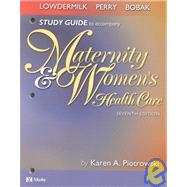 Maternity and Women's Health Care
ISBN13:
9780323011808
by
Piotrowski, Karen A.
Elsevier Science Health Science div
Related Products
Summary
This outstanding study guide features chapter review activities and critical thinking exercises to test the student's knowledge and content, as well as their critical-thinking and problem-solving skills. Content follows Maternity & Women's Health Care by Lowdermilk chapter-by-chapter.
Table of Contents
UNIT ONE: INTRODUCTION TO MATERNITY AND WOMEN'S HEALTH CARE

| | |
| --- | --- |
| | Contemporary Issues in Maternity and Women's Health Care |

1
(4)
5
(8)
13
(6)

| | |
| --- | --- |
| | Alternative and Complementary Therapies |

19
(4)
UNIT TWO: REPRODUCTIVE YEARS

| | |
| --- | --- |
| | Health Promotion and Prevention |

23
(8)
31
(14)

| | |
| --- | --- |
| | Common Reproductive Concerns |

45
(10)

| | |
| --- | --- |
| | Sexually Transmitted Diseases and Other Infections |

55
(10)

| | |
| --- | --- |
| | Contraception and Abortion |

65
(10)
75
(8)
83
(8)
91
(6)

| | |
| --- | --- |
| | Structural Disorders and Neoplasms of the Reproductive System |

97
(8)
UNIT THREE: PREGNANCY

| | |
| --- | --- |
| | Conception, Fetal Development, and Genetics |

105
(8)

| | |
| --- | --- |
| | Anatomy and Physiology of Pregnancy |

113
(10)

| | |
| --- | --- |
| | Maternal and Fetal Nutrition |

123
(8)

| | |
| --- | --- |
| | Nursing Care During Pregnancy |

131
(12)
143
(8)
UNIT FOUR: CHILDBIRTH

| | |
| --- | --- |
| | Labor and Birth Processes |

151
(10)
161
(8)
169
(8)

| | |
| --- | --- |
| | Nursing Care During Labor |

177
(12)
UNIT FIVE: POSTPARTUM
189
(6)

| | |
| --- | --- |
| | Assessment and Care During the Postpartum Period |

195
(10)
205
(8)
UNIT SIX: THE NEWBORN

| | |
| --- | --- |
| | Physiology and Physical Adaptations of the Newborn |

213
(10)

| | |
| --- | --- |
| | Assessment and Care of the Newborn |

223
(10)

| | |
| --- | --- |
| | Newborn Nutrition and Feeding |

233
(10)
UNIT SEVEN: COMPLICATIONS OF CHILDBEARING

| | |
| --- | --- |
| | Assessment for Risk Factors |

243
(10)

| | |
| --- | --- |
| | Hypertensive Disorders in Pregnancy |

253
(8)

| | |
| --- | --- |
| | Antepartal Hemorrhagic Disorders |

261
(8)

| | |
| --- | --- |
| | Endocrine and Metabolic Disorders |

269
(5)

| | |
| --- | --- |
| | Medical-Surgical Problems in Pregnancy |

274
(13)
287
(6)

| | |
| --- | --- |
| | Mental Health Disorders and Substance Abuse |

293
(8)
301
(6)

| | |
| --- | --- |
| | Labor and Birth Complications |

307
(10)
317
(6)
UNIT EIGHT: NEWBORN COMPLICATIONS

| | |
| --- | --- |
| | Acquired Problems of the Newborn |

323
(8)

| | |
| --- | --- |
| | Hemolytic Disorders and Congenital Anomalies |

331
(8)

| | |
| --- | --- |
| | Nursing Care of the High Risk Newborn |

339
(10)
349
(6)
Answer Key
355