Note: Supplemental materials are not guaranteed with Rental or Used book purchases.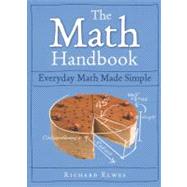 The Math Handbook: Everyday Math Made Simple
ISBN13:
9781848661653
by
Elwes, Richard
Summary
This is the perfect introduction for those who have a lingering fear of math. If you think that math is difficult, confusing, dull or just plain scary, then The Math Handbookis your ideal companion . Covering all the basics including fractions, equations, primes, squares and square roots, geometry and fractals, Dr. Richard Elwes will lead you gently towards a greater understanding of this fascinating subject. Even apparently daunting concepts will be explained simply, with the assistance of useful diagrams, and with a refreshing lack of jargon. So whether you're an adult or a student, whether you're the sort of person who does Sudoku puzzles, crosswords, or has always been daunted by numbers at work, school or in everyday life, you won't find a better way of overcoming your nervousness about math and learning to enjoy this most amazing of human discoveries.
Table of Contents
Introduction
p. 3
The language of mathematics
p. 4
Addition
p. 11
subtraction
p. 18
Multiplication
p. 24
Division
p. 35
Primes, factors and multiples
p. 44
Negative numbers and the number line
p. 50
Decimals
p. 57
Fractions
p. 66
Arithmetic with fractions
p. 73
Powers
p. 80
The power of 10
p. 86
Roots and logs
p. 95
Percentages and proportions
p. 102
Algebra
p. 110
Equations
p. 117
Angles
p. 124
Triangles
p. 132
Circles
p. 140
Area and Volume
p. 148
Polygons and solids
p. 156
Pythagoras' theorem
p. 166
Trigonometry
p. 174
Coordinates
p. 182
Graphs
p. 188
Statistics
p. 197
Probability
p. 205
Charts
p. 212
Answers to quizzes
p. 220
Index
p. 222
Table of Contents provided by Ingram. All Rights Reserved.