Note: Supplemental materials are not guaranteed with Rental or Used book purchases.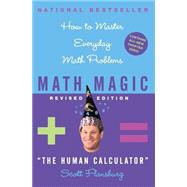 Math Magic: How to Master Everyday Math Problems
ISBN13:
9780060726355
by
Flansburg, Scott
HarperCollins Publications
Questions About This Book?
What version or edition is this?
This is the Revised edition with a publication date of 3/26/2010.
What is included with this book?
The New copy of this book will include any supplemental materials advertised. Please check the title of the book to determine if it should include any CDs, lab manuals, study guides, etc.
Summary
Don't live in fear of math any longer. Math Magic makes math what you may never have imagined it to be: easy and fun! Scott Flansburg -- "the Human Calculator" who believes that there are no "mathematical illiterates," just people who have not learned how to make math work for them -- demonstrates how everyone can put their phobia to rest and deal with essential every-day mathematical calculations with confidence. This is the book for millions of otherwise successful adults who are afraid to balance their checkbooks and don't know how to figure interest on savings or credit, and for the millions of students who dread their math classes and live in fear of the SAT math section. In Math Magic, Scott Flansburg shows the reader how to: Master the basics, including the real way addition, subtraction, multiplication, and division work Simplify calculations through estimation Quick-check answers Convert metric measures to more familiar ones Figure tips, taxes, and percentages -- never get short-changed again! Master algebra using the nine easy steps to algebra Math Magic is for all of us who need and want to improve our understanding of math. With the help of Flansburg, the Guinness World Record holder as the Fastest Human Calculator, you can do math just like magic.
Table of Contents
Introduction
xiii
1
(4)

| | |
| --- | --- |
| | Five Keys to Human Calculating |

5
(6)
11
(15)
26
(13)

| | |
| --- | --- |
| | Complementary Multiplication |

39
(17)
56
(8)
64
(16)

| | |
| --- | --- |
| | A Hatful of Multiplication Tricks |

80
(17)
97
(12)
109
(13)

| | |
| --- | --- |
| | A Hatful of Division Tricks |

122
(15)
137
(7)
144
(9)
153
(26)
179
(14)

| | |
| --- | --- |
| | PART III HANDY THINGS TO KNOW |

| | |
| --- | --- |
| | Simplifying Math by Estimating |

193
(7)
200
(18)
218
(10)
228
(9)

| | |
| --- | --- |
| | PART IV MATH IN REAL LIFE |

237
(6)

| | |
| --- | --- |
| | Time: Jet Lag, Military Hours, Telling Time |

243
(11)

| | |
| --- | --- |
| | How Big Is the Back Forty? |

254
(27)
281
(19)

| | |
| --- | --- |
| | A Test of Your Human Calculating |

300
(13)
313
(5)
318
(1)

| | |
| --- | --- |
| | Tables of Weights and Measures |

318
(3)
321
(1)

| | |
| --- | --- |
| | Conversion Table---Metric and English Systems |

322
(1)

| | |
| --- | --- |
| | Compound Interest, Annuities, Sinking Funds, Amortization |

323
(1)

| | |
| --- | --- |
| | Squares, Cubes, Square Roots, Cube Roots of Numbers |

324
(9)
333
Excerpts
Math Magic Revised Edition
How to Master Everyday Math Problems
Chapter One
Five Keys to Human Calculating
Math becomes a lot easier when you understand a few basic principles, some or all of which you probably learned in school. But because most of us are taught to add and subtract backward -- right to left, instead of left to right -- the real significance of these principles and their use may have escaped you. Let's start with a simple question:
What Do Numbers Really Mean?
A number's meaning is found from the order in which we write down its digits. The digits of a number are those figures that, like letters in a word, make up the total.
For example, 8,976 contains four digits.
The value of a number depends on how many digits it contains. A single digit means its value is somewhere between one and nine. More than one digit (in numbers such as 10, 28, 427, or 8,976) represents more than nine things.
A one-digit figure is called the ones or units when it's part of a larger number, and we write it on the far right side of the number: 8,976. When we write the number there, we say we are placing it in the "ones column" or "units column." In this number, the 6 means there are six ones in 8,976.
A two-digit figure stands for ten or more. It means you can count as many tens in the number as the left digit says. For example, 20 holds two tens; 28 has two tens and eight ones. In a larger number, we write the digit that counts the tens just left of the ones digit: 342 has four tens and two ones. Using our example number, 8,976, picture what this number contains by counting to the tens digit (the 7 in 8,976) by tens: ten, twenty, thirty, forty, fifty, sixty, seventy. It has seven tens and six ones: 8,976.
Three digits stand for one hundred or more. After seeing how tens work, you get the idea: The number 136 contains one hundred, three tens (or "thirty"), and six ones (the digit "six"). And 554 stands for five hundreds plus five tens ("fifty") plus four ones ("four"). We write hundreds in the third column from the right, just to the left of the tens. Using our example number again, 8,976, we find it contains nine hundreds: 8,976. As we work from right to left, we separate each three digits with a comma: 1,876,325. This helps make the larger numbers easier to read.
Thousands are written in the fourth column from the right (to the left of the hundreds), and of course they stand for how many thousands a number contains. The enormous 1,876,325 has six thousands, found in the fourth from the right column. In our example, the number of thousands is eight: 8,976.
So it goes toward infinity. As you read from right to left, you come to ten thousands, hundred thousands, millions, and so forth. The figures in each of a number's columns are called its place values: 8, 9, 7, and 6 are place values. Remember that term.
Thinking from Most to Least Important
When students first learn to add, they start with ones. Maybe that's why in school we learn to add larger numbers right to left -- from ones to tens to hundreds -- instead of the more logical way, from left to right -- from the biggest digits to the smallest ones. But the way you learned to calculate in the second grade is not the only way, or even the best way, to add and subtract.
Instead, you may find it easier to work from left to right, in the same direction that you read plain English. If you understand that the first digit you see -- the figure on the left -- means that a number contains so many thousands, or so many hundreds, or so many tens, you can estimate at a glance how many thousands (or hundreds, or tens, or whatever) the sum of several numbers will contain.
Think of it in terms of dollars and cents. Suppose you wanted to add
Big numbers
4,823
2,762
1,827

Dollars and cents
$48.23
$27.62
$18.27

Pennies and dimes don't make much difference when you're dealing with twenty- and fifty-dollar bills. In larger numbers, the ones and the tens are like pennies and dimes.
So, start with the important numbers! Look at the digits on the left: 4 plus 2 plus 1 equal 7. In the first list of numbers, that stands for thousands: 7,000. You know your answer can't be less than 7,000, and -- sneaking a peek at the hefty numbers in the hundreds column -- it probably won't be more than 9,000. Over in the money list, the 7 stands for seven tens or 70. The big bucks there add up to no less than $70, and a few pennies on the right of the decimal point are just pocket change.
The Human Calculator's System for Marking Place Values
In this book, I will use one or more Os in parentheses to mark places that I want you to keep in mind. For example, if we're working with digits in the hundreds column and we don't want to forget the tens column and the ones column, I will write the number as 1(00). If we're working in the thousands column, I might write something like 2(000). The Os in parentheses mark the places of the other columns.
Pretty easy to understand, isn't it! You've just discovered two of the five keys to becoming a human calculator, and it hardly hurt at all. The idea that the value of a number falls into different columns of digits is called place value. Using that idea to guess at how much a bunch of numbers adds up to is called estimation...
Math Magic Revised Edition
How to Master Everyday Math Problems
. Copyright © by Scott Flansburg. Reprinted by permission of HarperCollins Publishers, Inc. All rights reserved. Available now wherever books are sold.
---

Excerpted from Math Magic Rev Ed by Scott Flansburg, Victoria Hay
All rights reserved by the original copyright owners. Excerpts are provided for display purposes only and may not be reproduced, reprinted or distributed without the written permission of the publisher.