Note: Supplemental materials are not guaranteed with Rental or Used book purchases.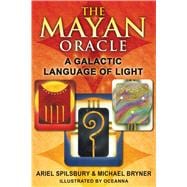 Summary
A hands-on tool to harness the potential for spiritual growth surrounding the end of the Mayan calendar in 2012. The set consists of 44 colour divination cards and a 320-page, illustrated, in-depth guide.
Author Biography
Ariel Spilsbury is a spiritual counselor guided by the wisdom of the Maya and the Mayan Oracle. She is a planetary midwife whose focus is on expanding consciousness, building the Sanctuary of the Open Heart, and honoring the Divine Feminine. The author of The Alchemy of Ecstasy and The 13 Moon Oracle, she lives in San Francisco, California. Michael Bryner (1950-2000) was a holistic therapist and spiritual counselor and teacher with an interest in Mayan esotericism and shamanism.
Table of Contents

To All Who Enter Here

Acknowledgments

Preface to the Second Edition: The Road of Awe

Preface to the First Edition: "We Have Come to Ease the Way"

Part One. About the Oracle

An Introduction to a Galactic Language of Light
How to Use the Oracle
Prayer and Meditation
Mayan Oracle Spreads
Star-Glyph Insight Games

Part Two. Oracle Interpretations

The Star-Glyphs
Imix
Ik
Akbal
Kan
Chicchan
Cimi
Manik
Lamat
Muluc
Oc
Chuen
Eb
Ben
Ix
Men
Cib
Caban
Etznab
Cauac
Ahau

The Numbers
One: Unity
Two: Polarity
Three: Rhythm
Four: Measure
Five: Center
Six: Organic Balance
Seven: Mystical Power
Eight: Harmonic Resonance
Nine: Greater Cycles
Ten: Manifestation
Eleven: Dissonance
Twelve: Complex Stability
Thirteen: Universal Movement

The Lenses
Language of Light
Shadow
Resolution of Duality
Adventurer's Quest
Realm Shift
Hologram
Transformer
New Myth
Dreamer and Dreamed
Transparency
Portal of Transcendence

Part Three. The Journeyer

A Deeper Look at the Archetypal Star-Glyphs
Imix
Ik
Akbal
Kan
Chicchan
Cimi
Manik
Lamat
Muluc
Oc
Chuen
Eb
Ben
Ix
Men
Cib
Caban
Etznab
Cauac
Ahau

The Oracle at a Glance
The Star-Glyphs
The Numbers
The Lenses

Index of Shadow Wisdom

Psychological Correspondences for the Mayan Archetypes

Glossary

Bibliography

About the Authors

About the Artist