Note: Supplemental materials are not guaranteed with Rental or Used book purchases.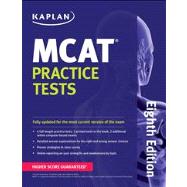 Kaplan MCAT Practice Tests
ISBN13:
9781609789480
by
Kaplan
Questions About This Book?
What version or edition is this?
This is the 8th edition with a publication date of 1/1/2013.
What is included with this book?
The New copy of this book will include any supplemental materials advertised. Please check the title of the book to determine if it should include any CDs, lab manuals, study guides, etc.
Summary
From the company that gets more people into medical school than all other courses combined, Kaplan Practice Tests 2013 contains four complete practice tests that are fully revised for the changes to the MCAT that go live in January 2013, along with strategies for each test section. Every year medical school admissions get more competitive, making a high score on the MCAT an essential part of a candidate's application. At a time when fewer than 40 percent of students who apply get accepted to any school, while top institutions routinely accept fewer than 10 percent of all applicants, prospective students must stand out among the crowd. Practicing with test-like materials is a critical part of getting a score that will do that, and it's imperative for students to have the most up to date materials and practice tests for their prep. Prepare with Kaplan MCAT Practice Tests 2013, which are fully updated to reflect the changes to the MCAT that go live in January 2013! It's a fact that Kaplan gets more people into medical school than all other courses. Combined. This book includes: Up-to-date test information and restructured exams that incorporate the 2013 changes to the MCAT Four full-length practice tests, including two new computer-based exams Detailed answer explanations for every question in all practice tests Five full chapters of strategies, covering each major section of the test
Author Biography

Celebrating 75 years as the world leader in the test prep industry, Kaplan Test Prep (www.kaptest.com) is a premier provider of educational and career services for individuals, schools and businesses. With a comprehensive menu of online offerings as well as a complete array of print books and digital products, Kaplan offers preparation for more than 90 standardized tests, including entrance exams for secondary school, college and graduate school, as well as professional licensing exams for attorneys, physicians and nurses.  Kaplan also provides private tutoring and graduate admissions consulting services.

Excerpts
Chapter One: Intoduction to the MCAT
•Understand how the MCAT is structured and scored
•Learn to take control of the test using the MCAT Mindset
Take out a No. 2 pencil....Do not make any stray marks on the grid....What is the acceleration due to gravity of a penny thrown from the Empire State Building if....You've faced these tests before, so you know the drill, right? Wrong.
The Medical College Admission Test, affectionately known as the MCAT, is different from any other test you've encountered in your academic career. It's not like the knowledge-based exams from high school and college, whose emphasis was on memorizing and regurgitating information. Medical schools can assess your academic prowess by looking at your transcript. The MCAT isn't even like other standardized tests you may have taken, where the focus was on proving your general skills.
Medical schools use MCAT scores to assess whether you possess the foundation upon which to build a successful medical career. Though you certainly need to know the content to do well, the stress is on thought process, because the MCAT is above all else a thinking test. That's why it emphasizes reasoning, critical and analytical thinking, reading comprehension, data analysis, writing, and problem-solving skills.
The MCAT's power comes from its use as an indicator of your abilities. Good scores can open doors. Your power comes from preparation and mindset, because the key to MCAT success is knowing what you're up against. And that's where this section of this book comes in. We'll explain the philosophy behind the test, review the sections one by one, show you sample questions, share some of Kaplan's proven methods, and clue you in to what the test makers are really after. You'll get a handle on the process, find a confident new perspective, and achieve your highest possible scores.
Registration
The only way to register for the MCAT is online. The registration site is:
www.aamc.org/mcat
You can access the site 8 to 12 weeks before your test date. Payment must be made by MasterCard, Visa, or E-payment.
Go to www.aamc.org/mcat/registration.htm and download MCAT Essentials for information about registration, fees, test administration, and preparation. For other questions, contact:
MCAT Program Office
P.O. Box 4056
Iowa City, IA 52243
(319) 337-1357
(Monday-Friday, 8:30 A.M.-4:30 P.M., central daylight time)
www.aamc.org
Email: mcat@aamc.org
Don't drag your feet gathering information. You'll need time not only to prepare and practice for the test, but also to get all your registration work done.
Anatomy of the MCAT
Before mastering strategies, you need to know exactly what you're dealing with on the MCAT. Let's start with the basics: The MCAT is, among other things, an endurance test. It consists of four and three-quarter hours of multiple-choice testing plus one hour of writing sample. Add in the administrative details at both ends of the testing experience, plus three breaks (including lunch), and you can count on being in the test room for well over six hours.
It's a grueling experience, to say the least. If you can't approach it with confidence and stamina, you'll quickly lose your composure. That's why it's so important that you take control of the test.
The MCAT consists of four timed sections: Physical Sciences, Verbal Reasoning, the Writing Sample, and Biological Sciences. Later in this section of the book, we'll take an in-depth look at each MCAT section, including sample question types and specific test-smart hints, but here's a general overview:
Physical Sciences
Verbal Reasoning
Writing Sample
Biological Sciences
The sections of the test always appear in the same order:
Morning
Physical Sciences
[10-minute break]
Verbal Reasoning
[60-minute lunch break]
Afternoon
Writing Sample
[10-minute break]
Biological Sciences
[15 minute test-taker survey]
Be sure to bring at least three No. 2 pencils for the multiple-choice questions, and two ballpoint pens with black ink for the Writing Sample. You won't be allowed to use a calculator or scratch paper; use your test booklet to work out your answers.
International students: The MCAT is administered internationally as a computer-based exam (CBT). Lebanon and Qatar are the exceptions where a specially proctered MCAT is administered as a paper-and-pencil test.
Scoring
Each MCAT section receives its own score. Verbal Reasoning, Physical Sciences, and Biological Sciences are each scored on a scale ranging from 1-15, with 15 as the highest. You will also receive a "total score" for these three multiple-choice sections. The Writing Sample essays are scored alphabetically on a scale ranging from J to T, with T as the highest. The two essays are each evaluated by two official readers, so four critiques combine to make the alphabetical score.
The number of multiple-choice questions that you answer correctly per section is your "raw score." Your raw score will then be converted to yield the "scaled score" -- the one that will fall somewhere in that 1-15 range. These scaled scores are what are reported to medical schools as your MCAT scores.
All multiple-choice questions are worth the same amount -- one raw point -- and there's no penalty for guessing. That means that you should always fill in an answer for every question, whether you get to that question or not! This is an important piece of advice, so pay it heed. Never let time run out on any section without filling in an answer for every question on the grid.
Your score report will tell you -- and your potential medical schools -- not only your scaled scores, but also the national mean score for each section, standard deviations, national scoring profiles for each section, and your percentile ranking. The same day scores are mailed they are posted on the Thx score reporting system on the aamc.org website.
What's a Good Score?
There's no such thing as a cut-and-dry "good score." Much depends on the strength of the rest of your application (if your transcript is first-rate, the pressure to strut your stuff on the MCAT isn't as intense) and on where you want to go to school (different schools have different score expectations). Here are a few interesting statistics:
rd
For each MCAT administration, the average scaled scores are approximately 8s for Verbal Reasoning, Physical Sciences, and Biological Sciences, and N for the Writing Sample. You need scores of at least 10-11s to be considered competitive by most medical schools, and if you're aiming for the top, you've got to do even better, and score 12s and above.
You don't have to be perfect to do well. For instance, on the AAMC's Practice Test II, you could get as many as four questions wrong in Verbal Reasoning, 21 in Physical Sciences, and 16 in Biological Sciences and still score in the 80th percentile. To score in the 90th percentile, you could get as many as two wrong in Verbal Reasoning, 16 in Physical Sciences, and 11 in Biological Sciences. Even students who receive perfect scaled scores usually get a handful of questions wrong.
It's important to maximize your performance on every question. Just a few questions one way or the other can make a big difference in your scaled score. Here's a look at recent score profiles so you can get an idea of the shape of a typical score distribution.
What the MCAT Really Tests
It's important to grasp not only the nuts and bolts of the MCAT, so you'll know what to do on test day, but also the underlying principles of the test so you'll know why you're doing what you're doing on test day. We'll cover the straightforward MCAT facts later. Now it's time to examine the heart and soul of the MCAT, to see what it's really about.
The Myth
Most people preparing for the MCAT fall prey to the myth that the MCAT is a straightforward science test. They think something like this:
"It covers the four years of science I had to take in school: biology, chemistry, physics, and organic chemistry. It even has equations. OK, so it has Verbal Reasoning and Writing, but those sections are just to see if we're literate, right? The important stuff is the science. After all, we're going to be doctors."
Well, here's the little secret no one seems to want you to know: The MCAT is not just a science test; it's also a thinking test. This means that the test is designed to let you demonstrate your thought process, not only your thought content.
The implications are vast. Once you shift your test-taking paradigm to match the MCAT modus operandi, you'll find a new level of confidence and control over the test. You'll begin to work with the nature of the MCAT rather than against it. You'll be more efficient and insightful as you prepare for the test, and you'll be more relaxed on test day. In fact, you'll be able to see the MCAT for what it is rather than for what it's dressed up to be. We want your test day to feel like a visit with a familiar friend instead of an awkward blind date.
The Zen of MCAT
Medical schools do not need to rely on the MCAT to see what you already know. Admission committees can measure your subject-area proficiency using your undergraduate coursework and grades. Schools are most interested in the potential of your mind.
In recent years, many medical schools have shifted pedagogic focus away from an information-heavy curriculum to a concept-based curriculum. There is currently more emphasis placed on problem solving, holistic thinking, and cross-disciplinary study. Be careful not to dismiss this important point, figuring you'll wait to worry about academic trends until you're actually in medical school. This trend affects you right now, because it's reflected in the MCAT. Every good tool matches its task. In this case the tool is the test, used to measure you and other candidates, and the task is to quantify how likely it is that you'll succeed in medical school.
Your intellectual potential -- how skillfully you annex new territory into your mental boundaries, how quickly you build "thought highways" between ideas, how confidently and creatively you solve problems -- is far more important to admission committees than your ability to recite Young's modulus for every material known to man. The schools assume they can expand your knowledge base. They choose applicants carefully because expansive knowledge is not enough to succeed in medical school or in the profession. There's something more. And it's this "something more" that the MCAT is trying to measure.
Every section on the MCAT tests essentially the same higher-order thinking skills: analytical reasoning, abstract thinking, and problem solving. Most test takers get trapped into thinking they are being tested strictly about biology, chemistry, etcetera. Thus, they approach each section with a new outlook on what's expected. This constant mental gear-shifting can be exhausting, not to mention counterproductive. Instead of perceiving the test as parsed into radically different sections, you need to maintain your focus on the underlying nature of the test: It's designed to test your thinking skills, not your information-recall skills. Each test section thus presents a variation on the same theme.
What About the Science?
With this perspective, you may be left asking the question: "What about the science? What about the content? Don't I need to know the basics?" The answer is a resounding Yes! You must be fluent in the different languages of the test. You cannot do well on the MCAT if you don't know the basics of physics, general chemistry, biology, and organic chemistry. We recommend that you take one year each of biology, general chemistry, organic chemistry, and physics prior to taking the MCAT, and that you review the content in this book thoroughly. Knowing these basics is just the beginning of doing well on the MCAT. That's a shock to most test takers. They presume that once they recall or relearn their undergraduate science, they are ready to do battle against the MCAT. Wrong! They merely have directions to the battlefield. They lack what they need to beat the test: a copy of the test maker's battle plan!
You won't be drilled on facts and formulas on the MCAT. You'll need to demonstrate ability to reason based on ideas and concepts. The science questions are painted with a broad brush, testing your general understanding.
Take Control: the MCAT Mindset
In addition to being a thinking test, as we've stressed, the MCAT is a standardized test. As such, it has its own consistent patterns and idiosyncrasies that can actually work in your favor. This is the key to why test preparation works. You have the opportunity to familiarize yourself with those consistent peculiarities, to adopt the proper test-taking mindset.
The MCAT Mindset is something you want to bring to every question, passage, and section you encounter. Being in the MCAT Mindset means reshaping the test-taking experience so that you are in the driver's seat:
•Answer questions when you want to -- feel free to skip tough but doable passages and questions, coming back to them only after you've racked up points on easy ones.
•Answer questions how you want to -- use our shortcuts and methods to get points quickly and confidently, even if those methods aren't exactly what the test makers had in mind when they wrote the test.
The following are some overriding principles of the MCAT Mindset that will be covered in depth in the chapters to come:
•
Read actively and critically.
•Translate prose into your own words.
•Save the toughest questions and passages for last.
•Know the test and its components inside and out.
•Do MCAT-style problems in each topic area after you've reviewed it.
•Allow your confidence to build on itself.
•Take full-length practice tests a week or two before the test to break down the mystique of the real experience.
•Learn from your mistakes -- get the most out of your practice tests.
•Look at the MCAT as a challenge, the first step in your medical career, rather than as an arbitrary obstacle.
And that's what the MCAT Mindset boils down to: Taking control. Being proactive. Being on top of the testing experience so that you can get as many points as you can as quickly and as easily as possible. Keep this in mind as you read and work through the material in this book and, of course, as you face the challenge on test day.
Now that you have a better idea of what the MCAT is all about, let's take a tour of the individual test sections. Although the underlying skills being tested are similar, each MCAT section requires that you call into play a different domain of knowledge. So, though we encourage you to think of the MCAT as a holistic and unified test, we also recognize that the test is segmented by discipline and that there are characteristics unique to each section. In the overviews, we'll review sample questions and answers and discuss section-specific strategies. For each of the sections -- Verbal Reasoning, Physical/Biological Sciences, and the Writing Sample -- we'll present you with the following:
THE BIG PICTURE
You'll get a clear view of the section and familiarize yourself with what it's really evaluating.
A CLOSER LOOK
You'll explore the types of questions that will appear and master the strategies you'll need to deal with them successfully.
KAPLAN TIPS
The key approaches to each section are outlined, for reinforcement and quick review.
Copyright © 2004 by Kaplan, Inc.