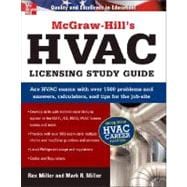 Summary
Rex Miller is well known in the industry and has written a number of bestsellers for McGraw-Hill, including Carpentry & Construction and Electrician's Pocket Manual as well as Air-Conditioning and Refrigeration Valuable tip boxes highlight essential code issues and important exam questions Features the latest refrigerant uses and regulations
Author Biography
Rex Miller
is Professor Emeritus of Industrial Technology at State University College at Buffalo, and has taught technical curriculums at the high school, technical school, and college level for more than 40 years. He is the co-author of John Wiley's
Refrigeration: Home and Commercial
and
Air Conditioning: Home and Commercial.
He is also co-author of McGraw-Hill's best selling
Carpentry & Construction
and the
Electrician's Pocket Manual
... author of more than 100 texts for vocational schools and industrial arts programs at all levels.
Mark R. Miller is Professor and Head of Industrial Technology at University of Texas in Tyler, and has taught technical curriculums at high school, technical school and college level for more than 20 years. He is the co-author of Adel's Refrigeration: Home and Commercial and Air Conditioning: Home and Commercial and is the author of more than 30 texts for the trades and technical programs
Table of Contents
Heating (Boilers)
Ventilation (Ductwork)
Air Conditioning
Refrigeration
Electrical
Control Devices
Table of Contents provided by Publisher. All Rights Reserved.