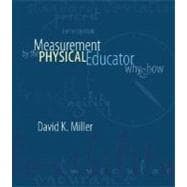 Measurement By The Physical Educator: Why and How
by
Miller, David K.
McGraw-Hill Humanities/Social Sciences/Languages
Questions About This Book?
What version or edition is this?
This is the 5th edition with a publication date of 8/2/2005.
What is included with this book?
The Used copy of this book is not guaranteed to include any supplemental materials. Typically, only the book itself is included.
Related Products
Summary
Providing a solid foundation in measurement and evaluation, this text helps your students learn how to measure physical performance, construct and select tests, and grade the results. Students also get hands-on experience in practicing with statistical techniques, using the computer, choosing the appropriate test, and designing a new test.
Table of Contents
Preface
xi

| | |
| --- | --- |
| | Measurement, Evaluation, Assessment, and Statistics |

1
(4)

| | |
| --- | --- |
| | Reasons for Measurement, Evaluation, and Assessment by the Physical Educator |

2
(2)
2
(1)
2
(1)
3
(1)
3
(1)

| | |
| --- | --- |
| | Evaluation of Instruction and Programs |

3
(1)
3
(1)
4
(1)
4
(1)

| | |
| --- | --- |
| | Analyze and Interpret Data |

4
(1)
4
(1)
4
(1)

| | |
| --- | --- |
| | Determine the Worth (Validity and Reliability) of a Test |

4
(1)
4
(1)

| | |
| --- | --- |
| | Describing and Presenting a Distribution of Scores |

5
(30)
5
(1)
6
(2)
6
(1)
7
(1)
7
(1)
7
(1)
8
(1)

| | |
| --- | --- |
| | Analysis of Ungrouped Data |

9
(5)
10
(1)

| | |
| --- | --- |
| | Measures of Central Tendency |

10
(4)

| | |
| --- | --- |
| | Which Measure of Central Tendency Is Best for Interpretation of Test Results? |

14
(9)
15
(3)

| | |
| --- | --- |
| | Relationship of Standard Deviation and Normal Curve |

18
(3)

| | |
| --- | --- |
| | Which Measure of Variability Is Best for Interpretation of Test Results? |

21
(1)

| | |
| --- | --- |
| | Percentiles and Percentile Ranks |

22
(1)
23
(1)
23
(5)

| | |
| --- | --- |
| | Measures of Central Tendency |

26
(1)
27
(1)
28
(1)
28
(1)
28
(4)
29
(1)
30
(1)
31
(1)
32
(1)
32
(1)
32
(3)

| | |
| --- | --- |
| | Investigating the Relationship Between Scores |

35
(10)
35
(4)
36
(1)

| | |
| --- | --- |
| | Spearman Rank-Difference Correlation Coefficient |

37
(1)

| | |
| --- | --- |
| | Pearson Product-Moment Correlation Coefficient |

38
(1)

| | |
| --- | --- |
| | Interpretation of the Correlation Coefficient |

39
(2)

| | |
| --- | --- |
| | Significance of the Correlation Coefficient |

39
(2)

| | |
| --- | --- |
| | Coefficient of Determination |

41
(1)

| | |
| --- | --- |
| | Negative Correlation Coefficients |

41
(1)

| | |
| --- | --- |
| | Correlation, Regression, and Prediction |

41
(1)
42
(1)
43
(2)

| | |
| --- | --- |
| | Investigating the Difference in Scores |

45
(18)

| | |
| --- | --- |
| | Testing for Significant Difference Between Two Means |

45
(6)

| | |
| --- | --- |
| | Dependent and Independent Variables |

46
(1)
46
(1)
46
(1)
47
(1)

| | |
| --- | --- |
| | Standard Error of the Mean |

47
(1)

| | |
| --- | --- |
| | Standard Error of the Difference Between Means |

48
(1)

| | |
| --- | --- |
| | t-Test for Independent Groups |

48
(2)

| | |
| --- | --- |
| | t-Test for Dependent Groups |

50
(1)
51
(1)

| | |
| --- | --- |
| | Testing for Significant Difference Among Three or More Means |

52
(7)

| | |
| --- | --- |
| | Special Terms and Symbols |

52
(1)

| | |
| --- | --- |
| | Analysis of Variance for Independent Groups |

52
(1)
53
(2)

| | |
| --- | --- |
| | Analysis of Variance for Repeated Measures |

55
(2)
57
(1)

| | |
| --- | --- |
| | Intraclass Correlation Coefficient |

58
(1)
58
(1)
59
(2)
61
(2)
63
(12)

| | |
| --- | --- |
| | Criterion-Referenced Measurement |

63
(1)

| | |
| --- | --- |
| | Norm-Referenced Measurement |

64
(1)
64
(4)

| | |
| --- | --- |
| | Validity of Norm-Referenced Tests |

65
(2)

| | |
| --- | --- |
| | Validity of Criterion-Referenced Tests |

67
(1)

| | |
| --- | --- |
| | Factors Affecting Validity |

68
(1)
68
(3)

| | |
| --- | --- |
| | Reliability of Norm-Referenced Tests |

69
(1)

| | |
| --- | --- |
| | Reliability of Criterion-Referenced Tests |

70
(1)

| | |
| --- | --- |
| | Factors Affecting Reliability |

70
(1)
71
(1)

| | |
| --- | --- |
| | Administrative Feasibility |

71
(1)
72
(1)
72
(3)

| | |
| --- | --- |
| | Construction of Knowledge Tests |

75
(14)

| | |
| --- | --- |
| | Steps in Construction of a Test |

75
(6)
75
(2)
77
(1)
78
(1)
78
(3)
81
(1)
81
(3)
81
(2)
83
(1)
83
(1)
83
(1)

| | |
| --- | --- |
| | Short-Answer and Completion Items |

84
(2)
85
(1)
86
(2)

| | |
| --- | --- |
| | Guidelines for Constructing Essay Items |

87
(1)

| | |
| --- | --- |
| | Guidelines for Scoring Essay Items |

87
(1)
87
(1)
88
(1)
88
(1)

| | |
| --- | --- |
| | Assessing and Grading the Students |

89
(16)

| | |
| --- | --- |
| | Characteristics of Authentic Assessment |

90
(3)
90
(1)
90
(1)

| | |
| --- | --- |
| | Formative and Summative Assessment |

90
(1)

| | |
| --- | --- |
| | Technique (Form) and End Result |

90
(1)

| | |
| --- | --- |
| | Self-Assessment and Peer Assessment |

91
(1)
92
(1)

| | |
| --- | --- |
| | National Association for Sport and Physical Education (NASPE) |

93
(1)
93
(1)
93
(1)
93
(1)
94
(1)
94
(1)
94
(1)
94
(3)
94
(1)
95
(1)
95
(2)
97
(1)
97
(4)
98
(2)

| | |
| --- | --- |
| | Criterion-Referenced Grading |

100
(1)

| | |
| --- | --- |
| | Percentage Correct Method |

101
(1)

| | |
| --- | --- |
| | Which Method of Grading Is Best? |

101
(1)
101
(1)

| | |
| --- | --- |
| | Reporting of Final Grades |

102
(1)
103
(1)
103
(2)

| | |
| --- | --- |
| | Construction and Administration of Psychomotor Tests |

105
(8)

| | |
| --- | --- |
| | Test Construction Guidelines |

105
(4)

| | |
| --- | --- |
| | Know What Is Required of a Good Test |

105
(1)

| | |
| --- | --- |
| | Define the Performance to Be Measured |

105
(1)
106
(1)
106
(1)
106
(1)
106
(1)

| | |
| --- | --- |
| | Have the Test Reviewed by Your Peers |

107
(1)

| | |
| --- | --- |
| | Administer the Test to a Small Group of Students |

107
(1)

| | |
| --- | --- |
| | Determine the Validity, Reliability, and Objectivity |

107
(1)
107
(1)

| | |
| --- | --- |
| | Determine Intercorrelations |

107
(2)

| | |
| --- | --- |
| | Test Administration Responsibilities |

109
(1)

| | |
| --- | --- |
| | Pre-test Responsibilities |

109
(1)
109
(1)

| | |
| --- | --- |
| | Post-test Responsibilities |

110
(1)

| | |
| --- | --- |
| | Types of Psychomotor Tests |

110
(1)
111
(1)
111
(2)
113
(8)
113
(1)
114
(4)

| | |
| --- | --- |
| | Activities to Develop Agility |

118
(2)

| | |
| --- | --- |
| | Changes in the Height of the Body in Jumps |

118
(1)
119
(1)
119
(1)
120
(1)
120
(1)
120
(1)
121
(8)
121
(1)
122
(4)
122
(2)
124
(2)

| | |
| --- | --- |
| | Activities to Develop Balance |

126
(1)

| | |
| --- | --- |
| | Static Balance Activities |

126
(1)

| | |
| --- | --- |
| | Dynamic Balance Activities |

126
(1)

| | |
| --- | --- |
| | Recapturing Balance Activities |

126
(1)
126
(1)
127
(2)

| | |
| --- | --- |
| | Cardiorespiratory Fitness |

129
(16)

| | |
| --- | --- |
| | Why Measure Cardiorespiratory Fitness? |

129
(1)

| | |
| --- | --- |
| | Pre-Test/Pre-Activity Screening |

130
(1)

| | |
| --- | --- |
| | Tests of Cardiorespiratory Fitness |

130
(12)

| | |
| --- | --- |
| | Development of Cardiorespiratory Fitness |

142
(1)
142
(1)
143
(2)
145
(14)
145
(1)
146
(8)

| | |
| --- | --- |
| | Exercises to Develop Flexibility |

154
(2)
155
(1)
155
(1)
155
(1)
155
(1)
155
(1)

| | |
| --- | --- |
| | Posterior Hip, Upper Leg, and Lower Back |

156
(1)
156
(1)
156
(1)
156
(1)
156
(1)
156
(1)
157
(2)

| | |
| --- | --- |
| | Muscular Strength, Endurance, and Power |

159
(20)

| | |
| --- | --- |
| | Why Measure Muscular Strength, Endurance, and Power? |

159
(1)

| | |
| --- | --- |
| | Tests of Muscular Strength and Endurance |

160
(14)

| | |
| --- | --- |
| | Tests with Weight-Training Equipment |

160
(3)

| | |
| --- | --- |
| | Tests Requiring Limited Equipment |

163
(11)
174
(2)

| | |
| --- | --- |
| | Exercises to Develop Muscular Strength and Endurance |

176
(1)

| | |
| --- | --- |
| | Posterior Upper Arms, Shoulders, Chest, and Upper Back |

176
(1)

| | |
| --- | --- |
| | Anterior Upper Arms, Shoulders, Chest, and Upper Back |

176
(1)
176
(1)
177
(1)
177
(1)
177
(1)
177
(1)
177
(1)
177
(1)
178
(1)

| | |
| --- | --- |
| | Anthropometry and Body Composition |

179
(20)

| | |
| --- | --- |
| | Why Measure Body Structure and Composition? |

180
(1)

| | |
| --- | --- |
| | Body Type Classification (Somatotyping) |

181
(1)
181
(4)
184
(1)
184
(1)
185
(1)

| | |
| --- | --- |
| | Bioelectrical Impedance Analysis (BIA) |

185
(1)

| | |
| --- | --- |
| | Air Displacement Plethysmography (BOD POD) |

185
(1)

| | |
| --- | --- |
| | Dual-Energy X-Ray Absorptiometry (DXA) |

185
(1)
185
(1)
186
(9)

| | |
| --- | --- |
| | Estimating Percent Body Fat |

190
(5)

| | |
| --- | --- |
| | Optimal Percent Body Fat and Desirable Body Weight |

195
(1)

| | |
| --- | --- |
| | Cooper Method for Determining Ideal Weight |

196
(1)
196
(1)
196
(1)
197
(1)
198
(1)
198
(1)
199
(26)

| | |
| --- | --- |
| | Why Measure Physical Fitness? |

200
(1)

| | |
| --- | --- |
| | Guidelines for the Administration and Use of Fitness Tests |

200
(1)

| | |
| --- | --- |
| | Norm-Referenced Standards Versus Criterion-Referenced Standards |

200
(1)

| | |
| --- | --- |
| | Tests of Health-Related Physical Fitness |

201
(13)

| | |
| --- | --- |
| | Tests of Skill-Related Physical Fitness |

214
(9)

| | |
| --- | --- |
| | Development of Health-Related and Skill-Related Physical Fitness |

223
(1)
223
(1)
224
(1)
225
(14)

| | |
| --- | --- |
| | Why Measure Functional Fitness? |

225
(1)
226
(1)

| | |
| --- | --- |
| | Tests of Functional Fitness |

226
(10)

| | |
| --- | --- |
| | Physical Activity for the Older Adult |

236
(1)
237
(1)
237
(1)
237
(1)
237
(1)
237
(1)
237
(2)

| | |
| --- | --- |
| | Special-Needs Populations |

239
(14)

| | |
| --- | --- |
| | Why Measure Special-Needs Populations? |

239
(2)

| | |
| --- | --- |
| | Norm-Referenced or Criterion-Referenced Tests? |

241
(1)

| | |
| --- | --- |
| | Perceptual-Motor Performance Tests |

241
(1)
242
(3)
245
(6)
251
(1)
251
(2)
253
(28)

| | |
| --- | --- |
| | Why Measure Sports Skills? |

253
(1)

| | |
| --- | --- |
| | Individual and Dual Sports |

254
(10)
254
(1)
254
(2)
256
(2)
258
(1)
259
(1)
260
(4)
264
(14)
264
(2)
266
(1)
267
(2)
269
(1)
270
(4)
274
(4)
278
(1)
278
(1)

| | |
| --- | --- |
| | Sources of Additional Sports Skills Tests |

278
(3)
278
(1)
278
(1)
278
(1)
278
(1)
278
(1)
278
(1)
279
(1)
279
(1)
279
(1)
279
(1)
279
(1)
279
(1)
279
(1)
280
(1)
281
(24)

| | |
| --- | --- |
| | Why Measure Affective Behavior? |

282
(1)
282
(1)
282
(1)
283
(1)
283
(2)
283
(1)
283
(1)
284
(1)
284
(1)

| | |
| --- | --- |
| | Instruments for Measurement of Affective Behavior |

285
(18)
285
(1)
285
(8)
293
(1)
294
(2)
296
(2)
298
(5)
303
(1)
304
(1)

| | |
| --- | --- |
| | Sources of Additional Instruments for Measurement of Affective Behavior |

304
(1)
304
(1)
304
(1)
304
(1)
304
(1)
305
(10)
305
(1)

| | |
| --- | --- |
| | B Values of the Correlation Coefficient (r) |

306
(1)

| | |
| --- | --- |
| | C Critical Values of t (Two-Tailed Test) |

307
(1)
308
(4)

| | |
| --- | --- |
| | E Values of the Studentized Range (q) |

312
(3)
References and Additional Reading
315
(8)
Index
323