Note: Supplemental materials are not guaranteed with Rental or Used book purchases.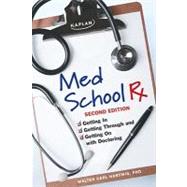 Med School Rx : Getting in, Getting Through, and Getting on with Doctoring
ISBN13:
9781607148357
by
Walter C. Hartwig
Summary
What prospective medical students can expect before, during, and after medical school.Each year more and more people are entering medical school, yet many have little or no idea on how to get the most out of the programs offered. Students can now turn toMed School Rx, which will take them inside the minds of the admissions personnel, professors, examiners, and educators whom they will meet along their medical school journey.Written by Walter Carl Hartwig, a professional medical educator,Med School Rxis the essential reference guide for a comprehensive view of the medical school experience. Written from an insiderrs"s perspective,Med School Rxteaches prospective students how to navigate medical school. Through Hartwigrs"s advice, students will discover how to improve their chances of gaining admission, how to be more successful as medical students, how to demystify the intense learning curve of medical science, and how to successfully transition from student to resident.
Author Biography
Walter C. Hartwig, PHD, is Assistant Dean of Clinical Education at Touro University College of Osteopathic Medicine in northern California. He is also Professor of Anatomy and the former Chair of the Department of Basic Medical Sciences. He has authored numerous research publications and a recent textbook, Fundamental Anatomy. Dr. Hartwig graduated summa cum laude from the University of Missouri before completing a PhD at the University of California, Berkeley.
Table of Contents
Preface to the Second Edition
p. vii
Introduction
p. ix
Becoming a Doctor-What Does it Mean?
Is Medicine Right for You?
p. 3
The State of Medicine in the United States
p. 9
Getting In
Starting Your Path to Medical School
p. 39
The MCAT
p. 55
Premed FAQs
p. 69
Choosing Schools
p. 79
Building the Right Application
p. 99
Writing the Right Personal Essay
p. 117
The Interview
p. 125
Advice for the Older Applicant
p. 135
Allopathic, Osteopathic, or Both?
p. 139
Admissions from the Medical School Perspective
p. 145
Making Your Final Decision
p. 153
Getting Through
Preparing for Medical School
p. 163
Understanding the Curriculum
p. 187
Transferring Medical Schools
p. 223
Board Exams
p. 233
Clinical Clerkships
p. 247
Getting On
The Path to Internship and Residency
p. 277
Acknowledgments
p. 311
Resources
p. 313
Index
p. 319
About the Author
p. 323
Table of Contents provided by Ingram. All Rights Reserved.