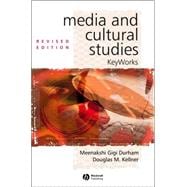 List Price: $58.61
In Stock Usually Ships in 24 Hours
Questions About This Book?
What version or edition is this?
This is the Revised edition with a publication date of 1/1/1991.
What is included with this book?
The New copy of this book will include any supplemental materials advertised. Please check the title of the book to determine if it should include any CDs, lab manuals, study guides, etc.
Summary
Bringing together a range of core texts into one volume, this acclaimed anthology offers the definitive resource in culture, media, and communication. The revised edition updates topics including race, culture, and new media, while retaining its original emphasis on the giant thinkers and "makers" of the field: from Gramsci, Bourdieu and Adorno, to Chomsky, Stuart Hall, and Angela McRobbie. New contributions include essays from Althusserrs"s classic Ideology and Ideological State Apparatuses through to Henry Jenkins, and a completely new section on Globalization and Social Movements. Each section features a substantial critical introduction, short introductions and full bibliographic citations to facilitate student and teacher engagement with this multidisciplinary and dynamic area of study.
Author Biography
Meenakshi Gigi Durham
is Associate Professor of Journalism and Mass Communication at the University of Iowa. She has published widely on feminist media studies and related critical approaches, especially those of race, class, and sexuality.
Douglas M. Kellner is George Kneller Chair in the Philosophy of Education at UCLA and is the author of many books on social theory, politics, history, and culture, including Television and the Crisis of Democracy; The Persian Gulf TV War; Media Culture; Media Spectacle and September 11, Terror War, and the Dangers of the Bush Legacy.
Table of Contents
Preface to the Revised Edition
viii
Adventures in Media and Cultural Studies: Introducing the KeyWorks
ix

| | |
| --- | --- |
| | Part I: Culture, Ideology, and Hegemony |

1
(88)
3
(6)

| | |
| --- | --- |
| | The Ruling Class and the Ruling Ideas |

9
(4)

| | |
| --- | --- |
| | (i) History of the Subaltern Classes; (ii) The Concept of ``Ideology''; (iii) Cultural Themes: Ideological Material |

13
(5)

| | |
| --- | --- |
| | The Work of Art in the Age of Mechanical Reproduction |

18
(23)

| | |
| --- | --- |
| | The Culture Industry: Enlightenment as Mass Deception |

41
(32)

| | |
| --- | --- |
| | The Public Sphere: An Encyclopedia Article |

73
(6)

| | |
| --- | --- |
| | Ideology and Ideological State Apparatuses (Notes Towards an Investigation) |

79
(10)

| | |
| --- | --- |
| | Part II: Social Life and Cultural Studies |

89
(106)
91
(8)

| | |
| --- | --- |
| | (i) Operation Margarine; (ii) Myth Today |

99
(8)

| | |
| --- | --- |
| | The Medium is the Message |

107
(10)

| | |
| --- | --- |
| | The Commodity as Spectacle |

117
(5)

| | |
| --- | --- |
| | Introduction: Instructions on How to Become a General in the Disneyland Club |

122
(8)

| | |
| --- | --- |
| | Base and Superstructure in Marxist Cultural Theory |

130
(14)

| | |
| --- | --- |
| | (i) From Culture to Hegemony; (ii) Subculture: The Unnatural Break |

144
(19)
163
(11)

| | |
| --- | --- |
| | On the Politics of Empirical Audience Research |

174
(21)

| | |
| --- | --- |
| | Part III: Political Economy |

195
(142)
197
(4)

| | |
| --- | --- |
| | Contribution to a Political Economy of Mass-Communication |

201
(29)

| | |
| --- | --- |
| | On the Audience Commodity and its Work |

230
(27)
257
(38)

| | |
| --- | --- |
| | Not Yet the Post-Imperialist Era |

295
(16)

| | |
| --- | --- |
| | Gendering the Commodity Audience: Critical Media Research, Feminism, and Political Economy |

311
(11)

| | |
| --- | --- |
| | (i) Introduction; (ii) The Aristocracy of Culture |

322
(6)
328
(9)

| | |
| --- | --- |
| | Part IV: The Politics of Representation |

337
(108)
339
(3)

| | |
| --- | --- |
| | Visual Pleasure and Narrative Cinema |

342
(11)
353
(13)

| | |
| --- | --- |
| | Eating the Other: Desire and Resistance |

366
(15)

| | |
| --- | --- |
| | British Cultural Studies and the Pitfalls of Identity |

381
(15)

| | |
| --- | --- |
| | Under Western Eyes: Feminist Scholarship and Colonial Discourses |

396
(26)

| | |
| --- | --- |
| | Hybrid Cultures, Oblique Powers |

422
(23)

| | |
| --- | --- |
| | Part V: The Postmodern Turn and New Media |

445
(132)
447
(6)

| | |
| --- | --- |
| | The Precession of Simulacra |

453
(29)

| | |
| --- | --- |
| | Postmodernism, or the Cultural Logic of Late Capitalism |

482
(38)

| | |
| --- | --- |
| | Feminism, Postmodernism and the ``Real Me'' |

520
(13)
533
(16)

| | |
| --- | --- |
| | Quentin Tarantino's Star Wars?: Digital Cinema, Media Convergence, and Participatory Culture |

549
(28)

| | |
| --- | --- |
| | Part VI: Globalization and Social Movements |

577
(149)
579
(5)

| | |
| --- | --- |
| | Disjuncture and Difference in the Global Cultural Economy |

584
(20)

| | |
| --- | --- |
| | The Global and the Local in International Communications |

604
(22)

| | |
| --- | --- |
| | The Processes: From Nationalisms to Transnationalisms |

626
(32)

| | |
| --- | --- |
| | Globalization as Hybridization |

658
(23)

| | |
| --- | --- |
| | (Re)Asserting National Television and National Identity Against the Global, Regional, and Local Levels of World Television |

681
(22)

| | |
| --- | --- |
| | Oppositional Politics and the Internet: A Critical/Reconstructive Approach |

703
(23)
Acknowledgments
726
(4)
Index
730