Note: Supplemental materials are not guaranteed with Rental or Used book purchases.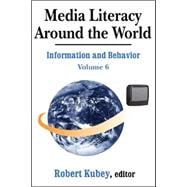 Media Literacy in the Information Age : Current Perspectives
ISBN13:
9780765808547
by
Kubey, Robert
Summary
At the dawn of the twenty-first century, education about and through the media has become a worldwide phenomenon, and is playing an increasingly important role in educational reform. The theory and practice of media education have profited greatly from recent and intensive development and application of new information and telecommunications technologies. Consequently, the importance of media and information literacy is taking on an even greater urgency. With this in mind, the contributors to this volume survey what has taken place over the last decade in different parts of the world, examine the current state of theoretical, conceptual, and research development, and consider where media education is going and where it ought to go.With two-thirds of its 22 contributions coming from outside the United States, Media Literacy around the World is a genuine international effort, with many leading media and information educators in the world taking part. The work converts the notion of globalism from a slogan into a working hypothesis. The concerns in this volume are with literacy not just in computer technology, but as a broad concern of the educational process.
Table of Contents
Introduction to the 2001 Edition
ix
Media Education: The Evolution Continues
Acknowledgments
xv
Preface
xvii
Introduction Media Education: Portraits of an Evolving Field
1
(14)
PART I: Where We've Been and Where We're Going

| | |
| --- | --- |
| | A Rationale for Media Education |

15
(54)

| | |
| --- | --- |
| | An Agenda for the Second Phase of Media Literacy Development |

69
(10)

| | |
| --- | --- |
| | Media Literacy: From a Report of the National Leadership Conference on Media Literacy |

79
(10)
PART II: Theoretical and Conceptual Perspectives

| | |
| --- | --- |
| | The Theoretical Foundations of Media Education Programs |

89
(46)

| | |
| --- | --- |
| | Visual ``Literacy'' in Cross-Cultural Perspective |

135
(28)

| | |
| --- | --- |
| | Expanding the Concept of Literacy |

163
(24)
PART III: International Perspectives

| | |
| --- | --- |
| | Media and Arts Education: A Global View from Australia |

187
(12)

| | |
| --- | --- |
| | Textual Pleasures and Moral Dilemmas: Teaching Media Literacy in England |

199
(14)

| | |
| --- | --- |
| | A Much Debated Consensus: Media Literacy in Israel |

213
(16)

| | |
| --- | --- |
| | Media Education for a Critical Citizenry in South Africa |

229
(14)
PART IV: Curricular and Research Perspectives

| | |
| --- | --- |
| | Media Literacy: A Compelling Component of School Reform and Restructuring |

243
(20)

| | |
| --- | --- |
| | Making Media Literate: Educating Future Media Workers at the Undergraduate Level |

263
(22)

| | |
| --- | --- |
| | Multimedia Education: Media Literacy in the Age of Digital Culture |

285
(22)

| | |
| --- | --- |
| | Living with the Tiger: Media Curriculum Issues for the Future |

307
(16)

| | |
| --- | --- |
| | Media Literacy in the Home: Acquisition versus Deficit Models |

323
(22)

| | |
| --- | --- |
| | In Favor of ``Bad News'': An Experiment in Teaching the Role of the Press in Israel |

345
(14)
PART V: Perspectives on Computer, Information, and ``Museum'' Literacy

| | |
| --- | --- |
| | Can Computers Turn Teaching Inside-Out, Transform Education, and Redefine Literacy? |

359
(18)

| | |
| --- | --- |
| | Interactive Technology in the Classroom: A Case Study with Illiterate Adults |

377
(26)

| | |
| --- | --- |
| | Network Literacy in an Electronic Society: An Educational Disconnect? |

403
(38)

| | |
| --- | --- |
| | Literacy in the Information Age School: Skills for Lifelong Learning |

441
(8)

| | |
| --- | --- |
| | ``The Tools Tell the Story'': Toward an Analysis of the ``Museum Experience'' |

449
(14)
Contributors
463
(6)
Author Index
469
(8)
Subject Index
477