Note: Supplemental materials are not guaranteed with Rental or Used book purchases.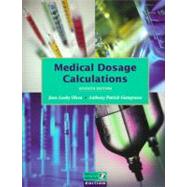 Summary
For a course in Medical Dosages Calculations in departments of Nursing; requires competency in arithmetic and algebra. By utilizing the dimensional analysis format, this comprehensive drug calculation text and workbook develops students mathematical skills for use in medical dosage calculations, beginning with simple arithmetic and progressing to the most complex drug calculation problem. It stresses the critical importance of safe administration of medication doses for patients in both the inpatient and outpatient setting. It provides case studies, diagnostic reviews, an extensive array of problems to ensure students' understanding and instill a sense of confidence as they learn to master these most critical medical skills.
Table of Contents
I. BASIC CALCULATION AND ADMINISTRATION SKILLS.
1. Review of Arithmetic for Medical Dosage Calculations.
2. Drug Administration.
3. Dimensional Analysis.

II. SYSTEMS OF MEASUREMENT FOR DOSAGE CALCULATIONS.
4. The Apothecary, Household, and Metric Systems.
5. Converting from One System of Measurement to Another.

III. COMMON MEDICATION PREPARATIONS.
6. Calculating Oral Medication Doses.
7. Syringes.
8. Preparation of Solutions.
9. Parenteral Medications.

IV. SPECIALIZED MEDICATION PREPARATIONS.
10. Calculating Flow Rates for Enteral Solutions and Intravenous Infusions.
11. Calculating Flow Rates for Intravenous Medications and Duration of Flow.
12. Calculating Pediatric Dosages.