Note: Supplemental materials are not guaranteed with Rental or Used book purchases.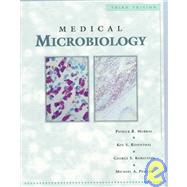 Medical Microbiology
ISBN13:
9780815190356
by
Murray, Patrick R.
Elsevier Science Health Science div
Related Products
Summary
This innovative, full-color text offers balanced coverage of the most up-to-date concepts in microbiology. The comprehensive, concise approach gives appropriate weight and emphasis to bacteriology, virology, mycology, and parasitology -- in an easy-to-follow, user-friendly format. It focuses on essential, clinically relevant information, with a level of coverage that dispenses with unnecessary detail and synthesizes key concepts. In addition, a separate section on Immunology, by noted expert Ken Rosenthal, is comprehensive enough to serve as a text for medical school immunology courses. The new 4"th" edition of Medical Microbiology continues to offer the excellent, comprehensive coverage found in previous editions, now updated to include recent advances and the most medically important information.
Table of Contents
| | |
| --- | --- |
| | 1 Introduction to Medical Microbiology |

1
(5)
Section I: Basic Principles of Medical Microbiology
6
(74)

| | |
| --- | --- |
| | 2 Bacterial Classification |

6
(4)

| | |
| --- | --- |
| | 3 Bacterial Morphology and Cell Wall Structure and Synthesis |

10
(12)

| | |
| --- | --- |
| | 4 Bacterial Metabolism and Growth |

22
(9)
31
(12)

| | |
| --- | --- |
| | 6 Viral Classification, Structure, and Replication |

43
(16)

| | |
| --- | --- |
| | 7 Fungal Classification, Structure, and Replication |

59
(4)

| | |
| --- | --- |
| | 8 Parasitic Classification, Structure, and Replication |

63
(7)

| | |
| --- | --- |
| | 9 Microbial Flora in Health and Disease |

70
(4)

| | |
| --- | --- |
| | 10 Sterilization, Disinfection, and Antisepsis |

74
(6)
Section II: Basic Concepts in the Immune Response
80
(56)

| | |
| --- | --- |
| | 11 Elements of Host Protective Responses |

80
(11)

| | |
| --- | --- |
| | 12 The Humoral Immune Response |

91
(10)

| | |
| --- | --- |
| | 13 Cellular Immune Responses |

101
(8)

| | |
| --- | --- |
| | 14 Immune Responses to Infectious Agents |

109
(19)

| | |
| --- | --- |
| | 15 Antimicrobial Vaccines |

128
(8)
Section III: General Principles of Laboratory Diagnosis
136
(16)

| | |
| --- | --- |
| | 16 Microscopic Principles and Applications |

136
(4)
140
(4)
144
(8)
Section IV: Bacteriology
152
(226)

| | |
| --- | --- |
| | 19 Mechanisms of Bacterial Pathogenesis |

152
(8)
160
(9)

| | |
| --- | --- |
| | 21 Laboratory Diagnosis of Bacterial Diseases |

169
(6)

| | |
| --- | --- |
| | 22 Staphylococcus and Related Organisms |

175
(14)
189
(17)

| | |
| --- | --- |
| | 24 Enterococcus and Other Gram-Positive Cocci |

206
(3)
209
(4)
213
(4)

| | |
| --- | --- |
| | 27 Listeria, Erysipelothrix, and Other Gram-Positive Bacilli |

217
(5)
222
(10)
232
(13)

| | |
| --- | --- |
| | 30 Vibrio, Aeromonas, and Plesiomonas |

245
(6)

| | |
| --- | --- |
| | 31 Campylobacter and Helicobacter |

251
(7)

| | |
| --- | --- |
| | 32 Pseudomonas and Related Organisms |

258
(7)

| | |
| --- | --- |
| | 33 Bordetella, Francisella, and Brucella |

265
(11)
276
(7)

| | |
| --- | --- |
| | 35 Miscellaneous Gram-Negative Bacilli |

283
(8)

| | |
| --- | --- |
| | 36 Anaerobic Gram-Positive Cocci and Nonspore-Forming Bacilli |

291
(5)
296
(12)

| | |
| --- | --- |
| | 38 Anaerobic Gram-Negative Bacilli |

308
(5)

| | |
| --- | --- |
| | 39 Nocardia, Rhodococcus, and Related Actinomycetes |

313
(6)
319
(12)

| | |
| --- | --- |
| | 41 Treponema, Borrelia, and Leptospira |

331
(16)

| | |
| --- | --- |
| | 42 Mycoplasma and Ureaplasma |

347
(5)

| | |
| --- | --- |
| | 43 Rickettsia, Ehrlichia, and Coxiella |

352
(10)
362
(9)

| | |
| --- | --- |
| | 45 Role of Bacteria in Disease |

371
(7)
Section V: Virology
378
(178)

| | |
| --- | --- |
| | 46 Mechanisms of Viral Pathogenesis |

378
(10)
388
(8)

| | |
| --- | --- |
| | 48 Laboratory Diagnosis of Viral Diseases |

396
(8)
404
(8)
412
(7)
419
(21)
440
(6)
446
(4)
450
(11)
461
(11)
472
(7)
479
(8)
487
(5)

| | |
| --- | --- |
| | 59 Togaviruses and Flaviviruses |

492
(11)
503
(4)
507
(16)
523
(13)

| | |
| --- | --- |
| | 63 Unconventional Slow Viruses: Prions |

536
(4)
540
(6)

| | |
| --- | --- |
| | 65 Role of Viruses in Disease |

546
(10)
Section VI: Mycology
556
(42)

| | |
| --- | --- |
| | 66 Mechanisms of Fungal Pathogenesis |

556
(3)
559
(5)

| | |
| --- | --- |
| | 68 Laboratory Diagnosis of Fungal Diseases |

564
(2)

| | |
| --- | --- |
| | 69 Superficial, Cutaneous, and Subcutaneous Mycoses |

566
(11)
577
(12)
589
(9)
Section VII: Parasitology
598

| | |
| --- | --- |
| | 72 Pathogenesis of Parasitic Pathogenesis |

598
(5)
603
(7)

| | |
| --- | --- |
| | 74 Laboratory Diagnosis of Parasitic Diseases |

610
(9)

| | |
| --- | --- |
| | 75 Intestinal and Urogenital Protozoa |

619
(13)

| | |
| --- | --- |
| | 76 Blood and Tissue Protozoa |

632
(14)
646
(15)
661
(9)
670
(9)
679