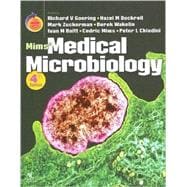 Questions About This Book?
What version or edition is this?
This is the 4th edition with a publication date of 10/1/2007.
What is included with this book?
The Used copy of this book is not guaranteed to include any supplemental materials. Typically, only the book itself is included.
Related Products
Summary
MIMS' MEDICAL MICROBIOLOGY offers thorough and up-to-date coverage of microbiology and basic immunology, through a clinically relevant, systems-based approach. The textbook emphasises the microbiology of the agents causing disease, and the diseases affecting individual organ systems. Through thorough cross referencing, the reader can easily find what they need, whether seeking information from a systems or a microbe perspective. Nearly 500 illustrations support the text, and summary introductory and summary key facts boxes strengthen the clarity and usefulness of the text. Ten animations on STUDENT CONSULT offer a visually rich way to approach this subject area. Systems-based approach to microbiology reflects integrated and case-based teaching Stresses the role of the immune system in infectious disease, in line with the move towards integrated, systems-based teaching (where for example diseases like meningitis are taught as part of a Nervous system module) Chapter Introduction boxes (now revised to be in bullet points), Summary Headings throughout each chapter and Key Facts boxes at the end of each chapter allow easy access to key concepts, and valuable review tools Extensively cross-referenced Pathogen Review section means the reader can navigate the text either through a systems-based or a pathogen-based path, as they choose Online animations provide visual support in explaining key information Wide range of questions available on www.studentconsult.com
Table of Contents
Microbes as parasites
The varieties of microbes
Living inside or outside cells
Systems of classification
The bacteria
Structure
Nutrition
Growth and division
Gene expression
Extrachromosomal elements
Mutation and gene transfer
Survival under adverse conditions
The genomics of medically important bacteria
The viruses
Infection of host cells
Replication
Outcome of viral infection
Major groups of viruses
The fungi
Major groups of disease-causing fungi
The protozoa
The helminths and arthropods
The helminths
The arthropods
Prions
Rogue protein pathogenesis
Development and transmission of prion diseases
Medical problems posed by prion disease
The hostparasite relationship
The normal flora
Symbiotic associations
The characteristics of parasitism
The evolution of parasitism
The innate defenses of the body
Defense against entry into the body
Defenses once the microorganism penetrates the body
Adaptive responses provide a quantum leap in effective defense
The role of antibodies
The role of T lymphocytes
Extracellular attack on large infectious agents
Local defenses at mucosal surfaces
The cellular basis of adaptive immune responses
B and T cell receptors
Clonal expansion of lymphocytes
The role of memory cells
Stimulation of lymphocytes
Cytokines
Regulatory mechanisms
Tolerance mechanisms
Background to the infectious diseases
Hostparasite relationships
Causes of infectious diseases
The biologic response gradient
Entry, exit and transmission
Sites of entry
Exit and transmission
Types of transmission between humans
Transmission from animals
Immune defenses in action
Complement
Acute phase proteins and pattern recognition receptors
Fever
Natural killer cells
Phagocytosis
Cytokines
Antibody-mediated immunity
Cell-medited immunity
Recovery from infection
Spread and replication
Features of surface and systemic infections
Mechanisms of spread through the body
Genetic determinants of spread and replication
Other factors affecting spread and replication
Parasite survival strategies and persistent infections
Parasite survival strategies
Concealment of antigens
Antigenic variation
Immunosuppression
Persistent infections
Pathologic consequences of infection
Pathology caused directly by the microorganism
Pathologic activation of natural immune mechanisms
Pathologic consequences of the immune response
Skin rashes
Viruses and cancer
Introduction to
The Clinical Manifestations of Infection
Upper respiratory tract infections
The common cold
Pharyngitis and tonsillitis
Parotitis
Otitis and sinusitis
Acute epiglottitis
Oral cavity infections
Laryngitis and tracheitis
Diphtheria
Lower respiratory tract infections
Acute infections
Chronic infections
Parasitic infections
Urinary tract infections
Acquisition and etiology
Pathogenesis
Clinical features and complications
Laboratory diagnosis
Treatment
Prevention
Sexually transmitted diseases
STDs and sexual behavior
Syphilis
Gonorrhea
Chlamydial infection
Other causes of inguinal lymphadenopathy
Mycoplasmas and non-gonococcal urethritis
Other causes of vaginitis and urethritis
Genital herpes
Human papillomavirus infection
Human immunodeficiency virus
Opportunistic STDs
Arthropod infesta
Table of Contents provided by Publisher. All Rights Reserved.