Note: Supplemental materials are not guaranteed with Rental or Used book purchases.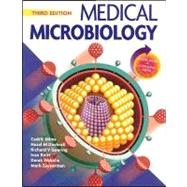 Related Products
Summary
The latest edition of this internationally popular textbook has been substantially updated and improved to keep it at the forefront of clinical microbiology. Its systems-based approach emphasizes the microbiology of the agents responsible for the diseases that affect individual areas of the body. Over 250 full-color diagrams clarify complicated concepts-paired with color clinical photographs that demonstrate the clinical relevance of the science. The smart way to study! Elsevier titles with STUDENT CONSULT will help you master difficult concepts and study more efficiently in print and online! Perform rapid searches. Integrate bonus content from other disciplines. Download text to your handheld device. And a lot more. Each STUDENT CONSULT title comes with full text online, a unique image library, case studies, USMLE style questions, and online note-taking to enhance your learning experience. Your purchase of this book entitles you to access www.studentconsult.com at no extra charge. This innovative web site offers you... Access to the complete text and illustrations of this book. Integration links to bonus content in other STUDENT CONSULT titles. Content clipping for your handheld. An interactive community center with a wealth of additional resources. The more STUDENT CONSULT titles you buy, the more resources you can access online! Look for the STUDENT CONSULT logo on your favorite Elsevier textbooks!
Table of Contents
The Adversaries: Parasites
Microbes as Parasites
Bacteria
Viruses
Fungi
Protozoa
Helminths and Anthropods
Prions
The Host-Parasite Relationship
The Adversaries: Host Defenses
The Innate Defenses of the Body
Adaptive Responses - a Quantum Leap in Effective Defense
The Cellular Basis of Adaptive Immune Responses
Conflicts
Conflicts: Background to Infectious Disease
Entry, Exit and Transmission
Innate Defenses in Action
Spread and Replication
Adaptive Immunity in Action
Parasite Survival Strategies and Persistent Infections
Pathologic Consequences of Infection
Clinical Manifestations and Diagnosis of Infections by Body System
Intro to S
Clinical Manifestations of Infection
Upper Respiratory Tract Infections
Lower Respiratory Tract Infections
Urinary Tract Infections
Sexually Transmitted Diseases
Gastrointestinal Tract Infections
Obstetric and Perinatal Infections
Central Nervous System Infections
Infections of the Eye
Infections of Skin
Infections of Muscle, Joints, Bone and Hemopoietic System
Worldwide Virus Infections
Vector-bone Infections
Multisystem Zoonoses
Pyrexia of Unknown Origin
Infections in the Compromised Host
Diagnosis and Control
Strategies for Control: An Introduction
Diagnosis of Infection and Assessment of Host Defense Mechanisms
Attacking the Enemy: Antimicrobial Agents and Chemotherapy
Boosting Host Defense: Vaccination
Passive and Non-specific Immunotherapy
Hospital Infection: Sterilization and Disinfection
Pathogen Review
Answers
Index
Table of Contents provided by Publisher. All Rights Reserved.