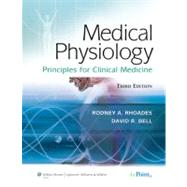 Questions About This Book?
What version or edition is this?
This is the 3rd edition with a publication date of 2/8/2008.
What is included with this book?
The Used copy of this book is not guaranteed to include any supplemental materials. Typically, only the book itself is included.
Summary
Now in its Third Edition, this text clearly and concisely presents the physiological principles that are essential to clinical medicine. Outstanding pedagogical features include Active Learning Objectives that emphasize problem-solving applications of basic principles; conceptual diagrams that help students visualize complex processes; case studies, Clinical Focus boxes, and Bench to Bedside boxes; a comprehensive glossary; and online USMLE-style questions with answers and explanations. This edition features a new Immunology and Organ Function chapter and a completely rewritten and reorganized cardiovascular section. A companion Website will include the fully searchable text, an interactive question bank, case studies with practice questions, animations of complex processes, an image bank, and links for further study.
Table of Contents
Cellular Physiology
p. 1
Homeostasis and Cellular Signaling
p. 1
The Plasma Membrane, Membrane Transport, and Resting Membrane Potential
p. 20
Action Potential, Synaptic Transmission, and Maintenance of Nerve Function
p. 38
Neuromuscular Physiology
p. 65
Sensory Physiology
p. 65
The Motor System
p. 93
The Autonomic Nervous System
p. 111
Integrative Functions of the Nervous System
p. 122
Skeletal and Smooth Muscle
p. 140
Blood and Immunology
p. 169
Blood Components
p. 169
Immunology, Organ Interaction, and Homeostasis
p. 187
Cardiovascular Physiology
p. 207
An Overview of the Cardiovascular System and Hemodynamics
p. 207
The Electrical Activity of the Heart
p. 221
Cardiac Muscle Mechanics and the Cardiac Pump
p. 243
The Systemic Circulation
p. 263
The Microcirculation and Lymphatic System
p. 274
Special Circulations
p. 290
Control Mechanisms in Circulatory Function
p. 305
Respiratory Physiology
p. 319
Ventilation and the Mechanics of Breathing
p. 319
Gas Transfer and Transport
p. 348
Pulmonary Circulation and Ventilation-Perfusion
p. 361
The Control of Ventilation
p. 374
Renal Physiology and Body Fluids
p. 391
Kidney Function
p. 391
The Regulation of Fluid and Electrolyte Balance
p. 419
Acid-Base Balance
p. 442
Gastrointestinal Physiology
p. 463
Neurogastroenterology and Motility
p. 463
Gastrointestinal Secretion, Digestion, and Absorption
p. 497
The Physiology of the Liver
p. 530
Temperature Regulation and Exercise Physiology
p. 543
The Regulation of Body Temperature
p. 543
Exercise Physiology
p. 567
Endocrine Physiology
p. 581
Endocrine Control Mechanisms
p. 581
The Hypothalamus and the Pituitary Gland
p. 596
The Thyroid Gland
p. 612
The Adrenal Gland
p. 624
The Endocrine Pancreas
p. 641
Endocrine Regulation of Calcium, Phosphate, and Bone Homeostasis
p. 656
Reproductive Physiology
p. 669
The Male Reproductive System
p. 669
The Female Reproductive System
p. 687
Fertilization, Pregnancy, and Fetal Development
p. 705
Common Abbreviations in Physiology
p. 727
Glossary
p. 731
Index
p. 773
Table of Contents provided by Blackwell. All Rights Reserved.