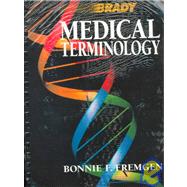 Medical Terminology : An Anatomy and Physiology Systems Approach
by
Fremgen, Bonnie F.
This title is currently not available.
Summary
This new full-color book uses an integrated body systems approach and reader-friendly writing style to teach medical terminology. By tying the vocabulary directly in with the discussion of anatomy and physiology, beginners can more easily understand the purpose and use of the terms they are learning and studying. Best of all, this approach stresses word building rather than memorization of terms.Special-topics chapter includes up-to-date information onemergency medicine, dentistry, the hearing impaired, nuclear medicine, radiology, oncology, organ replacement, andphysical therapy. This book is an excellent reference for anyone interested in an occupation in the medical field.
Table of Contents
Introduction to Medical Terminology with new section on medical records
Body Structure
The Integumentary System
The Musculoskeletal System
The Endocrine System
The Cardiovascular System
The Lymphatic and Immune System
The Respiratory System
The Digestive System
The Urinary System
The Reproductive System
The Nervous System
The Special Senses: Eyes and Ears
Special Topics
Answer Key
Abbreviations and Meanings
Table of Contents provided by Publisher. All Rights Reserved.