Note: Supplemental materials are not guaranteed with Rental or Used book purchases.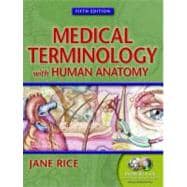 Medical Terminology with Human Anatomy
ISBN13:
9780130487063
by
Rice, Jane
Summary
For courses in Medical Terminology found in a variety of departments including allied heath, nursing, office technology, etc. Providing comprehensive coverage of all aspects of medical terminology, this popular text is arranged by body systems and specialty areas. Using a proven and unique building block approach, it makes learning easy and interesting by presenting important prefixes, roots, and suffixes as they related to each specialty or system. Student¨¨¨s vocabulary and knowledge develop in a systematic way. User-friendly in format, with full-color illustrations and photographs the package also includes a CD-ROM full of learning activities to reinforce learning activities to reinforce learning. See it all at www.prenhall.com/rice.
Table of Contents
Fundamental Word Structure
p. 1
The Organization of the Body
p. 23
The Integumentary System
p. 49
The Skeletal System
p. 89
The Muscular System
p. 127
The Digestive System
p. 159
The Cardiovascular System
p. 199
Blood and the Lymphatic System
p. 249
The Respiratory System
p. 289
The Urinary System
p. 321
The Endocrine System
p. 351
The Nervous System
p. 387
Special Senses: The Ear
p. 437
Special Senses: The Eye
p. 463
The Female Reproductive System
p. 493
The Male Reproductive System
p. 533
Oncology
p. 563
Radiology and Nuclear Medicine
p. 601
Answer Key
p. 635
Case Study Answers
p. 663
Glossary of Word Parts
p. 665
Abbreviations
p. 675
Laboratory Reference Values
p. 685
Index
p. 687
Table of Contents provided by Rittenhouse. All Rights Reserved.
Excerpts
The fifth edition ofMedical Terminology with Human Anatomycontinues its tradition of excellence with a new and refreshed approach to covering all aspects of medical terminology. Over the years, this book has helped thousands gain a firm grasp of the challenging, yet exciting, new language of medicine. This revised edition embraces the philosophy that has made the book so successful, and incorporates fresh new features that will be sure to engage readers of all learning styles. There are two driving goals of this text: To teach students how to build medical terms by using word parts, and To teach the basics of anatomy and physiology. NEW TO THIS EDITION Medical Terminology with Human Anatomy's uniqueword buildingapproach has been further strengthened, andpathologyhas been highlighted in new and exciting ways: The terminology and vocabulary sections that were present in the 4th edition have been updated and rearranged into one feature entitledBuilding Your Medical Vocabulary,so that students can learn about terms that are built from word parts concurrently with vocabulary words. This more logical approach groups each important term by relevance in a single study list. The list is alphabetical, which is important because words with common prefixes follow each other, thereby creating a repetition that aids learning. Words listed in black are shown with their component word parts, while words in pink represent vocabulary terms that are not build from word parts. Pronunciations are provided for all terms. This section is followed byPathology Spotlights and Pathology Checkpoints--new features that embody our initiative to fortify the pathology content in this edition. Pathology Spotlights highlight 4-6.conditions related to the chapter content, with artwork and links to media as well as the CD-ROM. Pathology Checkpoints provide the student with a concise list of the pathology terms they have encountered in the chapter. Students may check off those terms that they understand, and go back and review any that are not clear. Nearly 75newillustrations and photos have been added to highlight important areas of the text. The Spanish component of the text has been removed and will now be included, along with French and German, as part of aTerminology Translatorfeature on the free CD-ROM (found at the back of the text). This Terminology Translator provides an innovative tool to translate medical words into Spanish, French, and German. AfreeCD-ROM is included with every text, and provides a wide variety of interactive activities such as labeling, word building, spelling, multiple-choice, true/false, fill-in-the-blank, and a variety of quiz games. An audio pronunciation glossary is included, along with a custom flashcard generator on the CD-ROM, that allows students to select glossary terms and print out flashcards for any or all terms for study. Finally, pathology concepts come alive with the presentation of one feature video per chapter that correlates to selected content in the Pathology Spotlight sections of the text. MEDICAL WORD BUILDING TECHNIQUE--A TIME-PROVEN APPROACH The fifth edition ofMedical Terminology with Human Anatomyis still organized by body systems and specialty areas, with the component parts of medical words presented as they relate to each system of the body and specialty area. Prefixes and suffixes are repeated throughout the text, while word roots and combining forms are presented according to the system or specialty area to which they relate. Once the material in Chapters 1 and 2 has been mastered, the student should know approximately 87 prefixes, 68 roots/combining forms, and 77 suffixes. To build a medical vocabulary, all the student has to do is recall the word parts that they have learned and link them with the new component p