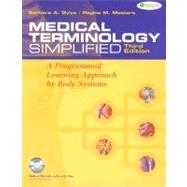 Medical Terminology Simplified : A Programmed Learning Approach by Body Systems
by
Gylys, Barbara A.
Related Products
Medical Terminology Simplified: A Programmed Learning Approach by Body Systems (Book with 2 Audiocassettes)
Summary
The third edition of this user-friendly book reflects current trends and new approaches to teaching medical terminology. It uses a programmed learning format to give students the freedom to learn medical terminology at their own pace but can also be used in the classroom. The new artwork throughout the book enables the student to see a true representation of the body system or pathological condition. To help students learn easily and quickly, each body system unit includes a summary of major combining forms, a comprehensive pathology section, and additional medical records and evaluations. Davis's Medical Terminology Online is available with this text in the following formats:ISBN 1333-4. Gylys: Med Term Online WebCT Packaged w/ Medical Terminology Simplified 3rd ISBN 1334-2. Gylys: Med Term Online Blackboard Packaged w/ Medical Terminology Simplified 3rd
Table of Contents
Introduction to programmed learning and medical word building
p. 1
Body structure
p. 23
Integumentary system
p. 59
Respiratory system
p. 99
Cardiovascular and lymphatic systems
p. 143
Digestive system
p. 195
Urinary system
p. 255
Reproductive systems
p. 301
Endocrine and nervous systems
p. 357
Musculoskeletal system
p. 411
Special senses : the eyes and ears
p. 463
Glossary of medical word elements
Diagnostic and therapeutic procedures
Drug classifications
Medical specialties
Table of Contents provided by Blackwell. All Rights Reserved.