Note: Supplemental materials are not guaranteed with Rental or Used book purchases.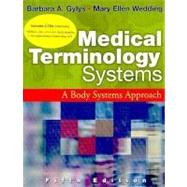 Questions About This Book?
What version or edition is this?
This is the 5th edition with a publication date of 11/4/2004.
What is included with this book?
The Used copy of this book is not guaranteed to include any supplemental materials. Typically, only the book itself is included.
Related Products
Summary
The new edition of this classic text uses a word-building and body systems approach to help your students learn medical terminology and achieve a high level of competence. It combines the format of a classroom teaching text with that of a workbook, focusing your students on the terms you want them to learn while also helping them develop an extensive medical vocabulary on their own.
Table of Contents
| | |
| --- | --- |
| | Basic Elements of a Medical Word |

1
(12)
1
(1)
1
(1)
2
(2)
2
(1)
3
(1)
3
(1)
3
(1)
4
(2)
5
(1)
5
(1)
6
(1)
7
(6)
13
(16)
13
(1)
13
(1)
14
(1)
15
(7)

| | |
| --- | --- |
| | Surgical, Diagnostic, Pathological, and Related Suffixes |

15
(5)
20
(1)
21
(1)
22
(7)
29
(10)
29
(1)
29
(1)
30
(1)
30
(5)

| | |
| --- | --- |
| | Prefixes of Position, Number and Measurement, and Direction |

30
(4)
34
(1)
35
(4)
39
(36)
39
(1)
39
(1)
40
(1)
41
(1)
41
(2)
41
(1)

| | |
| --- | --- |
| | Cell Membrane and Cytoplasm |

42
(1)
42
(1)
42
(1)
42
(1)
42
(1)
43
(1)
43
(1)
44
(1)
44
(2)
46
(2)
46
(1)
47
(1)
48
(1)
48
(1)
49
(7)
49
(1)
49
(1)
50
(1)
51
(1)
52
(1)
53
(1)
54
(1)
55
(1)
56
(1)

| | |
| --- | --- |
| | Diagnostic, Symptomatic, and Related Terms |

57
(2)

| | |
| --- | --- |
| | Diagnostic and Therapeutic Procedures |

59
(5)
64
(2)
66
(5)

| | |
| --- | --- |
| | Medical Record Activities |

71
(4)

| | |
| --- | --- |
| | Radiologic Consultation: Cervical and Lumbar Spine |

71
(2)

| | |
| --- | --- |
| | Radiographic Consultation: Injury of Left Wrist and Hand |

73
(2)
75
(32)
75
(1)
75
(1)
76
(1)
76
(4)
77
(1)
77
(1)
78
(1)

| | |
| --- | --- |
| | Accessory Organs of the Skin |

78
(1)
78
(1)
79
(1)
79
(1)
80
(3)
80
(2)
82
(1)
82
(1)
83
(6)
83
(1)
84
(2)
86
(1)

| | |
| --- | --- |
| | Grading and Staging Systems |

86
(1)
87
(1)
88
(1)
88
(1)

| | |
| --- | --- |
| | Diagnostic, Symptomatic, and Related Terms |

89
(3)

| | |
| --- | --- |
| | Diagnostic and Therapeutic Procedures |

92
(2)
94
(2)
96
(1)
97
(5)

| | |
| --- | --- |
| | Medical Record Activities |

102
(5)

| | |
| --- | --- |
| | Pathology Report of Skin Lesion |

102
(2)

| | |
| --- | --- |
| | Patient Referral Letter: Onychomycosis |

104
(3)
107
(44)
107
(1)
107
(1)
108
(1)
109
(6)
109
(1)
110
(1)
110
(1)
110
(1)

| | |
| --- | --- |
| | Pharynx, Esophagus, and Stomach |

110
(1)
111
(1)
112
(1)

| | |
| --- | --- |
| | Accessory Organs of Digestion |

113
(1)
114
(1)
114
(1)
114
(1)
115
(5)
115
(1)
115
(1)

| | |
| --- | --- |
| | Esophagus, Pharynx, and Stomach |

116
(1)
116
(1)
117
(1)

| | |
| --- | --- |
| | Terminal End of Large Intestine |

117
(1)

| | |
| --- | --- |
| | Accessory Organs of Digestion |

118
(1)
118
(1)
119
(1)
120
(4)
120
(1)
120
(1)
120
(1)
121
(1)
122
(1)
122
(1)
122
(1)
122
(1)
123
(1)

| | |
| --- | --- |
| | Diagnostic, Symptomatic, and Related Terms |

124
(4)

| | |
| --- | --- |
| | Diagnostic and Therapeutic Procedures |

128
(6)
134
(2)
136
(2)
138
(7)

| | |
| --- | --- |
| | Medical Record Activities |

145
(6)
145
(2)

| | |
| --- | --- |
| | Esophagogastroduodenoscopy with Biopsy |

147
(4)
151
(36)
151
(1)
151
(1)
152
(1)
153
(3)
153
(2)
155
(1)
155
(1)
156
(4)
156
(1)
156
(1)
157
(1)
158
(1)
159
(1)
160
(1)
160
(6)

| | |
| --- | --- |
| | Chronic Obstructive Pulmonary Disease |

161
(1)
162
(1)
162
(1)
162
(1)
162
(1)
163
(1)
164
(1)
165
(1)
165
(1)

| | |
| --- | --- |
| | Respiratory Distress Syndrome |

165
(1)
165
(1)

| | |
| --- | --- |
| | Diagnostic, Symptomatic, and Related Terms |

166
(3)

| | |
| --- | --- |
| | Diagnostic and Therapeutic Procedures |

169
(3)
172
(2)
174
(2)
176
(6)

| | |
| --- | --- |
| | Medical Record Activities |

182
(5)
182
(2)

| | |
| --- | --- |
| | Chronic Interstitial Lung Disease |

184
(3)
187
(38)
187
(1)
187
(1)
188
(1)
188
(8)
189
(1)
189
(1)
190
(1)
190
(1)
190
(2)

| | |
| --- | --- |
| | Conduction System of the Heart |

192
(2)
194
(1)
194
(2)
196
(3)
196
(2)
198
(1)
198
(1)
199
(4)
199
(1)
200
(1)
201
(1)
202
(1)
203
(1)

| | |
| --- | --- |
| | Diagnostic, Symptomatic, and Related Terms |

203
(3)

| | |
| --- | --- |
| | Diagnostic and Therapeutic Procedures |

206
(5)
211
(2)
213
(2)
215
(5)

| | |
| --- | --- |
| | Medical Record Activities |

220
(5)

| | |
| --- | --- |
| | Acute Myocardial Infarction |

220
(2)

| | |
| --- | --- |
| | Operative Report: Rule Out Temporal Arteritis |

222
(3)

| | |
| --- | --- |
| | Blood, Lymph, and Immune Systems |

225
(38)
225
(1)
225
(1)
226
(1)
227
(9)
228
(1)
229
(1)
229
(2)
231
(1)
231
(1)
232
(1)
232
(1)
233
(1)
233
(2)
235
(1)
236
(5)
236
(3)
239
(1)
240
(1)
241
(5)
242
(1)

| | |
| --- | --- |
| | Acquired Immunodeficiency Syndrome (AIDS) |

243
(1)
243
(1)
244
(1)
244
(1)
244
(1)
245
(1)
245
(1)
245
(1)
245
(1)
246
(1)

| | |
| --- | --- |
| | Diagnostic, Symptomatic, and Related Terms |

246
(2)

| | |
| --- | --- |
| | Diagnostic and Therapeutic Procedures |

248
(3)
251
(2)
253
(1)
254
(5)

| | |
| --- | --- |
| | Medical Record Activities |

259
(4)

| | |
| --- | --- |
| | Discharge Summary: Sickle Cell Crisis |

259
(2)

| | |
| --- | --- |
| | Discharge Summary: PCP and HIV |

261
(2)
263
(44)
263
(1)
263
(1)
264
(1)
264
(12)
265
(2)
267
(1)
267
(1)
268
(1)

| | |
| --- | --- |
| | Surface Features of Bones |

269
(1)

| | |
| --- | --- |
| | Divisions of the Skeletal System |

270
(5)
275
(1)
276
(5)
276
(1)
276
(3)
279
(1)
279
(1)
280
(1)
281
(1)
281
(6)
282
(1)
282
(1)
282
(1)
283
(1)
284
(1)
285
(1)
286
(1)
286
(1)
286
(1)
286
(1)

| | |
| --- | --- |
| | Diagnostic, Symptomatic, and Related Terms |

287
(2)

| | |
| --- | --- |
| | Diagnostic and Therapeutic Procedures |

289
(3)
292
(1)
293
(2)
295
(7)

| | |
| --- | --- |
| | Medical Record Activities |

302
(5)

| | |
| --- | --- |
| | Right Knee Arthroscopy and Medial Meniscectomy |

302
(2)

| | |
| --- | --- |
| | Radiographic Consultation: Tibial Diaphysis Nuclear Scan |

304
(3)
307
(38)
307
(1)
307
(1)
308
(1)
309
(4)
309
(1)
309
(3)
312
(1)
313
(4)
313
(1)
313
(1)
314
(1)
315
(1)
316
(1)
317
(1)
317
(5)
318
(1)
318
(1)
318
(2)
320
(1)

| | |
| --- | --- |
| | Benign Prostatic Hyperplasia |

320
(1)
321
(1)
321
(1)
321
(1)

| | |
| --- | --- |
| | Diagnostic, Symptomatic, and Related Terms |

322
(3)

| | |
| --- | --- |
| | Diagnostic and Therapeutic Procedures |

325
(7)
332
(1)
333
(1)
334
(6)

| | |
| --- | --- |
| | Medical Record Activities |

340
(5)

| | |
| --- | --- |
| | Operative Report: Ureterocele |

340
(1)

| | |
| --- | --- |
| | Operative Report: Extracorporeal Shockwave Lithotripsy |

341
(4)

| | |
| --- | --- |
| | Female Reproductive System |

345
(42)
345
(1)
345
(1)
346
(1)
347
(7)

| | |
| --- | --- |
| | Female Reproductive Organs |

348
(1)
348
(1)
349
(1)
349
(1)
349
(1)
349
(2)
351
(1)
351
(1)
352
(2)
354
(4)
354
(2)
356
(1)
357
(1)
358
(5)
358
(1)
358
(1)

| | |
| --- | --- |
| | Pelvic and Vaginal Infections |

359
(1)
359
(1)

| | |
| --- | --- |
| | Sexually Transmitted Disease |

360
(1)
360
(1)
360
(1)
361
(1)
361
(1)
361
(1)
361
(1)
362
(1)
362
(1)
362
(1)
362
(1)

| | |
| --- | --- |
| | Diagnostic, Symptomatic, and Related Terms |

363
(4)

| | |
| --- | --- |
| | Diagnostic and Therapeutic Procedures |

367
(6)
373
(1)
374
(2)
376
(6)

| | |
| --- | --- |
| | Medical Record Activities |

382
(5)

| | |
| --- | --- |
| | Primary Herpes I Infection |

382
(2)
384
(3)
387
(32)
387
(1)
387
(1)
388
(1)
389
(8)
389
(4)
393
(1)
393
(1)
393
(1)
394
(1)
394
(1)

| | |
| --- | --- |
| | Pancreas (Islets of Langerhans) |

395
(2)
397
(1)
397
(2)
397
(1)
398
(1)
399
(1)
399
(5)
399
(1)
400
(1)
400
(1)

| | |
| --- | --- |
| | Disorders of the Adrenal Glands |

401
(1)
401
(1)
402
(1)
402
(1)
402
(1)
403
(1)
403
(1)
404
(1)
404
(1)

| | |
| --- | --- |
| | Diagnostic, Symptomatic, and Related Terms |

404
(3)

| | |
| --- | --- |
| | Diagnostic and Therapeutic Procedures |

407
(2)
409
(2)
411
(1)
412
(4)

| | |
| --- | --- |
| | Medical Record Activities |

416
(3)
416
(1)
417
(2)
419
(38)
419
(1)
419
(1)
420
(1)
420
(9)

| | |
| --- | --- |
| | Cellular Structure of the Nervous System |

421
(1)
421
(1)
421
(2)
423
(1)
423
(3)

| | |
| --- | --- |
| | Peripheral Nervous System |

426
(3)
429
(3)
429
(2)
431
(1)
432
(1)
432
(4)
433
(1)
433
(1)
433
(1)
434
(1)
434
(1)
434
(1)
434
(2)
436
(1)

| | |
| --- | --- |
| | Diagnostic, Symptomatic, and Related Terms |

436
(4)

| | |
| --- | --- |
| | Diagnostic and Therapeutic Procedures |

440
(3)
443
(3)
446
(1)
446
(6)

| | |
| --- | --- |
| | Medical Record Activities |

452
(5)
452
(2)

| | |
| --- | --- |
| | Consultation Report: Acute Onset Paraplegia |

454
(3)
457
(88)
457
(1)
457
(1)
458
(1)
459
(4)
459
(1)
459
(1)
460
(1)
460
(1)
460
(1)
461
(1)
461
(1)
462
(1)
463
(4)
463
(1)
463
(2)
465
(1)
466
(1)
466
(1)
467
(6)
467
(1)
467
(1)
468
(1)
469
(1)
470
(1)
470
(1)
471
(1)
472
(1)
472
(1)
472
(1)

| | |
| --- | --- |
| | Diagnostic, Symptomatic, and Related Terms |

473
(3)

| | |
| --- | --- |
| | Diagnostic and Therapeutic Procedures |

476
(3)
479
(2)
481
(2)
483
(6)

| | |
| --- | --- |
| | Medical Record Activities |

489
(4)
489
(2)

| | |
| --- | --- |
| | Phacoemulsification and Lens Implant |

491
(2)
493
(22)
515
(6)

| | |
| --- | --- |
| | Appendix C Glossary of Medical Word Elements |

521
(12)

| | |
| --- | --- |
| | Appendix D Index of Genetic Disorders |

533
(2)

| | |
| --- | --- |
| | Appendix E Index of Diagnostic Imaging Procedures |

535
(4)

| | |
| --- | --- |
| | Appendix F Index of Pharmacology |

539
(4)

| | |
| --- | --- |
| | Appendix G Index of Oncological Terms |

543
(2)
Index
545