Note: Supplemental materials are not guaranteed with Rental or Used book purchases.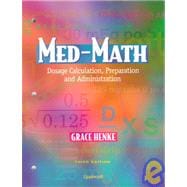 Med-Math : Dosage Calculation, Preparation and Administration
ISBN13:
9780781710282
by
Henke, Grace
Lippincott Williams & Wilkins
Summary
Saint Vincent's Hospital, New York, NY. A programmed workbook for nursing students. Previous edition: c1995. Two-color format. Includes: new drug labels, an expanded glossary, and IV content. Three-hole punched with perforated pages.
Table of Contents
| | |
| --- | --- |
| | 1 Arithmetic Needed for Dosage |

1
(25)

| | |
| --- | --- |
| | Multiplying Whole Numbers |

1
(1)
2
(1)
3
(6)
3
(2)
5
(1)
6
(1)

| | |
| --- | --- |
| | Changing Fractions to Decimals |

7
(2)
9
(4)
9
(1)
10
(1)

| | |
| --- | --- |
| | Clearing the Divisor of Decimal Points |

10
(1)
11
(1)

| | |
| --- | --- |
| | Comparing the Value of Decimals |

12
(1)
13
(2)

| | |
| --- | --- |
| | Percents That Are Whole Numbers |

13
(1)

| | |
| --- | --- |
| | Percents That Are Decimals |

13
(1)

| | |
| --- | --- |
| | Percents That Are Fractions |

14
(1)
15
(6)

| | |
| --- | --- |
| | Solving Proportions With an Unknown |

15
(2)

| | |
| --- | --- |
| | Ratio and Proportion in Dosage |

17
(4)
21
(5)

| | |
| --- | --- |
| | 2 Interpreting the Language of Prescriptions |

26
(17)

| | |
| --- | --- |
| | Time of Administration of Drugs |

26
(3)

| | |
| --- | --- |
| | Military Time: The 24-Hour Clock |

28
(1)
29
(2)

| | |
| --- | --- |
| | Metric and SI Abbreviations |

31
(1)
32
(1)
33
(1)

| | |
| --- | --- |
| | Terms and Abbreviations for Drug Preparations |

34
(7)
41
(2)

| | |
| --- | --- |
| | 3 Drug Labels and Packaging |

43
(20)
43
(5)
48
(13)
48
(5)
53
(8)
61
(2)

| | |
| --- | --- |
| | 4 Dosage Measurement Systems |

63
(16)
63
(14)
63
(1)
63
(1)

| | |
| --- | --- |
| | Converting Solid Equivalents |

64
(5)

| | |
| --- | --- |
| | Table of Common Metric Solid Equivalents |

69
(2)
71
(1)

| | |
| --- | --- |
| | Apothecary Liquid Measures Found on Equipment |

71
(1)
71
(1)

| | |
| --- | --- |
| | Conversions Among Liquid Measures |

72
(5)
77
(2)

| | |
| --- | --- |
| | 5 Drug Preparations and Equipment to Measure Doses |

79
(14)
79
(3)
79
(2)
81
(1)
81
(1)

| | |
| --- | --- |
| | Equipment to Measure Doses |

82
(9)
82
(2)
84
(1)

| | |
| --- | --- |
| | Rounding Off Numbers in Liquid Dosage Answers |

85
(3)

| | |
| --- | --- |
| | Needles for Intramuscular and Subcutaneous Injections |

88
(3)
91
(2)

| | |
| --- | --- |
| | 6 Calculation of Oral Medications--Solids and Liquids |

93
(25)
94
(6)

| | |
| --- | --- |
| | Application of the Rule for Oral Solids |

94
(1)
95
(4)

| | |
| --- | --- |
| | Special Types of Oral Solid Orders |

99
(1)
100
(4)

| | |
| --- | --- |
| | Application of the Rule for Oral Liquids |

100
(4)

| | |
| --- | --- |
| | Special Types of Oral Liquid Orders |

104
(1)

| | |
| --- | --- |
| | Mental Drill for Oral Solid and Liquid Problems |

104
(9)
113
(5)
118
(41)

| | |
| --- | --- |
| | Calculating Injection Problems |

119
(5)
119
(1)
119
(5)

| | |
| --- | --- |
| | Special Types of Problems in Injections From a Liquid |

124
(5)
124
(3)
127
(2)
129
(22)
129
(3)

| | |
| --- | --- |
| | Types of Insulin Syringes |

132
(1)

| | |
| --- | --- |
| | Preparing an Injection Using an Insulin Syringe |

133
(1)

| | |
| --- | --- |
| | Mixing Two Insulins in One Syringe |

133
(1)

| | |
| --- | --- |
| | Preparing an Insulin Injecton When No Insulin Syringe Is Available |

134
(17)
151
(8)

| | |
| --- | --- |
| | 8 Injections From Powders |

159
(29)
159
(1)

| | |
| --- | --- |
| | Application of the Rule for Injections From Powders |

159
(1)

| | |
| --- | --- |
| | Distinctive Features of Injections From Powders |

160
(3)

| | |
| --- | --- |
| | Where to Find Information About Reconstitution of Powders |

163
(20)
183
(5)

| | |
| --- | --- |
| | 9 Calculation of Basic IV Drip Rates |

188
(28)
188
(1)

| | |
| --- | --- |
| | Types of Intravenous Fluids |

188
(1)

| | |
| --- | --- |
| | Kinds of Intravenous Drip Factors |

189
(8)
189
(1)
190
(1)

| | |
| --- | --- |
| | Calculating Basic IV Drip Rates |

191
(2)
193
(2)

| | |
| --- | --- |
| | Determining Hours an IV Will Run |

195
(1)

| | |
| --- | --- |
| | Choosing the Infusion Set |

196
(1)

| | |
| --- | --- |
| | Need for Continuous Observation |

197
(1)

| | |
| --- | --- |
| | Adding Medications to IVs |

197
(3)

| | |
| --- | --- |
| | Medications Ordered Over Several Hours |

197
(3)

| | |
| --- | --- |
| | Medications for Intermittent Intravenous Administration |

200
(4)
200
(4)
204
(1)

| | |
| --- | --- |
| | Changing the Intravenous Drip Rate |

204
(7)
205
(6)
211
(5)

| | |
| --- | --- |
| | 10 Special Types of Intravenous Calculations |

216
(25)
216
(1)

| | |
| --- | --- |
| | Medications Ordered in Units/hr, mg/hr, or mL/hr |

216
(4)

| | |
| --- | --- |
| | Units/hr--Rule and Calculation |

216
(1)

| | |
| --- | --- |
| | mg/hr, g/hr--Rule and Calculation |

217
(1)

| | |
| --- | --- |
| | mL/hr--Rule and Calculation |

218
(1)

| | |
| --- | --- |
| | mg/min--Rule and Calculation |

219
(1)

| | |
| --- | --- |
| | Medications Ordered in mcg/min, mcg/kg/min, or milliunits/min |

220
(5)

| | |
| --- | --- |
| | mcg/min--Rule and Calculation |

220
(3)

| | |
| --- | --- |
| | mcg/kg/min--Rule and Calculation |

223
(1)

| | |
| --- | --- |
| | milliunits/min--Rule and Calculation |

224
(1)
225
(4)

| | |
| --- | --- |
| | m(2)--Rule and Calculation |

226
(3)

| | |
| --- | --- |
| | Patient-Controlled Analgesia (PCA) |

229
(6)
235
(6)

| | |
| --- | --- |
| | 11 Dosage Problems for Infants and Children |

241
(20)
241
(1)

| | |
| --- | --- |
| | Dosage Based on mg/kg and Body Surface Area |

241
(9)

| | |
| --- | --- |
| | Steps and Rule--mk/kg Body Weight |

242
(4)
246
(2)

| | |
| --- | --- |
| | Steps and Rule--m(2) Medication Orders |

248
(2)

| | |
| --- | --- |
| | Dosage for Parenteral Medications |

250
(7)
257
(4)

| | |
| --- | --- |
| | 12 Information Basic to Administering Drugs |

261
(21)
261
(4)
262
(1)
262
(1)
262
(1)
263
(1)
263
(1)
263
(1)
263
(1)

| | |
| --- | --- |
| | Contraindications and Precautions |

263
(1)

| | |
| --- | --- |
| | Interactions and Incompatibilities |

264
(1)
264
(1)
264
(1)
265
(1)
265
(1)
265
(1)
265
(1)
265
(1)
265
(1)
266
(1)
266
(1)
266
(1)
266
(4)
267
(2)
269
(1)

| | |
| --- | --- |
| | Ethical Principles in Drug Administration |

270
(1)
270
(1)
270
(1)
271
(1)
271
(1)
271
(1)
271
(1)
271
(1)

| | |
| --- | --- |
| | Specific Points That May Be Helpful in Giving Medications |

271
(10)
271
(1)
271
(2)
273
(1)
274
(1)
274
(1)
275
(1)
275
(6)
281
(1)

| | |
| --- | --- |
| | 13 Administration Procedures |

282
(32)

| | |
| --- | --- |
| | Universal Precautions Applied to Administration of Medications |

282
(2)

| | |
| --- | --- |
| | General Safeguards in Administering Medications |

282
(2)

| | |
| --- | --- |
| | Systems of Administration |

284
(3)
284
(1)
285
(1)
286
(1)
287
(26)
287
(2)
289
(8)
297
(2)

| | |
| --- | --- |
| | Application to Skin and Mucous Membrane |

299
(14)
313
(1)
Appendix A Apothecary System
314
(4)
Appendix B Derivation of the Dosage Formula
318
(2)
Appendix C Proficiency Test Answers
320
(21)
Glossary
341
(4)
Index
345