Note: Supplemental materials are not guaranteed with Rental or Used book purchases.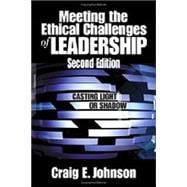 Meeting the Ethical Challenges of Leadership : Casting Light or Shadow
ISBN13:
9781412905688
by
Johnson, Craig
Summary
Meeting the Ethical Challenges of Leadership, Second Edition identifies the unique ethical demands of leadership and equips students to meet those challenges. Written in an informal, accessible style, this book takes an interdisciplinary approach to leadership ethics that will appeal to students from a variety of academic backgrounds. The first of its kind, this text provides students with a variety of ethical perspectives and strategies to apply to moral dilemmas and describes tools and techniques for creating positive ethical climates in small group, organizational, and culturally diverse settings.New to the Second Edition:Citations and cases retained from the first edition have been updated. These cases help bring ethical principles alive with contemporary examples.An additional case has been added to each chapter.A self-assessment instrument has been added to each chapter to strengthen the assessment theme of the book.Coverage has been strengthened by adding additional concepts and research findings as needed.Designed as a core textbook for undergraduate and graduate courses in leadership and ethics, this student-friendly book looks at the leader's inner life, including character development and values. Respected author and professor, Craig E. Johnson, blends research and theory with practical strategies, skill development, contemporary case studies, and application exercises.
Author Biography
Craig E. Johnson is professor of leadership studies at George Fox University, Newberg, Oregon, where he teaches graduate and undergraduate courses in leadership, ethics, and communication.
Table of Contents
| | |
| --- | --- |
| | Part I The Shadow Side of Leadership |

1
(62)
3
(1)
3
(2)
5
(4)

| | |
| --- | --- |
| | The Leader's Light or Shadow |

9
(26)
9
(1)
9
(1)
10
(16)
10
(3)

| | |
| --- | --- |
| | Self-Assessment: The Brutal Boss Questionnaire |

13
(3)
16
(1)
17
(2)

| | |
| --- | --- |
| | Case Study: Keeping It to Themselves: Personal Injury Lawyers and Firestone Tires |

19
(2)

| | |
| --- | --- |
| | Leadership Ethics at the Movies: Saving Private Ryan |

21
(1)

| | |
| --- | --- |
| | The Shadow of Inconsistency |

22
(1)

| | |
| --- | --- |
| | The Shadow of Misplaced and Broken Loyalties |

23
(2)

| | |
| --- | --- |
| | The Shadow of Irresponsibility |

25
(1)

| | |
| --- | --- |
| | Implications and Applications |

26
(1)

| | |
| --- | --- |
| | For Further Exploration, Challenge, and Self-Assessment |

26
(9)

| | |
| --- | --- |
| | Chapter End Case: Casting Shadows at Enron |

28
(3)

| | |
| --- | --- |
| | Chapter End Case: The Patriot Act: Abuse of Power? |

31
(4)
35
(28)
35
(2)
37
(1)
37
(1)
38
(4)
42
(1)

| | |
| --- | --- |
| | Inactive or Overactive Moral Imagination |

43
(2)

| | |
| --- | --- |
| | Leadership Ethics at the Movies: Insomnia |

45
(1)
45
(3)

| | |
| --- | --- |
| | Case Study: The Multiplied Abused Children |

47
(1)

| | |
| --- | --- |
| | Stepping Out of the Shadows: Expanding Our Ethical Capacity |

48
(5)

| | |
| --- | --- |
| | Self-Assessment: Ethical Self-Awareness Instrument |

51
(2)

| | |
| --- | --- |
| | Implications and Applications |

53
(2)

| | |
| --- | --- |
| | For Further Exploration, Challenge, and Self-Assessment |

55
(8)

| | |
| --- | --- |
| | Chapter End Case: Betting on Terrorism |

56
(2)

| | |
| --- | --- |
| | Chapter End Case: The Ethical Saga of Salomon, Inc. |

58
(5)
63
(64)
65
(32)
65
(1)
65
(4)
69
(17)

| | |
| --- | --- |
| | Components of Moral Action |

69
(1)
70
(1)

| | |
| --- | --- |
| | Case Study: The Hero as Optimist: Explorer Ernest Shackleton |

71
(3)

| | |
| --- | --- |
| | Telling and Living Collective Stories |

74
(1)

| | |
| --- | --- |
| | Leadership Ethics at the Movies: Erin Brockovich |

75
(1)
75
(2)
77
(2)
79
(2)
81
(3)

| | |
| --- | --- |
| | Self-Assessment: Instrumental and Terminal Values |

84
(2)

| | |
| --- | --- |
| | Implications and Applications |

86
(1)

| | |
| --- | --- |
| | For Further Exploration, Challenge, and Self-Assessment |

86
(11)

| | |
| --- | --- |
| | Chapter End Case: ``Chainsaw'' Al Dunlap and ``Mensch'' Aaron Feuerstein |

88
(4)

| | |
| --- | --- |
| | Chapter End Case: Battling Blindness: Merck Does the Right Thing |

92
(5)
97
(30)
97
(1)
97
(5)

| | |
| --- | --- |
| | Evil as Dreadful Pleasure |

98
(1)
98
(1)
98
(1)

| | |
| --- | --- |
| | Evil as Sanctioned Destruction |

99
(1)
100
(1)
100
(1)
101
(1)

| | |
| --- | --- |
| | Making a Case for Forgiveness |

102
(7)

| | |
| --- | --- |
| | Breaking the Cycle of Evil |

102
(2)

| | |
| --- | --- |
| | Case Study: To Forgive or Not to Forgive? |

104
(1)
105
(3)

| | |
| --- | --- |
| | Leadership Ethics at the Movies: Dead Man Walking |

108
(1)
109
(8)

| | |
| --- | --- |
| | Spirituality and Leadership |

109
(2)
111
(2)

| | |
| --- | --- |
| | Self-Assessment: Finding Yourself by Losing Yourself |

113
(1)
114
(1)
114
(1)
115
(1)
116
(1)

| | |
| --- | --- |
| | Implications and Applications |

117
(1)

| | |
| --- | --- |
| | For Further Exploration, Challenge, and Self-Assessment |

117
(10)

| | |
| --- | --- |
| | Chapter End Case: Justifying Terror |

119
(3)

| | |
| --- | --- |
| | Chapter End Case: Covering Up Evil |

122
(5)

| | |
| --- | --- |
| | Part III Ethical Standards and Strategies |

127
(86)

| | |
| --- | --- |
| | General Ethical Perspectives |

129
(28)
129
(1)

| | |
| --- | --- |
| | Utilitarianism: Do the Greatest Good for the Greatest Number of People |

129
(3)

| | |
| --- | --- |
| | Case Study: The Reference Letter |

132
(1)

| | |
| --- | --- |
| | Kant's Categorical Imperative: Do What's Right No Matter What the Cost |

132
(3)

| | |
| --- | --- |
| | Leadership Ethics at the Movies: The Pianist |

134
(1)

| | |
| --- | --- |
| | Justice as Fairness: Guaranteeing Equal Rights and Opportunities Behind the Veil of Ignorance |

135
(3)

| | |
| --- | --- |
| | Communitarianism: Shoulder Your Responsibilities/Seek the Common Good |

138
(5)

| | |
| --- | --- |
| | Self-Assessment: Community Involvement Scale |

140
(3)

| | |
| --- | --- |
| | Altruism: Love Your Neighbor |

143
(2)
145
(1)

| | |
| --- | --- |
| | Implications and Applications |

146
(1)

| | |
| --- | --- |
| | For Further Exploration, Challenge, and Self-Assessment |

146
(11)

| | |
| --- | --- |
| | Chapter End Case: The Parable of the Sadhu |

148
(4)

| | |
| --- | --- |
| | Chapter End Case: Curing One Patient at a Time |

152
(5)

| | |
| --- | --- |
| | Normative Leadership Theories |

157
(30)
157
(1)

| | |
| --- | --- |
| | Transformational Leadership: Raising the Ethical Bar |

157
(9)

| | |
| --- | --- |
| | Leadership Ethics at the Movies: The Gathering Storm |

159
(2)

| | |
| --- | --- |
| | Self-Assessment: Perceived Leader Integrity Scale |

161
(5)

| | |
| --- | --- |
| | Postindustrial Leadership: Ethics in Relational Process |

166
(2)

| | |
| --- | --- |
| | Taoism: Lead Nature's Way |

168
(5)

| | |
| --- | --- |
| | Servant Leadership: Put the Needs of Followers First |

173
(5)

| | |
| --- | --- |
| | Case Study: Servant Leadership Behind Bars |

177
(1)

| | |
| --- | --- |
| | Implications and Applications |

178
(1)

| | |
| --- | --- |
| | For Further Exploration, Challenge, and Self-Assessment |

178
(9)

| | |
| --- | --- |
| | Chapter End Case: Transforming Clear Lake College |

180
(2)

| | |
| --- | --- |
| | Chapter End Case: Betraying the Small Investor |

182
(5)

| | |
| --- | --- |
| | Ethical Decision-Making Formats |

187
(26)
187
(1)

| | |
| --- | --- |
| | Pick a Format, Any Format |

187
(1)

| | |
| --- | --- |
| | Kidder's Ethical Checkpoints |

188
(5)

| | |
| --- | --- |
| | Leadership Ethics at the Movies: Catch Me If You Can |

190
(2)

| | |
| --- | --- |
| | Case Study: The Board Chairman's Questions |

192
(1)
193
(4)

| | |
| --- | --- |
| | Self-Assessment: The Gift |

196
(1)
197
(4)
197
(1)
198
(1)
199
(2)

| | |
| --- | --- |
| | Cooper's Active Process Model |

201
(3)
204
(3)

| | |
| --- | --- |
| | Implications and Applications |

207
(1)

| | |
| --- | --- |
| | For Further Exploration, Challenge, and Self-Assessment |

208
(5)

| | |
| --- | --- |
| | Chapter End Case: Ethical Scenarios for Analysis |

209
(4)

| | |
| --- | --- |
| | Part IV Shaping Ethical Contexts |

213
(98)

| | |
| --- | --- |
| | Building an Effective, Ethical Small Group |

215
(30)
215
(1)

| | |
| --- | --- |
| | The Leader and the Small Group |

216
(2)

| | |
| --- | --- |
| | Case Study: The Ten Commandments Go to Court |

217
(1)
218
(3)
221
(2)

| | |
| --- | --- |
| | Leadership Ethics at the Movies: Twelve Angry Men |

223
(1)

| | |
| --- | --- |
| | Enlightening Communication |

223
(7)
223
(2)

| | |
| --- | --- |
| | Comprehensive, Critical Listening |

225
(2)

| | |
| --- | --- |
| | Defensive Versus Supportive Communication |

227
(1)
228
(2)

| | |
| --- | --- |
| | Engaging in Effective Argument |

230
(4)

| | |
| --- | --- |
| | Self-Assessment: Argumentativeness Scale |

230
(4)

| | |
| --- | --- |
| | Implications and Applications |

234
(1)

| | |
| --- | --- |
| | For Further Exploration, Challenge, and Self-Assessment |

235
(10)

| | |
| --- | --- |
| | Chapter End Case: Death Row Organ Transplants |

237
(2)

| | |
| --- | --- |
| | Chapter End Case: Groupthink and Faulty Reasoning: NASA's Recipe for Disaster |

239
(6)

| | |
| --- | --- |
| | Creating an Ethical Organizational Climate |

245
(32)
245
(1)

| | |
| --- | --- |
| | Organizational Light or Shadow |

245
(1)
246
(6)
247
(1)

| | |
| --- | --- |
| | Signs of Healthy Ethical Climates |

247
(1)
248
(2)

| | |
| --- | --- |
| | Leadership Ethics at the Movies: The Insider |

250
(1)

| | |
| --- | --- |
| | Process Focus (Concern for Means and Ends) |

251
(1)
251
(1)
252
(4)
252
(2)

| | |
| --- | --- |
| | Self-Assessment: Mars Group Technique |

254
(1)

| | |
| --- | --- |
| | Values Adoption Process (VAP) |

255
(1)
256
(5)

| | |
| --- | --- |
| | Case Study: Cutting Corners at the University |

257
(4)

| | |
| --- | --- |
| | Continuous Ethical Improvement |

261
(4)

| | |
| --- | --- |
| | The Need for Continuous Ethical Learning |

261
(1)

| | |
| --- | --- |
| | Enhancing Organizational Ethical Learning |

262
(3)

| | |
| --- | --- |
| | Implications and Applications |

265
(1)

| | |
| --- | --- |
| | For Further Exploration, Challenge, and Self-Assessment |

266
(11)

| | |
| --- | --- |
| | Chapter End Case: Agenda for Change at the Air Force Academy |

268
(3)

| | |
| --- | --- |
| | Chapter End Case: The Fall of Arthur Andersen |

271
(6)

| | |
| --- | --- |
| | Meeting the Ethical Challenges of Cultural Diversity |

277
(34)
277
(1)

| | |
| --- | --- |
| | The Dark Side of Globalization |

277
(7)

| | |
| --- | --- |
| | The Global Shadow of Power |

278
(1)

| | |
| --- | --- |
| | The Global Shadow of Privilege |

279
(1)

| | |
| --- | --- |
| | Case Study: Rich Nations, Poor Nations: The Ethics of Farm Subsidies |

280
(1)

| | |
| --- | --- |
| | The Global Shadow of Deceit |

281
(1)

| | |
| --- | --- |
| | The Global Shadow of Inconsistency |

282
(1)

| | |
| --- | --- |
| | The Global Shadow of Misplaced and Broken Loyalties |

283
(1)

| | |
| --- | --- |
| | The Global Shadow of Irresponsibility |

283
(1)

| | |
| --- | --- |
| | Leadership and Ethical Diversity |

284
(3)

| | |
| --- | --- |
| | Leadership Ethics at the Movies: Rabbit-Proof Fence |

287
(1)

| | |
| --- | --- |
| | Overcoming Ethnocentrism and Prejudice |

287
(1)

| | |
| --- | --- |
| | Cultural Differences and Ethical Values |

288
(9)
288
(1)

| | |
| --- | --- |
| | Cultural Values Orientations |

289
(1)

| | |
| --- | --- |
| | Programmed Value Patterns |

290
(4)

| | |
| --- | --- |
| | Seven Cultures of Capitalism |

294
(1)

| | |
| --- | --- |
| | Self-Assessment: A Driving Dilemma |

295
(2)
297
(1)

| | |
| --- | --- |
| | Standing on Moral Common Ground |

298
(5)
299
(1)
300
(1)
300
(1)
301
(1)
302
(1)

| | |
| --- | --- |
| | Implications and Applications |

303
(1)

| | |
| --- | --- |
| | For Further Exploration, Challenge, and Self-Assessment |

304
(7)

| | |
| --- | --- |
| | Chapter End Case: Sexual Intimidation at Mitsubishi |

305
(2)

| | |
| --- | --- |
| | Chapter End Case: Ethical Diversity Scenarios |

307
(4)
Epilogue
311
(2)
Index
313
(20)
About the Author
333