Note: Supplemental materials are not guaranteed with Rental or Used book purchases.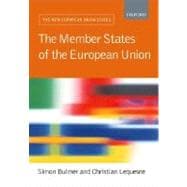 Summary
This book is the most comprehensive study of the European member states available. It covers the principal member states in separate chapters, as well as bringing together the smaller member states in comparative groupings, and also includes a chapter on the new member states. The countrychapters look at the wider political issues associated with integration and not just policy machinery. In order to help readers understand the interaction of the member states, there are sections that cover analytical and empirical themes such as EU member relations and the European economy.
Author Biography

Simon Bulmer is Jean Monet Professor of European Politics at the University of Manchester.
Christian Lequesne is Research Director at the Centre Francais de Recherche en Science Sociales in Prague.

Table of Contents
Preface
xiii
List of Boxes
xiv
List of Figures
xv
List of Tables
xvi
List of Abbreviations and Acronyms
xvii
List of Contributors
xix
1 The European Union and its Member States: An Overview
1
(20)
2
(3)

| | |
| --- | --- |
| | Analysing the role of member states in the EU |

5
(5)

| | |
| --- | --- |
| | Intergovernmentalism: the member state at the centre of EU bargaining |

5
(2)

| | |
| --- | --- |
| | Institutionalism and member state-EU relations |

7
(2)

| | |
| --- | --- |
| | New governance approaches and member state-EU relations |

9
(1)

| | |
| --- | --- |
| | Analysing Europeanization |

10
(5)

| | |
| --- | --- |
| | An interactive approach to constructivism |

15
(1)
16
(5)
Part 1 Analytical Approaches
21
(50)
23
(48)

| | |
| --- | --- |
| | 2 Exercising Power and Influence in the European Union: The Roles of Member States |

25
(20)
26
(3)

| | |
| --- | --- |
| | Points of access in the EU system for the member governments |

29
(7)
29
(2)
31
(2)
33
(1)
34
(2)

| | |
| --- | --- |
| | Power and influence in the EU system |

36
(6)
38
(1)
38
(1)
39
(1)

| | |
| --- | --- |
| | Social and economic practice |

40
(1)
40
(1)
40
(1)

| | |
| --- | --- |
| | Credibility and consistency |

41
(1)

| | |
| --- | --- |
| | Drawing comparative conclusions |

42
(3)

| | |
| --- | --- |
| | 3 Europeanization: How the European Union Interacts with its Member States |

45
(28)
46
(1)

| | |
| --- | --- |
| | From bottom-up to top-down |

47
(2)

| | |
| --- | --- |
| | Studying the effect of the European Union on the member states |

49
(13)

| | |
| --- | --- |
| | Dimensions of domestic change |

49
(1)

| | |
| --- | --- |
| | Mechanisms of domestic change |

49
(1)

| | |
| --- | --- |
| | Inconvenient Europe: misfit as the necessary condition of domestic change |

50
(1)

| | |
| --- | --- |
| | The domestic impact of Europe: redistributing resources |

52
(1)

| | |
| --- | --- |
| | The domestic impact of Europe as a process of socialization |

54
(1)

| | |
| --- | --- |
| | The domestic impact of Europe as a process of institutional adaptation |

56
(2)

| | |
| --- | --- |
| | Outcome of domestic change |

58
(1)

| | |
| --- | --- |
| | Deep impact? The scope of domestic change |

58
(1)

| | |
| --- | --- |
| | Coming together or driving apart? The direction of domestic change |

61
(1)

| | |
| --- | --- |
| | Bringing the bottom-up perspective back in |

62
(9)
Part 2 The Member States
71
(210)
73
(136)

| | |
| --- | --- |
| | 4 Germany and Europe: Centrality in the EU |

77
(20)
78
(1)

| | |
| --- | --- |
| | History and politics of the European issue in Germany |

78
(4)
82
(4)

| | |
| --- | --- |
| | Integration and institutional adaptation in Germany |

86
(2)

| | |
| --- | --- |
| | Integration and policy adaptation in Germany |

88
(5)
93
(4)

| | |
| --- | --- |
| | 5 France: Between Integration and National Sovereignty |

97
(22)
98
(1)

| | |
| --- | --- |
| | French diplomacy for Europe-history and politics |

98
(8)

| | |
| --- | --- |
| | Extending French influence through European integration |

98
(1)
99
(1)
99
(1)

| | |
| --- | --- |
| | Deepening European integration |

100
(1)
101
(1)
102
(1)

| | |
| --- | --- |
| | Economic and monetary union |

102
(1)

| | |
| --- | --- |
| | Increasing tensions between contradictory goals |

103
(1)
104
(1)

| | |
| --- | --- |
| | Redefining Europe's role in the new world order |

104
(2)

| | |
| --- | --- |
| | Institutional and policy adaptation in France |

106
(9)
106
(1)

| | |
| --- | --- |
| | Direct constitutional and legal adaptation |

106
(1)

| | |
| --- | --- |
| | Reorganization of governmental structure |

107
(1)

| | |
| --- | --- |
| | French regions in a multilevel system |

108
(1)
109
(1)

| | |
| --- | --- |
| | Public opinion and political cleavages |

110
(1)

| | |
| --- | --- |
| | Support for European integration |

110
(1)
112
(1)

| | |
| --- | --- |
| | Social movements and protests |

113
(2)
115
(4)

| | |
| --- | --- |
| | 6 The United Kingdom: A Europeanized Government in a non-Europeanized Polity |

119
(23)
119
(1)

| | |
| --- | --- |
| | Britain's European diplomacy |

120
(7)

| | |
| --- | --- |
| | The EU and British politics |

127
(4)

| | |
| --- | --- |
| | Britain and the European Union: institutional adaptation |

131
(4)

| | |
| --- | --- |
| | Britain and the European Union: policy adaptation |

135
(4)
139
(3)

| | |
| --- | --- |
| | 7 Italy and Spain: A Tale of Contrasting Effectiveness in the EU |

142
(22)
143
(1)

| | |
| --- | --- |
| | History and politics of the European issue |

143
(3)

| | |
| --- | --- |
| | Motivations for membership |

143
(1)

| | |
| --- | --- |
| | The foreign policy context |

143
(2)

| | |
| --- | --- |
| | Public opinion and political parties |

145
(1)

| | |
| --- | --- |
| | The institutional framework |

146
(3)

| | |
| --- | --- |
| | Institutions at the national level |

146
(2)
148
(1)
149
(7)

| | |
| --- | --- |
| | The relationship between European law and national law |

149
(1)

| | |
| --- | --- |
| | The Minister of Foreign Affairs and the Prime Minister |

150
(3)

| | |
| --- | --- |
| | The role of the national parliaments |

153
(2)

| | |
| --- | --- |
| | The role of the regions and of the autonomous communities |

155
(1)
156
(3)

| | |
| --- | --- |
| | Negotiation techniques and EU alliance-building |

156
(2)

| | |
| --- | --- |
| | Italy and Spain: allies or rivals? |

158
(1)
159
(5)

| | |
| --- | --- |
| | 8 The Benelux Countries: Identity and Self-interest |

164
(21)
164
(1)

| | |
| --- | --- |
| | Identity and self-interest |

165
(3)
166
(1)

| | |
| --- | --- |
| | Enviromental self-interest |

166
(1)
167
(1)
168
(5)

| | |
| --- | --- |
| | Multilateral market access |

168
(1)
169
(1)

| | |
| --- | --- |
| | Towards the Common Market |

170
(1)

| | |
| --- | --- |
| | Support for supranational authority |

171
(2)

| | |
| --- | --- |
| | Distribution and adjustment |

173
(3)
173
(1)
174
(1)

| | |
| --- | --- |
| | Rescuing the nation state |

175
(1)

| | |
| --- | --- |
| | Institutions and adaptation |

176
(4)
177
(1)

| | |
| --- | --- |
| | Interest and institutional context |

178
(1)

| | |
| --- | --- |
| | Idiosyncrasy and persistence |

179
(1)

| | |
| --- | --- |
| | Conclusion: self interest and identity |

180
(5)

| | |
| --- | --- |
| | 9 The EU and the Nordic Countries: Organizing Domestic Diversity? |

185
(24)
186
(1)

| | |
| --- | --- |
| | Theorizing the relationship between the EU and its Member States |

187
(2)

| | |
| --- | --- |
| | The history and politics of the European issue |

189
(3)

| | |
| --- | --- |
| | Bottom-up processes: aiming at influencing EU level policy-making |

192
(8)
192
(5)
197
(1)
198
(1)
199
(1)

| | |
| --- | --- |
| | Top-down processes: how the EU impacts on the domestic level |

200
(3)

| | |
| --- | --- |
| | How domestic politics is affected |

200
(1)

| | |
| --- | --- |
| | Institutional adaptation at the national level |

201
(1)

| | |
| --- | --- |
| | Policy adaptation at the national level |

202
(1)
203
(6)

| | |
| --- | --- |
| | 10 The Europeanization of Austria and Ireland: Small can be Difficult? |

209
(20)
210
(1)

| | |
| --- | --- |
| | The European issue before and after membership |

211
(2)

| | |
| --- | --- |
| | The European issue in Ireland |

211
(1)

| | |
| --- | --- |
| | The European issue in Austria |

212
(1)
213
(8)
213
(1)

| | |
| --- | --- |
| | Central government and administration |

214
(1)
214
(1)
215
(1)
216
(1)
217
(1)

| | |
| --- | --- |
| | Central government and administration |

217
(1)
219
(1)
220
(1)
220
(1)
221
(3)
221
(1)
222
(2)

| | |
| --- | --- |
| | Outlook: a critical juncture? |

224
(5)

| | |
| --- | --- |
| | 11 Greece and Portugal: Convergent or Divergent Europeanization? |

229
(25)
230
(1)

| | |
| --- | --- |
| | The politics of Greek and Portuguese accession |

230
(2)

| | |
| --- | --- |
| | The ambiguity of being European |

232
(3)
232
(1)
233
(1)
234
(1)

| | |
| --- | --- |
| | Managing dependence as EU member states |

235
(4)

| | |
| --- | --- |
| | Europeanization and economic nationalism |

235
(1)
236
(2)

| | |
| --- | --- |
| | Europe as a means of finance |

238
(1)

| | |
| --- | --- |
| | Migratory flows and the new European order |

238
(1)

| | |
| --- | --- |
| | The restructuring of state intervention |

239
(5)

| | |
| --- | --- |
| | Increased public spending |

239
(2)

| | |
| --- | --- |
| | Changing fields of intervention |

241
(1)

| | |
| --- | --- |
| | Problem of administrative adaptation |

242
(2)

| | |
| --- | --- |
| | Changing modes of government |

244
(6)

| | |
| --- | --- |
| | Politicized centralization |

244
(2)

| | |
| --- | --- |
| | Delegation and privatization |

246
(2)
248
(1)
249
(1)

| | |
| --- | --- |
| | Conclusion: neither convergence nor divergence |

250
(4)

| | |
| --- | --- |
| | 12 The New Member States and the EU: Responding to Europe |

254
(27)
255
(7)

| | |
| --- | --- |
| | The history of the European issue |

262
(6)

| | |
| --- | --- |
| | Negotiating accession and beyond |

268
(3)

| | |
| --- | --- |
| | Patterns of Europeanization I: polity and politics |

271
(3)

| | |
| --- | --- |
| | Patterns of Europeanization II: public policy effects |

274
(2)
276
(5)
Part 3 Europeanization
281
(107)
283
(2)

| | |
| --- | --- |
| | 13 The Europeanization of Member State Institutions |

285
(32)
286
(1)

| | |
| --- | --- |
| | National governments and the EU |

287
(10)

| | |
| --- | --- |
| | The impact on national governments |

288
(4)
292
(5)
297
(6)

| | |
| --- | --- |
| | The impact on national parliaments |

297
(1)
298
(5)
303
(4)

| | |
| --- | --- |
| | Impact on sub-national authorities |

303
(2)
305
(2)
307
(3)

| | |
| --- | --- |
| | Impact on national courts |

307
(3)
310
(1)
310
(7)

| | |
| --- | --- |
| | 14 The Europeanization of Interest Groups and Political Parties |

317
(21)
318
(1)

| | |
| --- | --- |
| | Europeanization and political forces |

319
(2)

| | |
| --- | --- |
| | Parties and interest groups |

321
(2)

| | |
| --- | --- |
| | Changing opportunity structures: interest groups |

323
(5)

| | |
| --- | --- |
| | Assessing the Europeanization of interest groups |

325
(3)

| | |
| --- | --- |
| | Changing opportunity structures: political parties |

328
(6)

| | |
| --- | --- |
| | Assessing the Europeanization of political parties |

332
(2)
334
(4)

| | |
| --- | --- |
| | 15 The Europeanization of National Policy |

338
(22)
339
(2)
341
(5)

| | |
| --- | --- |
| | Governance by negotiation |

342
(1)
343
(1)
344
(1)
344
(1)
345
(1)

| | |
| --- | --- |
| | Understanding the dynamics of Europeanization |

346
(5)
346
(2)
348
(1)
349
(2)

| | |
| --- | --- |
| | Researching Europeanization |

351
(3)
354
(1)
355
(5)

| | |
| --- | --- |
| | 16 The Europeanization of National Economies? |

360
(28)
361
(2)

| | |
| --- | --- |
| | Post-war varieties of capitalism |

363
(2)
365
(4)

| | |
| --- | --- |
| | Changing government policies |

369
(8)

| | |
| --- | --- |
| | Policy change in the 1970's |

369
(1)

| | |
| --- | --- |
| | Policy change in the 1980's |

370
(3)

| | |
| --- | --- |
| | Policy change in the 1990's and early 2000's |

373
(4)

| | |
| --- | --- |
| | Changing business practices and industrial relations |

377
(5)

| | |
| --- | --- |
| | Differential impact of financial markets on corporate governance |

377
(4)

| | |
| --- | --- |
| | Differences in corporate production patterns and performance |

381
(1)
382
(6)
Conclusion
388
(5)
Index
393