Note: Supplemental materials are not guaranteed with Rental or Used book purchases.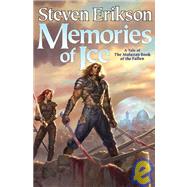 Memories of Ice Book Three of The Malazan Book of the Fallen
ISBN13:
9780765310033
by
Erikson, Steven
Summary
The ravaged continent of Genabackis has given birth to a terrifying new empire: the Pannion Domin. Like a tide of corrupted blood, it seethes across the land, devouring all. In its path stands an uneasy alliance: Onearm's army and Whiskeyjack's Bridgeburners alongside their enemies of old--the forces of the Warlord Caladan Brood, Anomander Rake and his Tiste Andii mages, and the Rhivi people of the plains. But ancient undead clans are also gathering; the T'lan Imass have risen. For it would seem something altogether darker and more malign threatens this world. Rumors abound that the Crippled God is now unchained and intent on a terrible revenge. Marking the return of many characters from Gardens of the Moon and introducing a host of remarkable new players, Memories of Ice is both a momentous new chapter in Steven Erikson's magnificent epic fantasy and a triumph of storytelling.
Author Biography
STEVEN ERIKSON has worked for twenty years as an anthropologist and archaeologist. He is also a graduate of the Iowa Writer's Workshop.


Table of Contents
"Erikson has infused new life into one of the oldest traditions of fiction. . . . Along with Gardens of the Moon and Deadhouse Gates, Memories of Ice offers all the rewards the word epic so often conjures and fails to deliver. Read and expect to be overpowered, not only by a story that never fails to thrill and entertain, but by a saga that lives up to its name, both intellectually and in its dramatic, visually rich and lavish storytelling."--SF Site on Memories of Ice

"Erikson afflicts me with awe...vast in scope, almost frighteningly fecund in imagination, and rich in sympathy, his work does something that only the rarest of books can manage: it alters the reader's perceptions of reality."--Stephen R. Donaldson on
Deadhouse Gates
"Give me the evocation of a rich, complex and yet ultimately unknowable other world, with a compelling suggestion of intricate history and mythology and lore. Give me mystery amid the grand narrative. Give me a world in which every sea hides a crumbled Atlantis, every ruin has a tale to tell, every mattock blade is a silent legacy of struggles unknown. Give me, in other words, the fantasy work of Steven Erikson."--Andrew Leonard,
Salon
on
Gardens of the Moon