Note: Supplemental materials are not guaranteed with Rental or Used book purchases.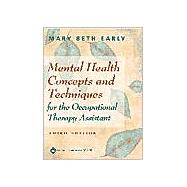 Mental Health Concepts and Techniques for the Occupational Therapy Assistant
ISBN13:
9780781719759
by
Early, Mary Beth
Related Products
Summary
The Third Edition of this classic text provides the basic foundation for the practice of occupational therapy for persons with mental health problems. This invaluable reference reflects new developments in basic neuroscience, psychopharmacology, occupational therapy theory and treatment methods. The text is written in an engaging, user-friendly style, offering ample tables, group protocols, case studies, and text boxes. In addition to providing information on newer medications such as SSRIs and atypical antipsychotics, this edition offers three additional treatment models: cognitive-behavioral, psychoeducation, and psychiatric rehabilitation. A new chapter on "Who Is the Consumer?" as well as increased information on the applications of DSM-IV diagnoses are covered.
Table of Contents
Preface
v
Acknowledgements
vii
xiii
xv
xvii
SECTION I HISTORY AND THEORY

| | |
| --- | --- |
| | History and Basic Concepts |

3
(14)

| | |
| --- | --- |
| | Mental Health and Mental Illness |

3
(1)

| | |
| --- | --- |
| | Relation of Occupation to Mental Health |

4
(1)

| | |
| --- | --- |
| | Occupational Therapy in Mental Health: History and Trends |

5
(4)

| | |
| --- | --- |
| | The Role of the Certified Occupational Therapy Assistant |

9
(5)
14
(3)

| | |
| --- | --- |
| | Medical and Psychological Models of Mental Health and Illness |

17
(28)

| | |
| --- | --- |
| | Theory of Object Relations |

18
(5)
23
(3)
26
(4)

| | |
| --- | --- |
| | Cognitive-Behavioral Therapy |

30
(4)
34
(3)
37
(2)

| | |
| --- | --- |
| | Psychiatric Rehabilitation |

39
(4)
43
(2)

| | |
| --- | --- |
| | Some Practice Models for Occupational Therapy in Mental Health |

45
(42)

| | |
| --- | --- |
| | Development of Adaptive Skills |

47
(5)

| | |
| --- | --- |
| | Role Acquisition and Social Skills Training |

52
(11)
63
(5)
68
(6)
74
(10)
84
(3)

| | |
| --- | --- |
| | The Model of Human Occupation |

87
(16)
87
(1)

| | |
| --- | --- |
| | An Open and Dynamic Systems Model |

87
(2)

| | |
| --- | --- |
| | Occupational Behavior As an Energetic Exchange Among Individual, Task, and Environment |

89
(1)

| | |
| --- | --- |
| | The Self-Organizing Nature of Occupational Behavior |

89
(2)
91
(2)

| | |
| --- | --- |
| | Mind-Brain-Body Performance Subsystem |

93
(1)

| | |
| --- | --- |
| | Interaction Among the Subsystems |

94
(1)
95
(3)

| | |
| --- | --- |
| | Human Occupation in Relation to Other Practice Models |

98
(5)

| | |
| --- | --- |
| | Human Occupation and Mental health Throughout the Life Span |

103
(22)

| | |
| --- | --- |
| | Motivation Toward Occupation |

103
(1)

| | |
| --- | --- |
| | Changes in Occupation Over the Life Span |

104
(3)
107
(1)
108
(1)

| | |
| --- | --- |
| | Mental Health Factors Throughout the Life Span |

108
(12)
120
(5)
SECTION II CONTEXT

| | |
| --- | --- |
| | Understanding Psychiatric Diagnosis: The DSM-IV |

125
(24)

| | |
| --- | --- |
| | Psychiatric Diagnosis: An Evolving Science |

125
(2)

| | |
| --- | --- |
| | The Diagnostic Categories of DSM-IV |

127
(19)

| | |
| --- | --- |
| | Applications of DSM-IV Diagnoses to Occupational Therapy |

146
(1)
147
(2)
149
(32)

| | |
| --- | --- |
| | The Scope of Patients, Clients, and Consumers |

149
(1)
150
(1)
151
(8)
159
(5)
164
(1)
165
(1)
166
(4)

| | |
| --- | --- |
| | Additional Treatment Theories and Practice Models |

170
(6)
176
(5)

| | |
| --- | --- |
| | Psychotropic Medications and Other Biological Treatments |

181
(14)
181
(8)

| | |
| --- | --- |
| | Other Biological Treatments |

189
(3)
192
(3)
195
(24)
195
(5)
200
(2)
202
(3)
205
(1)

| | |
| --- | --- |
| | Populations in Economic Distress |

206
(3)

| | |
| --- | --- |
| | Medical Problems and Physical Disabilities |

209
(4)
213
(6)
SECTION III INTERACTING WITH PATIENTS
219
(16)

| | |
| --- | --- |
| | Roles in the Therapeutic Relationship |

220
(1)
221
(3)

| | |
| --- | --- |
| | Developing Therapeutic Qualities |

224
(1)

| | |
| --- | --- |
| | Techniques for Relating to Patients |

225
(2)

| | |
| --- | --- |
| | Issues That Arise in Therapeutic Relationships |

227
(2)
229
(3)

| | |
| --- | --- |
| | Ending the Therapeutic Relationship |

232
(1)
232
(3)

| | |
| --- | --- |
| | Responding to Symptoms and Behaviors |

235
(36)

| | |
| --- | --- |
| | A Framework of Concepts About Symptoms |

235
(3)
238
(1)
239
(28)
267
(4)
271
(14)
271
(3)

| | |
| --- | --- |
| | Controlling the Environment |

274
(3)

| | |
| --- | --- |
| | Medical Emergencies and First Aid |

277
(3)
280
(3)

| | |
| --- | --- |
| | Teaching Consumers About Safety |

283
(1)
283
(2)

| | |
| --- | --- |
| | Group Concepts and Techniques |

285
(36)

| | |
| --- | --- |
| | Definition and Purpose of Group Treatment |

285
(1)

| | |
| --- | --- |
| | Group Dynamics: Review of Basic Concepts |

286
(7)

| | |
| --- | --- |
| | Development of Group Skills |

293
(2)

| | |
| --- | --- |
| | How Therapy Groups Are Different From Other Groups |

295
(1)

| | |
| --- | --- |
| | Role of the Leader in an Activity Group |

295
(8)
303
(8)
311
(3)

| | |
| --- | --- |
| | Adaptations of Groups for Very Regressed Individuals |

314
(1)
315
(1)
315
(1)
316
(5)
SECTION IV OCCUPATIONAL THERAPY PROCESS

| | |
| --- | --- |
| | Overview of the Intervention Process |

321
(14)

| | |
| --- | --- |
| | Eight Stages in the Intervention Process |

321
(8)
329
(1)

| | |
| --- | --- |
| | How Theory Relates to the Occupational Therapy Process |

329
(1)
330
(3)
333
(2)

| | |
| --- | --- |
| | Data Collection and Evaluation |

335
(30)

| | |
| --- | --- |
| | Definition and Purpose of Evaluation |

335
(1)
336
(1)

| | |
| --- | --- |
| | Concepts Central to the Evaluation Process |

337
(2)

| | |
| --- | --- |
| | Roles of the Registered Occupational Therapist and the Certified Occupational Therapy Assistant |

339
(2)

| | |
| --- | --- |
| | The COTA's Methods and Areas of Data Collection |

341
(1)

| | |
| --- | --- |
| | Review of Medical Records |

341
(1)
342
(3)
345
(6)
351
(10)

| | |
| --- | --- |
| | The Performance Context for Evaluation |

361
(1)

| | |
| --- | --- |
| | Documentation and Communication of Evaluation Data |

361
(1)
362
(3)
365
(22)

| | |
| --- | --- |
| | Treatment Planning in Psychiatry |

366
(1)

| | |
| --- | --- |
| | Using Practice Models to Apply Clinical Reasoning in Treatment Planning |

367
(1)

| | |
| --- | --- |
| | Steps in Treatment Planning |

368
(2)

| | |
| --- | --- |
| | Partnership with the Client or Consumer |

370
(1)

| | |
| --- | --- |
| | General Goals of Psychiatric Occupational Therapy |

371
(4)

| | |
| --- | --- |
| | How to Write a Treatment Goal |

375
(3)

| | |
| --- | --- |
| | Identifying Treatment Principles |

378
(1)

| | |
| --- | --- |
| | Selecting Treatment Methods |

379
(2)

| | |
| --- | --- |
| | Implementing and Monitoring Treatment and Modifying the Plan |

381
(1)

| | |
| --- | --- |
| | Continuity of Care Across Settings |

381
(1)
381
(3)

| | |
| --- | --- |
| | Continuous Quality Improvement |

384
(1)
384
(3)

| | |
| --- | --- |
| | Medical Records and Documentation |

387
(28)

| | |
| --- | --- |
| | Purpose and Uses of Medical Records |

387
(2)
389
(1)

| | |
| --- | --- |
| | Documentation of Occupational Therapy Services |

390
(6)

| | |
| --- | --- |
| | Essential Content for Occupational Therapy Notes |

396
(2)

| | |
| --- | --- |
| | Specific Types of Documentation |

398
(11)
409
(1)
409
(6)
SECTION V OCCUPATIONAL THERAPY METHODS

| | |
| --- | --- |
| | Activities of Daily Living |

415
(16)
417
(11)
428
(3)

| | |
| --- | --- |
| | Work, Homemaking, and Child Care |

431
(18)
431
(11)
442
(1)

| | |
| --- | --- |
| | Home Management and Caregiver Skills |

443
(2)
445
(4)
449
(8)
449
(1)
450
(1)
451
(4)
455
(2)

| | |
| --- | --- |
| | Psychosocial Skills and Psychological Components |

457
(14)

| | |
| --- | --- |
| | Needs and Their Relationship to Psychosocial Skills and Psychological Components |

457
(2)

| | |
| --- | --- |
| | Occupational Therapy's Domain of Concern |

459
(1)

| | |
| --- | --- |
| | Performance Components and the Roles of Occupational Therapy Practitioners |

460
(1)
461
(1)

| | |
| --- | --- |
| | Social Skills and Components |

461
(3)
464
(5)
469
(2)

| | |
| --- | --- |
| | Cognitive and Sensorimotor Activities |

471
(8)

| | |
| --- | --- |
| | Cognitive Integration and Cognitive Components |

471
(4)
475
(2)
477
(2)

| | |
| --- | --- |
| | Analyzing, Adapting, and Grading Activities |

479
(18)
479
(1)
480
(1)
481
(4)
485
(3)

| | |
| --- | --- |
| | Activity Analysis Based on Theory: Cognitive Disabilities |

488
(4)

| | |
| --- | --- |
| | Analysis: An Ongoing Process |

492
(1)
492
(5)
SECTION VI PROFESSIONAL DEVELOPMENT
497
(16)

| | |
| --- | --- |
| | Definition and Functions of Supervision |

497
(1)
498
(3)

| | |
| --- | --- |
| | Responsibilities of the Supervisor |

501
(3)

| | |
| --- | --- |
| | Factors Affecting Communication in Supervision |

504
(1)
505
(1)

| | |
| --- | --- |
| | Getting the Most From Supervision |

506
(1)

| | |
| --- | --- |
| | Resolving Conflicts in Supervision |

506
(2)

| | |
| --- | --- |
| | Emerging Models of Supervision |

508
(1)
508
(3)
511
(2)
513
(32)
513
(1)
514
(2)
516
(1)

| | |
| --- | --- |
| | The Electronic Revolution: Myths and Reality |

517
(1)

| | |
| --- | --- |
| | Management of Supplies and Equipment |

518
(1)
519
(2)
521
(1)
521
(2)
APPENDICES

| | |
| --- | --- |
| | Appendix A: Case Examples |

523
(18)

| | |
| --- | --- |
| | Case 1: A 21-Year-Old Woman with Depression |

523
(1)

| | |
| --- | --- |
| | Case 2: A 72-Year-Old Woman with Alzheimer's Disease |

524
(2)

| | |
| --- | --- |
| | Case 3: A 54-Year-Old Woman with Schizophrenia, Paranoid Type |

526
(1)

| | |
| --- | --- |
| | Case 4: A 22-Year-Old Man with Chronic Schizophrenia and Mild Mental Retardation |

527
(2)

| | |
| --- | --- |
| | Case 5: A 30-Year-Old Man with Bipolar I Disorder |

529
(3)

| | |
| --- | --- |
| | Case 6: A 22-Year-Old Woman with Polysubstance Dependence and Dependent Personality Disorder |

532
(2)

| | |
| --- | --- |
| | Case 7: A 37-Year-Old Man with Alcohol Dependence Disorder |

534
(2)

| | |
| --- | --- |
| | Case 8: A 21-Year-Old Woman with Cocaine Dependence, Polysubstance Abuse, Bulimia, and Borderline Personality Disorder |

536
(3)

| | |
| --- | --- |
| | Case 9: A 12-Year-Old Boy with Attention Deficit-Hyperactivity Disorder and Oppositional Defiant Disorder |

539
(2)

| | |
| --- | --- |
| | Appendix B: Sample Group Protocols |

541
(4)

| | |
| --- | --- |
| | Homemaker's Management Group |

541
(1)
542
(1)
542
(1)
543
(2)
Index
545