Note: Supplemental materials are not guaranteed with Rental or Used book purchases.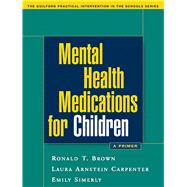 Questions About This Book?
What version or edition is this?
This is the 1st edition with a publication date of 8/25/2005.
What is included with this book?
The New copy of this book will include any supplemental materials advertised. Please check the title of the book to determine if it should include any CDs, lab manuals, study guides, etc.
Summary
Temple Univ., Philadelphia, PA. Text provides current information on psychotropic medications frequently prescribed to manage children's behavior and enhance academic performance. Offers guidelines for monitoring medication use, documenting side effects, and more. For school and clinical child psychologists. Softcover.
Author Biography
Ronald T. Brown, PhD, is Professor of Public Health, Pediatrics, and Psychology, and Dean of the College of Health Professions at Temple University. Currently editor of the <I>Journal of Pediatric Psychology<I*>, he has published several books and over 200 articles and chapters in the areas of pediatric psychology and pediatric psychopharmacology. Dr. Brown was formerly President of the Society for Pediatric Psychology and currently serves the National Institutes of Health, Center for Scientific Review, study section on behavioral medicine interventions and outcomes. He is a diplomate in Clinical Health Psychology of the American Board of Professional Psychology and a fellow in the American Psychological Association, the American Psychological Society, and the National Academy of Neuropsychology.

Laura Arnstein Carpenter, PhD, is Assistant Professor of Pediatrics at the Medical University of South Carolina. Dr. Carpenter is a licensed clinical psychologist specializing in the assessment and treatment of autism spectrum disorders, and has extensive training and clinical experience in pediatric neuropsychology. She has cowritten nine articles and chapters, and has made more than 30 presentations at regional and national scientific conferences.

Emily Simerly, PhD, is Clinical Director of the Mental Health Unit at the Georgia Diagnostic and Classification Prison in Jackson, Georgia, a maximum security men's intake prison that also houses Death Row. She is also Regional Clinical Director of mental health units at a number of prisons in northern Georgia. Dr. Simerly has published articles in <I>Voices<I*> and has written a chapter in <I>Psychotherapy and the Poverty Patient<I*>. As a clinician, she uses a humanistic/n-/existential foundation to practice in-depth psychotherapy, using many cognitive-behavioral techniques.

Table of Contents
| | |
| --- | --- |
| | Overview and Pediatric Psychopharmacology Practices |

1
(18)

| | |
| --- | --- |
| | Why a Book about Medications for Schoolchildren? |

1
(4)
2
(1)
2
(1)
2
(3)

| | |
| --- | --- |
| | Benefits of Psychotropic Medications for Children |

5
(1)

| | |
| --- | --- |
| | Opportunities for Contributions from School Personnel |

6
(2)
6
(1)

| | |
| --- | --- |
| | Providing Feedback on Treatment Efficacy |

7
(1)

| | |
| --- | --- |
| | Monitoring Adverse Side Effects |

7
(1)

| | |
| --- | --- |
| | Ensuring Treatment Adherence |

7
(1)

| | |
| --- | --- |
| | Promoting Positive Self-Image in Children Who Take Medications |

8
(1)

| | |
| --- | --- |
| | Myths and Facts about Children and Medication |

8
(2)
10
(7)
12
(1)
12
(1)

| | |
| --- | --- |
| | Addiction, Tolerance, and Withdrawal |

13
(1)

| | |
| --- | --- |
| | Interactions and Adverse Effects |

14
(1)

| | |
| --- | --- |
| | The Central Nervous System |

14
(3)
17
(2)

| | |
| --- | --- |
| | The Importance of School Personnel on the Treatment Team |

19
(18)

| | |
| --- | --- |
| | Communicating with Parents |

19
(6)

| | |
| --- | --- |
| | Don't Suggest That the Child Needs Medication |

20
(1)

| | |
| --- | --- |
| | Do Be as Specific as Possible When Communicating Concerns |

20
(1)

| | |
| --- | --- |
| | Don't Minimize Your Concerns |

21
(1)

| | |
| --- | --- |
| | Do Remember That Your Opinion Is Important |

21
(2)

| | |
| --- | --- |
| | Don't Suggest a Specific Medication |

23
(1)

| | |
| --- | --- |
| | Do Offer to Send a Letter to the Child's Physician |

23
(1)

| | |
| --- | --- |
| | Don't Wait to Contact Parents if Serious Behavior Problems Are Observed |

23
(2)

| | |
| --- | --- |
| | Do Communicate Your Concerns Empathically |

25
(1)

| | |
| --- | --- |
| | Communicating with Physicians and Other Mental Health Professionals |

25
(1)
26
(2)

| | |
| --- | --- |
| | Administering Medication at School |

28
(1)

| | |
| --- | --- |
| | Medication Initiation Form |

28
(1)

| | |
| --- | --- |
| | Authorization to Administer Medication |

29
(1)
29
(1)
29
(2)

| | |
| --- | --- |
| | Attitudes toward Medications |

31
(2)
33
(3)

| | |
| --- | --- |
| | For the Child Who Is Embarrassed to Take Medications |

33
(1)

| | |
| --- | --- |
| | For the Child Who Is Resistant to Taking Medications |

34
(1)

| | |
| --- | --- |
| | For the Child Who Pretends to Take Medications |

35
(1)

| | |
| --- | --- |
| | For the Child Who Gets Sick When Trying to Swallow a Pill |

35
(1)

| | |
| --- | --- |
| | For the Child Who Is Very Thirsty Because of the Medication |

35
(1)

| | |
| --- | --- |
| | For the Child Who Needs to Use the Restroom Frequently and Immediately Due to Medication Side Effects |

35
(1)

| | |
| --- | --- |
| | For the Child Who Refuses to Eat |

36
(1)
36
(1)

| | |
| --- | --- |
| | Classifications of Psychotropic Medications |

37
(17)
38
(4)

| | |
| --- | --- |
| | Sustained-Release Stimulants |

39
(1)
40
(1)

| | |
| --- | --- |
| | Dosage and Interaction with Other Drugs |

41
(1)
42
(1)
42
(4)

| | |
| --- | --- |
| | Selective Serotonin Reuptake Inhibitors |

43
(1)

| | |
| --- | --- |
| | Tricyclic Antidepressants |

44
(1)

| | |
| --- | --- |
| | Monoamine Oxidase Inhibitors |

45
(1)
46
(1)
46
(2)
47
(1)
48
(1)
48
(1)
48
(2)
48
(1)
49
(1)
50
(2)
52
(1)
53
(1)

| | |
| --- | --- |
| | Child Psychiatric Disorders and Psychotropic Medications |

54
(26)

| | |
| --- | --- |
| | Attention Problems and Disruptive Behavior Disorders |

55
(4)

| | |
| --- | --- |
| | Attention-Deficit/Hyperactivity Disorder |

55
(4)

| | |
| --- | --- |
| | Oppositional Defiant Disorder |

59
(1)
59
(1)
59
(6)

| | |
| --- | --- |
| | Separation Anxiety Disorder |

62
(1)

| | |
| --- | --- |
| | Generalized Anxiety Disorder |

62
(1)
63
(1)
63
(1)
63
(1)

| | |
| --- | --- |
| | Obsessive--Compulsive Disorder |

64
(1)

| | |
| --- | --- |
| | Posttraumatic Stress Disorder |

65
(1)
65
(4)
66
(1)
67
(2)
69
(2)

| | |
| --- | --- |
| | Developmental Disabilities |

71
(3)
71
(1)

| | |
| --- | --- |
| | Autism Spectrum Disorders |

71
(3)
74
(2)

| | |
| --- | --- |
| | Eating and Elimination Disorders |

76
(3)
76
(1)
77
(2)
79
(1)

| | |
| --- | --- |
| | Medication Effectiveness and Side Effects |

80
(15)

| | |
| --- | --- |
| | Identifying Treatment Goals |

82
(1)

| | |
| --- | --- |
| | Selecting Behaviors to Monitor |

83
(3)
86
(7)

| | |
| --- | --- |
| | Behavior Observation Form 1 |

87
(1)

| | |
| --- | --- |
| | Behavior Observation Form 2 |

87
(4)

| | |
| --- | --- |
| | Behavior Observation Form 3 |

91
(2)
93
(1)

| | |
| --- | --- |
| | Monitoring Adverse Effects |

93
(1)
93
(2)
95
(2)
97
(6)
103
(24)

| | |
| --- | --- |
| | Appendix 1. Common Mental Health Medications for Children |

105
(5)

| | |
| --- | --- |
| | Appendix 2. Event Observation Log |

110
(1)

| | |
| --- | --- |
| | Appendix 3. Letter to Physician |

111
(2)

| | |
| --- | --- |
| | Appendix 4. Ranking Problem Behaviors |

113
(1)

| | |
| --- | --- |
| | Appendix 5. Proper Handling Procedures for Medications for Children |

114
(1)

| | |
| --- | --- |
| | Appendix 6. Medication Initiation Form |

115
(2)

| | |
| --- | --- |
| | Appendix 7. Authorization to Administer Medication |

117
(1)

| | |
| --- | --- |
| | Appendix 8. Monthly Medication Log |

118
(1)

| | |
| --- | --- |
| | Appendix 9. Medication Contract |

119
(1)

| | |
| --- | --- |
| | Appendix 10. FDA Black Box Warnings for Antidepressants |

120
(1)

| | |
| --- | --- |
| | Appendix 11. Behavior Observation Form 1: Event Recording |

121
(1)

| | |
| --- | --- |
| | Appendix 12. Behavior Observation Form 2: Duration Recording |

122
(1)

| | |
| --- | --- |
| | Appendix 13. Behavior Observation Form 3: Total Duration Recording |

123
(1)

| | |
| --- | --- |
| | Appendix 14. Line Graph 1: Less Frequent Behaviors |

124
(1)

| | |
| --- | --- |
| | Appendix 15. Line Graph 2: More Frequent Behaviors and Percentages |

125
(1)

| | |
| --- | --- |
| | Appendix 16. Side Effects |

126
(1)
Index
127