Note: Supplemental materials are not guaranteed with Rental or Used book purchases.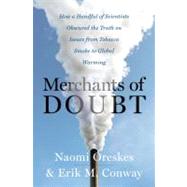 Merchants of Doubt How a Handful of Scientists Obscured the Truth on Issues from Tobacco Smoke to Global Warming
ISBN13:
9781596916104
by
Oreskes, Naomi
;
Conway, Erik M.
Customer Reviews
Brian Cady
July 7, 2011
by





This is a serious textbook, about how one does science correctly vs. how one does science wrongly, among other things. The textbook provides a number of fascinating cases that has a direct impact on the public. It is well written and presents the proof for its argument in very clear fashion. I found it well researched and bringing up numerous points that need to be discussed. This is a critically important work. The textbook came quickly and was in condition described, very useful, good purchase, would order from company again.

Flag Review
---
Merchants of Doubt How a Handful of Scientists Obscured the Truth on Issues from Tobacco Smoke to Global Warming

:
stars based on
1
user reviews.
Summary
The U.S. scientific community has long led the world in research on such areas as public health, environmental science, and issues affecting quality of life. Our scientists have produced landmark studies on the dangers of DDT, tobacco smoke, acid rain, and global warming. But at the same time, a small yet potent subset of this community leads the world in vehement denial of these dangers.
Merchants of Doubt tells the story of how a loose-knit group of high-level scientists and scientific advisers, with deep connections in politics and industry, ran effective campaigns to mislead the public and deny well-established scientific knowledge over four decades. Remarkably, the same individuals surface repeatedly—some of the same figures who have claimed that the science of global warming is "not settled" denied the truth of studies linking smoking to lung cancer, coal smoke to acid rain, and CFCs to the ozone hole. "Doubt is our product," wrote one tobacco executive. These "experts" supplied it.
Naomi Oreskes and Erik M. Conway, historians of science, roll back the rug on this dark corner of the American scientific community, showing how ideology and corporate interests, aided by a too-compliant media, have skewed public understanding of some of the most pressing issues of our era.
"The disturbing tale of how some scientists sell their souls to advance political and economic agendas."-Pittsburgh Post-Gazette
"Well-researched and lucidly written."-Washington Times
"Excellent."-America Magazine
Author Biography
NAOMI ORESKES is a professor of history and science studies at the University of California, San Diego. Her study "Beyond the Ivory Tower," published in Science, was a milestone in the fight against global warming denial and was cited by Al Gore in An Inconvenient Truth. ERIK M. CONWAY has published four previous books, including Atmospheric Science at NASA: A History. Merchants of Doubt is their first book together.
Table of Contents
Introduction
p. 1
Doubt Is Our Product
p. 10
Strategic Defense, Phony Facts, and the Creation of the George C. Marshall Institute
p. 36
Sowing the Seeds of Doubt: Acid Rain
p. 66
Constructing a Counternarrative: The Fight over the Ozone Hole
p. 107
What's Bad Science? Who Decides? The Fight over Secondhand Smoke
p. 136
The Denial of Global Warming
p. 169
Denial Rides Again: The Revisionist Attack on Rachel Carson
p. 216
Conclusion: Of Free Speech and Free Markets
p. 240
Epilogue: A New View of Science
p. 266
Acknowledgments
p. 275
Permissions
p. 277
Notes
p. 279
Index
p. 345
Table of Contents provided by Ingram. All Rights Reserved.