Note: Supplemental materials are not guaranteed with Rental or Used book purchases.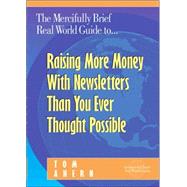 The Mercifully Brief, Real World Guide to... Raising More Money With Newsletters Than You Ever Thought Possible
ISBN13:
9781889102078
by
Ahern, Tom
Summary
There's a sleeping giant in your midst. One with enormous fundraising potential.And unless your newsletter is bringing in thousands, if not tens of thousands of dollars every year, it's time to shake it from its slumber.Today, countless organizations are raising more money with their newsletter than with traditional mail appeals.And after reading Tom Ahern's riveting new book, Raising More Money with Newsletters than You Ever Thought Possible, it's easy to understand why.Great newsletters, as distinguished from the mundane ones many of us receive, have so much more going for them.For starters, they deliver real news (not tired features such as "From the Director's Desk'' and "Introducing Our New Staff"). They make the donor feel important. They use emotional triggers to spur action. They're designed in a way to attract both browsers and readers. And they don't depend on dry statistics to make the organization's case.Ahern knows newsletters inside and out. Not only has he written his fair share, but he's analyzed scores of them for other organizations. Moreover, his workshop, "How to Write Great Donor Newsletters," is consistently over-subscribed.So when he speaks - as he does in engaging and eloquent prose- you hang onto his every word.The essence of Raising More Money with Newsletters than You Ever Thought Possible centers around seven fatal flaws, as Ahern calls them. "Almost every donor newsletter I see suffers from at least one of the flaws," he says early in the book. "You would be shocked by how many newsletters suffer from all seven." Along the way to discussing - and dissecting - these fatal flaws, the reader is treated to such chapters as: -Making news out of thin air -What a front page is for -Lower the grade level of your writing -Anecdotes versus stats -How should it look? A proven formula And those are only five of the 45! succinct chapters in this book.Chances are you already have a newsletter, that's the good news. You have the vehicle in place. The even better news is that transforming your newsletter into a substantial money raiser isn't all that difficult. As Ahern himself says, "You don't need a degree in journalism to publish a newsletter that will keep your donors inspired (and generous). You just need a few skills and insights." Read this book. Pick up those skills. And be assured that the ratio of time spent versus gains realized might well be the most cost-effective of your entire career.
Author Biography
Tom Ahern is recognized as one of North America's top authorities on nonprofit communications. He began presenting his top-rated Love Thy Reader workshops at fundraising conferences in 1999. Since then he has introduced thousands of fundraisers in the U.S., Canada and Europe to the principles of reader psychology, writing, and graphic design that make donor communications highly engaging and successful. He founded his consulting practice in 1990. His firm specializes in capital campaign case statements, nonprofit communications audits, direct mail, and donor newsletters. His efforts have won three prestigious IABC Gold Quill awards, given each year to the best communications work worldwide. Ahern is also an award-winning magazine journalist, for articles on health and social justice issues. He has his MA and BA in English from Brown University, and a Certificate in Advertising Art from the RI School of Design. His offices are in Rhode Island and France.
Table of Contents
| | |
| --- | --- |
| | You can do a great donor newsletter |

11
(2)

| | |
| --- | --- |
| | Why you need a donor newsletter |

13
(2)

| | |
| --- | --- |
| | These seven flaws are killing you |

15
(2)

| | |
| --- | --- |
| | Why try so hard? You are an intrusion |

17
(2)

| | |
| --- | --- |
| | What donors really care about |

19
(3)

| | |
| --- | --- |
| | A word on donor (dis)loyalty |

22
(2)

| | |
| --- | --- |
| | Readers have four personalities |

24
(2)

| | |
| --- | --- |
| | The four personalities go to a seminar |

26
(2)
28
(2)
30
(2)
32
(2)
34
(2)

| | |
| --- | --- |
| | Fatal Flaw No. 1: Failing the ``You'' test |

36
(3)

| | |
| --- | --- |
| | Fatal Flaw No. 2: Lacking emotional triggers |

39
(3)

| | |
| --- | --- |
| | Fatal Flaw No. 3: No news is not good news |

42
(2)

| | |
| --- | --- |
| | The special language of ``News-speak'' |

44
(3)
47
(2)

| | |
| --- | --- |
| | Making news out of thin air |

49
(3)
52
(3)
55
(2)

| | |
| --- | --- |
| | How to write news stories: The Inverted Pyramid |

57
(2)

| | |
| --- | --- |
| | How to write news stores: Start with an anecdote |

59
(3)

| | |
| --- | --- |
| | Fatal Flaw No. 4: Hogging the credit |

62
(2)

| | |
| --- | --- |
| | Fatal Flaw No. 5: Expecting people to read deep |

64
(1)
65
(2)
67
(2)

| | |
| --- | --- |
| | Eliminate gratuitous visual labor |

69
(4)

| | |
| --- | --- |
| | Pull-quotes bring your buried treasures to light |

73
(3)

| | |
| --- | --- |
| | Use subheads to break up columns of dense text |

76
(3)

| | |
| --- | --- |
| | The AP (Associated Press) formula for captions |

79
(2)

| | |
| --- | --- |
| | Your column width can slow or speed reading |

81
(2)

| | |
| --- | --- |
| | Lower the grade level of your writing |

83
(3)

| | |
| --- | --- |
| | Fatal Flaw No. 6: Non- or feeble headlines |

86
(3)

| | |
| --- | --- |
| | Case study: Hospital headline aims, misses |

89
(2)

| | |
| --- | --- |
| | How to write great headlines |

91
(3)

| | |
| --- | --- |
| | Case study: Foundation headline looks right, all wrong |

94
(3)

| | |
| --- | --- |
| | Fatal Flaw No. 7: Stat crazy, anecdote light |

97
(1)

| | |
| --- | --- |
| | Tips on using statistics well |

98
(4)
102
(2)

| | |
| --- | --- |
| | How often should we mail? Scheduling and frequency |

104
(2)

| | |
| --- | --- |
| | An easy alternative: The newsy-letter |

106
(2)
108
(4)

| | |
| --- | --- |
| | How should it look? Domain Group's proven formula |

112
(2)
114
Appendix
Acknowledgments
About the Author