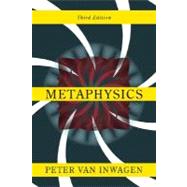 List Price: $42.00

More New and Used
from Private Sellers
Summary
This essential core text introduces readers to metaphysics. In thoughtful and engaging prose, Peter van Inwagen examines three profound questions: What are the most general features of the world? Why is there a world? And, what is the place of human beings in the world? The third edition includes an entirely new chapter on ontology. The new chapter presents a theory of the nature of being and proceeds to apply this theory to two problems of ontology: the problem of non-existent objects and the problem of universals. Equally valuable as a textbook in a university course or an introduction to metaphysical thinking for the interested layperson,Metaphysicsremains a fascinating book for a wide range of readers, from first-time students to the most sophisticated philosophers.Contents1. IntroductionPart One: The Way the World Is 2. Individuality 3. Externality 4. Temporality 5. ObjectivityPart Two: Why the World Is 6. Necessary Being: The Ontological Argument 7. Necessary Being: The Cosmological ArgumentPart Three: The Inhabitants of the World 8. What Rational Beings Are There? 9. The Place of Rational Beings in the World: Design and Purpose 10. The Nature of Rational Beings: Dualism and Physicalism 11. The Nature of Rational Beings: Dualism and Personal Identity 12. The Powers of Rational Beings: Freedom of the Will 13. Concluding Meditation 14. Coda: Being
Author Biography
Peter van Inwagen is the John Cardinal O'Hara Professor of Philosophy at the University of Notre Dame.
Table of Contents
Preface to the Third Edition
p. ix
Introduction
p. 1
The Way the World is
p. 23
Introduction
p. 23
Individuality
p. 27
Externality
p. 53
Temporality
p. 71
Objectivity
p. 93
Why the World is
p. 109
Introduction
p. 109
Necessary Being: The Ontological Argument
p. 115
Necessary Being: The Cosmological Argument
p. 145
The Inhabitants of the World
p. 169
Introduction
p. 169
What Rational Beings Are There?
p. 175
The Place of Rational Beings in the World: Design and Purpose
p. 187
The Nature of Rational Beings: Dualism and Physicialism
p. 209
The Nature of Rational Beings: Dualism and Personal Identity
p. 235
The Powers of Rational Beings: Freedom of the Will
p. 253
Concluding Meditation
p. 273
Coda: Being
p. 277
Bibliography
p. 315
Index
p. 319
Table of Contents provided by Ingram. All Rights Reserved.