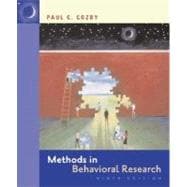 Methods in Behavioral Research with PowerWeb
by
Cozby, Paul C.
McGraw-Hill Humanities/Social Sciences/Languages
Questions About This Book?
What version or edition is this?
This is the 9th edition with a publication date of 1/12/2006.
What is included with this book?
The Used copy of this book is not guaranteed to include any supplemental materials. Typically, only the book itself is included.
Related Products
Summary
With its concise and strategic approach to decision making,Methods in Behavioral Researchby Paul C. Cozby continues to gain in popularity among instructors and students alike. Building on a strong foundation of pedagogy and well-chosen examples, the ninth edition incorporates learning objectives, new graphics and activities to increase student involvement, and an updated appendix on writing research reports as well as making poster presentations.
Table of Contents
Preface
xi
About the Author
xv
1 SCIENTIFIC UNDERSTANDING OF BEHAVIOR
2
(1)
3
(4)
7
(3)

| | |
| --- | --- |
| | Basic and Applied Research |

10
(4)
14
(1)
14
(1)
14
(1)
15
(1)
2 WHERE TO START
16
(21)

| | |
| --- | --- |
| | Hypotheses and Predictions |

17
(1)

| | |
| --- | --- |
| | Who We Study: A Note on Terminology |

18
(1)
18
(5)
23
(10)

| | |
| --- | --- |
| | Anatomy of a Research Article |

33
(2)
35
(1)
35
(1)
35
(2)
3 ETHICAL RESEARCH
37
(29)

| | |
| --- | --- |
| | Milgram's Obedience Experiment |

38
(1)
39
(1)

| | |
| --- | --- |
| | Assessment of Risks and Benefits |

39
(3)
42
(5)

| | |
| --- | --- |
| | The Importance of Debriefing |

47
(1)

| | |
| --- | --- |
| | Alternatives to Deception |

48
(2)

| | |
| --- | --- |
| | Justice and the Selection of Participants |

50
(1)
51
(1)

| | |
| --- | --- |
| | Federal Regulations and the Institutional Review Board |

51
(3)
54
(1)

| | |
| --- | --- |
| | Research With Human Participants |

55
(2)

| | |
| --- | --- |
| | Ethics and Animal Research |

57
(2)

| | |
| --- | --- |
| | Risks and Benefits Revisited |

59
(2)
61
(2)
63
(1)
63
(1)
64
(1)
65
(1)
4 STUDYING BEHAVIOR
66
(25)
67
(1)

| | |
| --- | --- |
| | Operational Definitions of Variables |

68
(1)

| | |
| --- | --- |
| | Relationships Between Variables |

69
(5)

| | |
| --- | --- |
| | Nonexperimental Versus Experimental Methods |

74
(5)

| | |
| --- | --- |
| | Independent and Dependent Variables |

79
(2)
81
(2)

| | |
| --- | --- |
| | Choosing a Method: Advantages of Multiple Methods |

83
(3)

| | |
| --- | --- |
| | Evaluating Research: Three Validities |

86
(1)
87
(1)
88
(1)
88
(2)
90
(1)
5 MEASUREMENT CONCEPTS
91
(17)
92
(5)

| | |
| --- | --- |
| | Construct Validity of Measures |

97
(4)

| | |
| --- | --- |
| | Research on Personality and Individual Differences |

101
(1)
101
(1)

| | |
| --- | --- |
| | Variables and Measurement Scales |

102
(3)
105
(1)
106
(1)
106
(2)
6 OBSERVING BEHAVIOR
108
(15)

| | |
| --- | --- |
| | Quantitative and Qualitative Approaches |

109
(1)
110
(4)
114
(3)
117
(1)
118
(3)
121
(1)
121
(1)
121
(1)
122
(1)
7 ASKING PEOPLE ABOUT THEMSELVES: SURVEY RESEARCH
123
(26)
124
(2)

| | |
| --- | --- |
| | Constructing Questions to Ask |

126
(3)
129
(4)

| | |
| --- | --- |
| | Finalizing the Questionnaire |

133
(1)
134
(3)

| | |
| --- | --- |
| | Survey Designs to Study Changes Over Time |

137
(1)

| | |
| --- | --- |
| | Sampling From a Population |

138
(2)
140
(4)
144
(2)
146
(1)
147
(1)
147
(1)
148
(1)
8 EXPERIMENTAL DESIGN
149
(16)

| | |
| --- | --- |
| | Confounding and Internal Validity |

150
(1)
151
(3)

| | |
| --- | --- |
| | Assigning Participants to Experimental Conditions |

154
(1)

| | |
| --- | --- |
| | Independent Groups Design |

155
(1)
156
(5)
161
(2)
163
(1)
163
(1)
163
(2)
9 CONDUCTING EXPERIMENTS
165
(21)

| | |
| --- | --- |
| | Selecting Research Participants |

166
(1)

| | |
| --- | --- |
| | Manipulating the Independent Variable |

166
(6)

| | |
| --- | --- |
| | Measuring the Dependent Variable |

172
(4)
176
(4)

| | |
| --- | --- |
| | Additional Considerations |

180
(2)

| | |
| --- | --- |
| | Analyzing and Interpreting Results |

182
(1)

| | |
| --- | --- |
| | Communicating Research to Others |

183
(1)
184
(1)
184
(1)
185
(1)
185
(1)
10 COMPLEX EXPERIMENTAL DESIGNS
186
(17)

| | |
| --- | --- |
| | Increasing the Number of Levels of an Independent Variable |

187
(1)

| | |
| --- | --- |
| | Increasing the Number of Independent Variables: Factorial Designs |

188
(13)
201
(1)
201
(1)
201
(1)
202
(1)
11 SINGLE CASE, QUASI-EXPERIMENTAL, AND DEVELOPMENTAL RESEARCH
203
(22)

| | |
| --- | --- |
| | Single Case Experimental Designs |

204
(4)
208
(2)

| | |
| --- | --- |
| | Quasi-Experimental Designs |

210
(8)

| | |
| --- | --- |
| | Developmental Research Designs |

218
(3)
221
(1)
222
(1)
222
(3)
12 UNDERSTANDING RESEARCH RESULTS: DESCRIPTION AND CORRELATION
225
(22)

| | |
| --- | --- |
| | Scales of Measurement: A Review |

226
(1)

| | |
| --- | --- |
| | Analyzing the Results of Research Investigations |

227
(2)
229
(2)
231
(1)
232
(1)

| | |
| --- | --- |
| | Correlation Coefficients: Describing the Strength of Relationships |

233
(5)
238
(1)
239
(1)
239
(1)
240
(2)

| | |
| --- | --- |
| | Partial Correlation and the Third-Variable Problem |

242
(1)
243
(1)
244
(1)
245
(1)
245
(1)
246
(1)
13 UNDERSTANDING RESEARCH RESULTS: STATISTICAL INFERENCE
247
(24)
248
(1)
248
(1)

| | |
| --- | --- |
| | Null and Research Hypotheses |

249
(1)

| | |
| --- | --- |
| | Probability and Sampling Distributions |

250
(3)

| | |
| --- | --- |
| | Example: The t and F Tests |

253
(6)

| | |
| --- | --- |
| | Type I and Type II Errors |

259
(3)

| | |
| --- | --- |
| | Choosing a Significance Level |

262
(1)

| | |
| --- | --- |
| | Interpreting Nonsignificant Results |

262
(2)

| | |
| --- | --- |
| | Choosing a Sample Size: Power Analysis |

264
(1)

| | |
| --- | --- |
| | The Importance of Replications |

265
(1)

| | |
| --- | --- |
| | Significance of a Pearson r Correlation Coefficient |

265
(1)

| | |
| --- | --- |
| | Computer Analysis of Data |

266
(2)

| | |
| --- | --- |
| | Selecting the Appropriate Significance Test |

268
(1)
269
(1)
269
(1)
270
(1)
14 GENERALIZING RESULTS
271
(16)

| | |
| --- | --- |
| | Generalizing to Other Populations of Research Participants |

272
(3)
275
(2)

| | |
| --- | --- |
| | Generalizing to Other Experimenters |

277
(1)

| | |
| --- | --- |
| | Pretests and Generalization |

277
(1)

| | |
| --- | --- |
| | Generalizing from Laboratory Settings |

278
(1)

| | |
| --- | --- |
| | The Importance of Replications |

279
(3)

| | |
| --- | --- |
| | Evaluating Generalizations via Literature Reviews and Meta-Analysis |

282
(2)

| | |
| --- | --- |
| | Using Research to Improve Lives |

284
(1)
285
(1)
285
(1)
286
(1)
APPENDIX A: WRITING RESEARCH REPORTS
287
(55)
287
(1)
288
(4)

| | |
| --- | --- |
| | Organization of the Report |

292
(11)
303
(1)

| | |
| --- | --- |
| | Citing and Referencing Sources |

304
(7)
311
(2)

| | |
| --- | --- |
| | Some Grammatical Considerations |

313
(3)

| | |
| --- | --- |
| | Reporting Numbers and Statistics |

316
(1)
317
(1)

| | |
| --- | --- |
| | Paper and Poster Presentations |

318
(1)
319
(23)
APPENDIX B: STATISTICAL TESTS
342
(22)
342
(3)

| | |
| --- | --- |
| | Statistical Significance Tests |

345
(15)

| | |
| --- | --- |
| | Correlation and Effect Size |

360
(4)
APPENDIX C: STATISTICAL TABLES
364
(12)

| | |
| --- | --- |
| | Table C.1 Random Number Table |

366
(4)

| | |
| --- | --- |
| | Table C.2 Critical Values of Chi-Square |

370
(1)

| | |
| --- | --- |
| | Table C.3 Critical Values of t |

371
(1)

| | |
| --- | --- |
| | Table C.4 Critical Values of F |

372
(3)

| | |
| --- | --- |
| | Table C.S Critical Values of r (Pearson product-moment correlation coefficient) |

375
(1)
APPENDIX D: CONSTRUCTING A LATIN SQUARE
376
(2)
Glossary
378
(8)
References
386
(11)
Credits
397
(2)
Index
399