Note: Supplemental materials are not guaranteed with Rental or Used book purchases.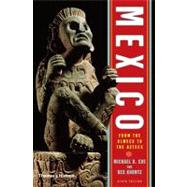 Summary
Michael D. Coe's Mexico has long been recognized as the mostreadable and authoritative introduction to the region's ancientcivilizations. This companion to his best-selling The Maya hasnow been completely revised by Professor Coe and Rex Koontz. Thesixth edition includes new developments in the birth of agriculture andwriting, both of which were independently invented here. Fresh insightsinto the metropolis of Teotihuacan reveal a world of palaces and warriorcults brought down by social revolts. A spectacular new find in thecenter of the Aztec capital, just unearthed, gives us a privilegedglimpse into the funerary rites of the most powerful monarch in NorthAmerica at the time.
Author Biography
Rex Koontz teaches art history at the University of Houston. Michael D. Coe is Professor Emeritus of Anthropology at Yale University.
Table of Contents
Preface
p. 7
Introduction
p. 9
Early Hunters
p. 18
The Archaic Period
p. 26
The Preclassic Period: Early Villagers
p. 39
The Preclassic Period: Early Civilizations
p. 59
The Classic Period
p. 101
The Epiclasslc Period
p. 132
The Post-Classic Period: The Toltec State
p. 151
The Post-Classic Period: Rival States
p. 175
The Aztecs in 1519
p. 190
Epilogue
p. 225
Visiting Mexico
p. 232
Chronological Table
p. 236
Reigning Monarchs of the Aztec State
p. 237
Text References
p. 237
Further Reading
p. 238
Sources of Illustrations
p. 243
Index
p. 244
Table of Contents provided by Blackwell. All Rights Reserved.