Note: Supplemental materials are not guaranteed with Rental or Used book purchases.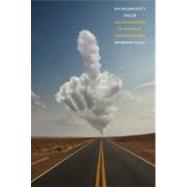 Michelangelo's Finger : An Exploration of Everyday Transcendence
ISBN13:
9780300166484
by
Raymond Tallis
Summary
In this startlingly original and persuasive book, Raymond Tallis shows that it is easy to underestimate the influence of small things in determining what manner of creatures humans are. He argues that the independent movement of the human index finger is one such easily overlooked factor. Indeed, not for nothing is the index finger called the "forefinger." It is the finger we most naturally deploy when we want to pry objects out of small spaces, but it plays a far more significant role in an action unique to us among primates: pointing. Tallis argues that it is through pointing that the index finger made a significant contribution to the development of humans and to the creation of a human world separate from the rest of the natural world. Observing the ceiling of the Sistine Chapel and the hugely familiar and awkward encounter between Michelangelo's God and Man through their index fingers, Tallis identifies the artist's intuitive awareness of the central role of the index finger in making us unique. Just as the reaching index fingers of God and Man are here made central to the creation of our kind, so Tallis believes that the seemingly simple act of pointing, which is used in a wide variety of ways, is central to our extraordinary evolution.
Author Biography
Raymond Tallis is emeritus professor of geriatric medicine, University of Manchester, UK. As a poet, novelist, and philosopher, he has explored consciousness, language, and what is distinctive about human beings, and he is often cited as one of Britain's great public intellectuals. His recent books include The Kingdom of Infinite Space; The Hand; I Am; The Knowing Animal; and The Enduring Significance of Parmenides. He lives in Cheshire, UK.
Table of Contents
Foreword
p. xiii
How to Point: A Primer for Martians
p. 1
What it Takes to be a Pointer
p. 17
Do Animals Get the Point?
p. 37
People Who Don't Point
p. 51
Pinning Language to the World
p. 62
Pointing and Power
p. 87
Assisted Pointing and Pointing by Proxy
p. 102
The Transcendent Animal: Pointing and the Beyond
p. 117
Notes
p. 144
Index
p. 159
Table of Contents provided by Ingram. All Rights Reserved.