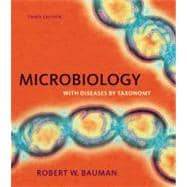 Microbiology with Diseases by Taxonomy Plus MasteringMicrobiology with eText -- Access Card Package
by
Bauman, Robert W., Ph.D.
Questions About This Book?
What version or edition is this?
This is the 3rd edition with a publication date of 1/6/2010.
What is included with this book?
The Used copy of this book is not guaranteed to include any supplemental materials. Typically, only the book itself is included.
Summary
Key Benefit: TheThird EditionofMicrobiology with Diseases by Taxonomyis the most cutting-edge microbiology book available, offering unparalleled currency, accuracy, and assessment. The state-of-the science approach begins with a compelling focus on emerging diseases and diseases readers will encounter in clinical settings. Readers'comprehension is ensured with end-of-chapter practice that encompasses both visual and conceptual understanding. With this revision, both readers and instructors will benefit from the practice and assessment available with the new, unrivaledMasteringMicrobiologytrade;program. Package Components: MasteringMicrobiology with Pearson eText Student Access Code Card Microbiology with Diseases by Taxonomy, Third Edition Key Topics: A Brief History of Microbiology, The Chemistry of Microbiology, Cell Structure and Function, Microscopy, Staining, and Classification, Microbial Metabolism, Microbial Nutrition and Growth, Microbial Genetics, Recombinant DNA Technology, Controlling Microbial Growth in the Environment, Controlling Microbial Growth in the Body: Antimicrobial Drugs, Characterizing and Classifying Prokaryotes, Characterizing and Classifying Eukaryotes, Characterizing and Classifying Viruses, Viroids, and Prions, Infection, Infectious Disease, and Epidemiology, Innate Immunity, Adaptive Immunity, Immunization and Immune Testing,Immune Disorders, Pathogenic Gram-Positive Bacteria, Pathogenic Gram-Negative Cocci and Bacilli, Rickettsias, Chlamydias, Spirochetes, and Vibrios, Pathogenic Fungi, Parasitic Protozoa, Helminths, and Arthropod Vectors, Pathogenic DNA Viruses, Pathogenic RNA Viruses, Applied and Environmental Microbiology Market Description:Intended for those interested in gaining a basic understanding of microbiology
Author Biography
Robert W. Bauman holds a Ph.D. in Biology from Stanford University, an M.A. in Botany from the University of Texas at Austin, and a B.A. in Biology from the University of Texas at Austin. He is a full professor of biology in the Department of Biological Sciences at Amarillo College in Amarillo, Texas, where he previously served as chairman of the department. He has been teaching microbiology and human anatomy and physiology since 1988. In 2004, the students of Amarillo College selected Dr. Bauman as the recipient of the John. F. Mead Faculty Excellence Award.

His research interests have included the morphology and ecology of freshwater algae, the cell biology of marine algae (particularly the deposition of cell walls and intercellular communication), and environmentally triggered chromogenesis in butterflies. His dissertation research at Stanford was on intercellular and cell growth in red algae at the Hopkins Marine Station.

Robert Bauman is the author of another microbiology textbook at Benjamin Cummings, Microbiology with Diseases by Body System, 2/e (copyright 2009). He is an active member of the American Society of Microbiology (ASM) and Texas Community College Teacher's Association (TCCTA).


Table of Contents
1. A Brief History of Microbiology
2. The Chemistry of Microbiology
3. Cell Structure and Function
4. Microscopy, Staining, and Classification
5. Microbial Metabolism
6. Microbial Nutrition and Growth
7. Microbial Genetics
8. Recombinant DNA Technology
9. Controlling Microbial Growth in the Environment
10. Controlling Microbial Growth in the Body: Antimicrobial Drugs
11. Characterizing and Classifying Prokaryotes
12. Characterizing and Classifying Eukaryotes
13. Characterizing and Classifying Viruses, Viroids, and Prions
14. Infection, Infectious Disease, and Epidemiology
15. Innate Immunity
16. Adaptive Immunity
17. Immunization and Immune Testing
18. Immune Disorders
19. Pathogenic Gram-Positive Bacteria
20. Pathogenic Gram-Negative Cocci and Bacilli
21. Rickettsias, Chlamydias, Spirochetes, and Vibrios
22. Pathogenic Fungi
23. Parasitic Protozoa, Helminths, and Arthropod Vectors
24. Pathogenic DNA Viruses
25. Pathogenic RNA Viruses
26. Applied and Environmental Microbiology