Note: Supplemental materials are not guaranteed with Rental or Used book purchases.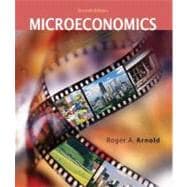 Microeconomics (with InfoTrac)
ISBN13:
9780324236705
by
Arnold, Roger A.
South-Western College Pub
Questions About This Book?
Why should I rent this book?
Renting is easy, fast, and cheap! Renting from eCampus.com can save you hundreds of dollars compared to the cost of new or used books each semester. At the end of the semester, simply ship the book back to us with a free UPS shipping label! No need to worry about selling it back.
How do rental returns work?
Returning books is as easy as possible. As your rental due date approaches, we will email you several courtesy reminders. When you are ready to return, you can print a free UPS shipping label from our website at any time. Then, just return the book to your UPS driver or any staffed UPS location. You can even use the same box we shipped it in!
What version or edition is this?
This is the 7th edition with a publication date of 12/23/2004.
What is included with this book?
The New copy of this book will include any supplemental materials advertised. Please check the title of the book to determine if it should include any CDs, lab manuals, study guides, etc.
The Used copy of this book is not guaranteed to include any supplemental materials. Typically, only the book itself is included.
The Rental copy of this book is not guaranteed to include any supplemental materials. You may receive a brand new copy, but typically, only the book itself.
Summary
Offering a unique blend of solid theoretical content and student accessibility, this text: 1) covers all the basics of microeconomics, 2) gives students a clear idea of how economists think about the world, 3) stresses the key concepts in economics, and 4) is extremely rich in intriguing applications that convey the prevalence of economics in everyday life. Many principles instructors are constantly challenged with the goal of getting students excited about realization that economics is everywhere! Arnold has taken this to another level. He is so passionate about touching his students that he felt the need to write a Microeconomics text that is dedicated to opening the science of economics through the pictures and applications of our lives. Arnold is considered the most innovative author in this market to meet the fast pace interests of both instructors and students. His five themes of Theory and Model building, Key Concepts, Primary and Secondary Consequences, Real-World Applications, and the idea that Economics is about gifts, exchanges, and transfers, set the tone for a teaching text that is extremely approachable by instructors and students.
Table of Contents
Preface
xiii
Student Learning Guide
xxii
An Introduction to Economics

| | |
| --- | --- |
| | Part 1: Economics: The Science of Scarcity |

1
(32)
2
(1)
2
(2)

| | |
| --- | --- |
| | Positive and Normative Economics |

3
(1)

| | |
| --- | --- |
| | Microeconomics and Macroeconomics |

3
(1)

| | |
| --- | --- |
| | Key Concepts in Economics |

4
(12)

| | |
| --- | --- |
| | Thinking in Terms of Scarcity and Its Effects |

4
(2)

| | |
| --- | --- |
| | Thinking in Terms of Opportunity Cost |

6
(2)

| | |
| --- | --- |
| | Thinking in Terms of Costs and Benefits |

8
(1)

| | |
| --- | --- |
| | Thinking in Terms of Decisions Made at the Margin |

9
(1)

| | |
| --- | --- |
| | Thinking in Terms of Efficiency |

10
(2)

| | |
| --- | --- |
| | Thinking in Terms of Unintended Effects |

12
(1)

| | |
| --- | --- |
| | Thinking in Terms of Equilibrium |

13
(1)

| | |
| --- | --- |
| | Thinking in Terms of the Ceteris Paribus Assumption |

14
(1)

| | |
| --- | --- |
| | Thinking in Terms of the Difference Between Association and Causation |

15
(1)

| | |
| --- | --- |
| | Thinking in Terms of the Difference Between the Group and the Individual |

15
(1)

| | |
| --- | --- |
| | Economists Build and Test Theories |

16
(5)
16
(1)

| | |
| --- | --- |
| | Building and Testing a Theory |

17
(2)

| | |
| --- | --- |
| | How Do We Judge Theories? |

19
(1)
20
(1)
21
(1)
21
(2)
23
(1)
23
(1)
24
(1)

| | |
| --- | --- |
| | Appendix A: Working With Diagrams |

25
(1)
25
(1)
26
(1)

| | |
| --- | --- |
| | Slope of a Line Is Constant |

26
(2)
28
(1)
28
(1)
29
(1)
29
(1)
30
(2)
32
(1)
32
(1)

| | |
| --- | --- |
| | Economic Activities: Producing and Trading |

33
(27)

| | |
| --- | --- |
| | The Production Possibilities Frontier |

34
(7)

| | |
| --- | --- |
| | The Straight-Line PPF: Constant Opportunity Costs |

34
(1)

| | |
| --- | --- |
| | The Bowed-Outward (Concave-Downward) PPF: Increasing Opportunity Costs |

35
(1)

| | |
| --- | --- |
| | Law of Increasing Opportunity Costs |

36
(1)

| | |
| --- | --- |
| | Economic Concepts Within a PPF Framework |

37
(4)
41
(4)
41
(1)

| | |
| --- | --- |
| | Periods Relevant to Trade |

42
(1)

| | |
| --- | --- |
| | Trade and the Terms of Trade |

42
(1)
43
(2)

| | |
| --- | --- |
| | Trades and Third-Party Effects |

45
(1)

| | |
| --- | --- |
| | Production, Trade, and Specialization |

45
(4)
46
(2)

| | |
| --- | --- |
| | Profit and a Lower Cost of Living |

48
(1)

| | |
| --- | --- |
| | A Benevolent and All-Knowing Dictator Versus the Invisible Hand |

49
(1)

| | |
| --- | --- |
| | Producing, Trading, and Economic Systems |

49
(4)
49
(2)
51
(1)

| | |
| --- | --- |
| | Economic Systems and the PPF |

51
(1)

| | |
| --- | --- |
| | Three Economic Questions That Deal With Production |

51
(1)
52
(1)
52
(1)
53
(3)

| | |
| --- | --- |
| | Economic Systems and Property Rights |

53
(1)

| | |
| --- | --- |
| | Do Property Rights Matter? |

54
(1)

| | |
| --- | --- |
| | Property Rights and Scarce Resources |

54
(2)
56
(1)
56
(1)
57
(1)
57
(1)

| | |
| --- | --- |
| | Working With Numbers and Graphs |

58
(1)
59
(1)

| | |
| --- | --- |
| | Supply and Demand: Theory |

60
(33)
61
(1)
61
(11)
61
(1)

| | |
| --- | --- |
| | Four Ways to Represent the Law of Demand |

62
(1)

| | |
| --- | --- |
| | Absolute and Relative Price |

63
(1)

| | |
| --- | --- |
| | Why Quantity Demanded Goes Down as Price Goes Up |

63
(1)

| | |
| --- | --- |
| | Individual Demand Curve and Market Demand Curve |

64
(1)

| | |
| --- | --- |
| | A Change in Quantity Demanded Versus a Change in Demand |

65
(3)

| | |
| --- | --- |
| | What Factors Cause the Demand Curve to Shift? |

68
(4)
72
(4)
72
(1)

| | |
| --- | --- |
| | Why Most Supply Curves Are Upward-Sloping |

72
(1)
72
(1)

| | |
| --- | --- |
| | Changes in Supply Mean Shifts in Supply Curves |

73
(1)

| | |
| --- | --- |
| | What Factors Cause the Supply Curve to Shift? |

74
(1)

| | |
| --- | --- |
| | A Change in Supply Versus a Change in Quantity Supplied |

75
(1)

| | |
| --- | --- |
| | The Market: Putting Supply and Demand Together |

76
(8)

| | |
| --- | --- |
| | Supply and Demand at Work at an Auction |

77
(1)

| | |
| --- | --- |
| | The Language of Supply and Demand: A Few Important Terms |

78
(1)

| | |
| --- | --- |
| | Moving to Equilibrium: What Happens to Price When There Is a Surplus or a Shortage? |

78
(1)

| | |
| --- | --- |
| | Speed of Moving to Equilibrium |

79
(1)

| | |
| --- | --- |
| | Moving to Equilibrium: Maximum and Minimum Prices |

80
(1)

| | |
| --- | --- |
| | Equilibrium in Terms of Consumers' and Producers' Surplus |

80
(2)

| | |
| --- | --- |
| | What Can Change Equilibrium Price and Quantity? |

82
(2)
84
(5)

| | |
| --- | --- |
| | Price Ceiling: Definition and Effects |

84
(3)

| | |
| --- | --- |
| | Do Buyers Prefer Lower Prices to Higher Prices? |

87
(1)

| | |
| --- | --- |
| | Price Floor: Definition and Effects |

88
(1)
89
(1)
89
(1)
90
(1)
90
(1)

| | |
| --- | --- |
| | Working With Numbers and Graphs |

91
(1)
92
(1)

| | |
| --- | --- |
| | Supply and Demand: Practice |

93
(28)

| | |
| --- | --- |
| | Application 1: Why Do Colleges Use GPAs, ACTs, and SATs for Purposes of Admission? |

94
(1)

| | |
| --- | --- |
| | Application 2: What Will Happen to the Price of Marijuana if the Purchase and Sale of Marijuana Are Legalized? |

95
(1)

| | |
| --- | --- |
| | Application 3: Where Did You Get That Music? |

96
(1)

| | |
| --- | --- |
| | Application 4: The Minimum Wage Law |

97
(1)

| | |
| --- | --- |
| | Application 5: Price Ceiling in the Kidney Market |

98
(2)

| | |
| --- | --- |
| | Application 6: Health Care and the Right to Sue Your HMO |

100
(2)

| | |
| --- | --- |
| | Application 7: If Gold Prices Are the Same Everywhere, Then Why Aren't House Prices? |

102
(1)

| | |
| --- | --- |
| | Application 8: Do You Pay for Good Weather? |

103
(1)

| | |
| --- | --- |
| | Application 9: Paying All Professors the Same Salary |

103
(2)

| | |
| --- | --- |
| | Application 10: Price Floors and Winners and Losers |

105
(1)

| | |
| --- | --- |
| | Application 11: College Superathletes |

106
(2)

| | |
| --- | --- |
| | Application 12: Supply and Demand on a Freeway |

108
(1)

| | |
| --- | --- |
| | Application 13: What Does Price Have to Do With Getting to Class on Time? |

109
(2)

| | |
| --- | --- |
| | Application 14: Aisle Seats on Commercial Airplanes |

111
(1)

| | |
| --- | --- |
| | Application 15: 10 A.M. Classes in College |

112
(1)

| | |
| --- | --- |
| | Application 16: What Is the Price of an A? |

113
(1)
114
(1)
115
(1)
116
(1)
116
(1)

| | |
| --- | --- |
| | Working With Numbers and Graphs |

117
(1)
117
(1)

| | |
| --- | --- |
| | Economics in Perspective: Musical Notes, Economic Notes |

118
(3)

| | |
| --- | --- |
| | Part 2: Microeconomic Fundamentals |

121
(27)
122
(9)

| | |
| --- | --- |
| | Price Elasticity of Demand |

122
(1)
123
(1)

| | |
| --- | --- |
| | From Perfectly Elastic to Perfectly Inelastic Demand |

124
(2)

| | |
| --- | --- |
| | Price Elasticity of Demand and Total Revenue (Total Expenditure) |

126
(3)

| | |
| --- | --- |
| | Agriculture: An Application of Price Elasticity of Demand |

129
(2)
131
(4)

| | |
| --- | --- |
| | Price Elasticity of Demand Along a Straight-Line Demand Curve |

131
(2)

| | |
| --- | --- |
| | Determinants of Price Elasticity of Demand |

133
(2)

| | |
| --- | --- |
| | Other Elasticity Concepts |

135
(9)

| | |
| --- | --- |
| | Cross Elasticity of Demand |

135
(1)

| | |
| --- | --- |
| | Income Elasticity of Demand |

136
(2)

| | |
| --- | --- |
| | Traffic Jams in Bangkok, Sao Paulo, and Cairo |

138
(1)

| | |
| --- | --- |
| | Price Elasticity of Supply |

138
(2)

| | |
| --- | --- |
| | Price Elasticity of Supply and Time |

140
(1)

| | |
| --- | --- |
| | The Relationship Between Taxes and Elasticity |

140
(4)
144
(1)
145
(1)
146
(1)
146
(1)

| | |
| --- | --- |
| | Working With Numbers and Graphs |

146
(1)
147
(1)

| | |
| --- | --- |
| | Consumer Choice: Maximizing Utility and Behavioral Economics |

148
(27)
149
(5)

| | |
| --- | --- |
| | Utility, Total and Marginal |

149
(1)

| | |
| --- | --- |
| | Law of Diminishing Marginal Utility |

149
(3)

| | |
| --- | --- |
| | The Millionaire and the Pauper: What the Law Says and Doesn't Say |

152
(1)

| | |
| --- | --- |
| | The Solution to the Diamond-Water Paradox |

153
(1)

| | |
| --- | --- |
| | Is Gambling Worth the Effort? |

153
(1)

| | |
| --- | --- |
| | Consumer Equilibrium and Demand |

154
(6)

| | |
| --- | --- |
| | Equating Marginal Utilities per Dollar |

154
(1)

| | |
| --- | --- |
| | Consumer Equilibrium and the Law of Demand |

155
(1)

| | |
| --- | --- |
| | Income and Substitution Effects |

156
(2)

| | |
| --- | --- |
| | Should the Government Provide the Necessities of Life for Free? |

158
(2)
160
(4)

| | |
| --- | --- |
| | Are People Willing to Reduce Others' Incomes? |

160
(1)
161
(1)

| | |
| --- | --- |
| | Coffee Mugs and the Endowment Effect |

162
(1)

| | |
| --- | --- |
| | Does the Endowment Effect Hold Only for New Traders? |

163
(1)
164
(1)
164
(1)
165
(1)
165
(1)

| | |
| --- | --- |
| | Working With Numbers and Graphs |

166
(1)
166
(1)

| | |
| --- | --- |
| | Appendix B: Budget Constraint and Indifference Curve Analysis |

167
(1)
167
(1)

| | |
| --- | --- |
| | Slope of the Budget Constraint |

167
(1)

| | |
| --- | --- |
| | What Will Change the Budget Constraint? |

168
(1)
168
(4)

| | |
| --- | --- |
| | Constructing an Indifference Curve |

169
(1)

| | |
| --- | --- |
| | Characteristics of Indifference Curves |

169
(3)

| | |
| --- | --- |
| | The Indifference Map and the Budget Constraint Come Together |

172
(1)

| | |
| --- | --- |
| | From Indifference Curves to a Demand Curve |

173
(1)
174
(1)
174
(1)
175
(19)
176
(4)

| | |
| --- | --- |
| | The Market and the Firm: Invisible Hand Versus Visible Hand |

176
(1)

| | |
| --- | --- |
| | The Alchian and Demsetz Answer |

176
(1)
176
(1)

| | |
| --- | --- |
| | Ronald Coase on Why Firms Exist |

177
(2)

| | |
| --- | --- |
| | Markets: Outside and Inside the Firm |

179
(1)

| | |
| --- | --- |
| | The Questions the Firm Must Answer |

180
(1)

| | |
| --- | --- |
| | The Objective of the Firm |

180
(2)
182
(3)
182
(1)
183
(1)
184
(1)

| | |
| --- | --- |
| | Some Financial Aspects of Firms |

185
(4)

| | |
| --- | --- |
| | The Balance Sheet of a Firm |

185
(1)

| | |
| --- | --- |
| | Financing Corporate Activity |

186
(3)
189
(1)
190
(1)
191
(1)
192
(1)
192
(1)

| | |
| --- | --- |
| | Working With Numbers and Graphs |

193
(1)
193
(1)
194
(26)

| | |
| --- | --- |
| | The Firm's Objective: Maximizing Profit |

195
(2)

| | |
| --- | --- |
| | Accounting Profit Versus Economic Profit |

195
(1)

| | |
| --- | --- |
| | Zero Economic Profit Is Not so Bad as It Sounds |

196
(1)
197
(5)

| | |
| --- | --- |
| | Production in the Short Run |

198
(1)

| | |
| --- | --- |
| | Marginal Physical Product and Marginal Cost |

199
(3)
202
(1)

| | |
| --- | --- |
| | Costs of Production: Total, Average, Marginal |

202
(10)

| | |
| --- | --- |
| | The AVC and ATC Curves in Relation to the MC Curve |

205
(2)

| | |
| --- | --- |
| | Tying Short-Run Production to Costs |

207
(1)

| | |
| --- | --- |
| | One More Cost Concept: Sunk Cost |

207
(5)

| | |
| --- | --- |
| | Production and Costs in the Long Run |

212
(4)

| | |
| --- | --- |
| | Long-Run Average Total Cost Curve |

212
(2)

| | |
| --- | --- |
| | Economies of Scale, Diseconomies of Scale, and Constant Returns to Scale |

214
(1)
215
(1)

| | |
| --- | --- |
| | Why Diseconomies of Scale? |

215
(1)

| | |
| --- | --- |
| | Minimum Efficient Scale and Number of Firms in an Industry |

216
(1)
216
(1)
216
(1)
216
(1)
216
(1)
217
(1)
217
(1)
218
(1)
218
(1)

| | |
| --- | --- |
| | Working With Numbers and Graphs |

219
(1)
219
(1)

| | |
| --- | --- |
| | Part 3: Product Markets and Policies Perfect Competition |

220
(291)
221
(26)

| | |
| --- | --- |
| | The Theory of Perfect Competition |

221
(1)

| | |
| --- | --- |
| | A Perfectly Competitive Firm Is a Price Taker |

221
(4)

| | |
| --- | --- |
| | The Demand Curve for a Perfectly Competitive Firm Is Horizontal |

222
(1)

| | |
| --- | --- |
| | The Marginal Revenue Curve of a Perfectly Competitive Firm Is the Same as Its Demand Curve |

223
(1)

| | |
| --- | --- |
| | Theory and Real-World Markets |

224
(1)

| | |
| --- | --- |
| | Perfect Competition in the Short Run |

225
(6)

| | |
| --- | --- |
| | What Level of Output Does the Profit-Maximizing Firm Produce? |

225
(1)

| | |
| --- | --- |
| | The Perfectly Competitive Firm and Resource Allocative Efficiency |

226
(1)

| | |
| --- | --- |
| | To Produce or Not to Produce: That Is the Question |

227
(2)

| | |
| --- | --- |
| | The Perfectly Competitive Firm's Short-Run Supply Curve |

229
(1)

| | |
| --- | --- |
| | From Firm to Market (Industry) Supply Curve |

229
(1)

| | |
| --- | --- |
| | Why Is the Market Supply Curve Upward-Sloping? |

230
(1)

| | |
| --- | --- |
| | Perfect Competition in the Long Run |

231
(10)

| | |
| --- | --- |
| | The Conditions of Long-Run Competitive Equilibrium |

231
(3)

| | |
| --- | --- |
| | The Perfectly Competitive Firm and Productive Efficiency |

234
(1)

| | |
| --- | --- |
| | Industry Adjustment to an Increase in Demand |

234
(4)

| | |
| --- | --- |
| | What Happens as Firms Enter an Industry in Search of Profits? |

238
(1)

| | |
| --- | --- |
| | Industry Adjustment to a Decrease in Demand |

239
(1)

| | |
| --- | --- |
| | Differences in Costs, Differences in Profits: Now You See It, Now You Don't |

239
(1)

| | |
| --- | --- |
| | Profit and Discrimination |

240
(1)

| | |
| --- | --- |
| | Topics for Analysis Within the Theory of Perfect Competition |

241
(1)

| | |
| --- | --- |
| | Do Higher Costs Mean Higher Prices? |

241
(1)

| | |
| --- | --- |
| | Will the Perfectly Competitive Firm Advertise? |

242
(1)

| | |
| --- | --- |
| | Supplier-Set Price Versus Market-Determined Price: Collusion or Competition? |

242
(1)
242
(1)
243
(1)
244
(1)
244
(1)

| | |
| --- | --- |
| | Working With Numbers and Graphs |

245
(1)
245
(2)
247
(21)
248
(2)

| | |
| --- | --- |
| | Barriers to Entry: A Key to Understanding Monopoly |

248
(1)

| | |
| --- | --- |
| | What Is the Difference Between a Government Monopoly and a Market Monopoly? |

249
(1)

| | |
| --- | --- |
| | Monopoly Pricing and Output Decisions |

250
(5)

| | |
| --- | --- |
| | The Monopolist's Demand and Marginal Revenue |

250
(2)

| | |
| --- | --- |
| | The Monopolist's Demand and Marginal Revenue Curves Are Not the Same: Why Not? |

252
(1)

| | |
| --- | --- |
| | Price and Output for a Profit-Maximizing Monopolist |

252
(1)

| | |
| --- | --- |
| | If a Firm Maximizes Revenue, Does It Automatically Maximize Profit Too? |

253
(2)

| | |
| --- | --- |
| | Perfect Competition and Monopoly |

255
(2)

| | |
| --- | --- |
| | Price, Marginal Revenue, and Marginal Cost |

255
(1)

| | |
| --- | --- |
| | Monopoly, Perfect Competition, and Consumers' Surplus |

255
(1)
256
(1)

| | |
| --- | --- |
| | The Case Against Monopoly |

257
(3)

| | |
| --- | --- |
| | The Deadweight Loss of Monopoly |

257
(1)
258
(2)
260
(1)
260
(5)

| | |
| --- | --- |
| | Types of Price Discrimination |

260
(1)

| | |
| --- | --- |
| | Why a Monopolist Wants to Price Discriminate |

260
(1)

| | |
| --- | --- |
| | Conditions of Price Discrimination |

261
(1)

| | |
| --- | --- |
| | Moving to P = MC Through Price Discrimination |

261
(2)

| | |
| --- | --- |
| | You Can Have the Comics, Just Give Me the Coupons |

263
(2)
265
(1)
265
(1)
266
(1)
266
(1)

| | |
| --- | --- |
| | Working With Numbers and Graphs |

266
(1)
267
(1)

| | |
| --- | --- |
| | Monopolistic Competition, Oligopoly, and Game Theory |

268
(27)

| | |
| --- | --- |
| | The Theory of Monopolistic Competition |

269
(4)

| | |
| --- | --- |
| | The Monopolistic Competitor's Demand Curve |

269
(1)

| | |
| --- | --- |
| | The Relationship Between Price and Marginal Revenue for a Monopolistic Competitor |

269
(1)

| | |
| --- | --- |
| | Output, Price, and Marginal Cost for the Monopolistic Competitor |

269
(1)

| | |
| --- | --- |
| | Will There Be Profits in the Long Run? |

270
(1)

| | |
| --- | --- |
| | Excess Capacity: What Is It, and Is It ``Good'' or ``Bad''? |

271
(1)

| | |
| --- | --- |
| | The Monopolist Competitor and Two Types of Efficiency |

272
(1)

| | |
| --- | --- |
| | Advertising and Designer Labels |

272
(1)

| | |
| --- | --- |
| | Oligopoly: Assumptions and Real-World Behavior |

273
(1)

| | |
| --- | --- |
| | Price and Output Under Three Oligopoly Theories |

274
(6)
274
(2)

| | |
| --- | --- |
| | The Kinked Demand Curve Theory |

276
(2)

| | |
| --- | --- |
| | The Price Leadership Theory |

278
(2)

| | |
| --- | --- |
| | Game Theory, Oligopoly, and Contestable Markets |

280
(6)
280
(2)

| | |
| --- | --- |
| | Oligopoly Firms Cartels, and Prisoner's Dilemma |

282
(1)
283
(3)

| | |
| --- | --- |
| | A Review of Market Structures |

286
(1)

| | |
| --- | --- |
| | Applications of Game Theory |

287
(4)
287
(1)
288
(1)
289
(1)

| | |
| --- | --- |
| | The Fear of Guilt as an Enforcement Mechanism |

290
(1)
291
(1)
292
(1)
292
(1)
293
(1)

| | |
| --- | --- |
| | Working With Numbers and Graphs |

293
(1)
294
(1)

| | |
| --- | --- |
| | Government and Product Markets: Antitrust and Regulation |

295
(27)
296
(11)
296
(1)

| | |
| --- | --- |
| | Unsettled Points in Antitrust Policy |

297
(3)
300
(1)

| | |
| --- | --- |
| | Eight Antitrust Cases and Actions |

300
(3)
303
(2)
305
(2)
307
(9)

| | |
| --- | --- |
| | The Case of Natural Monopoly |

307
(1)

| | |
| --- | --- |
| | Regulating the Natural Monopoly |

308
(2)

| | |
| --- | --- |
| | Regulating Industries That Are Not Natural Monopolies |

310
(1)
310
(2)

| | |
| --- | --- |
| | The Costs and Benefits of Regulation |

312
(1)

| | |
| --- | --- |
| | Some Effects of Regulation Are Unintended |

313
(1)
314
(1)
315
(1)
316
(1)
317
(1)
317
(1)
317
(1)

| | |
| --- | --- |
| | Working With Numbers and Graphs |

318
(1)
319
(1)

| | |
| --- | --- |
| | Economics in Perspective: Intuition and Counterintuition |

320
(2)

| | |
| --- | --- |
| | Part 4: Factor Markets and Related Issues |

| | |
| --- | --- |
| | Factor Markets: With Emphasis on the Labor Market |

322
(23)
323
(6)
323
(1)

| | |
| --- | --- |
| | Marginal Revenue Product: Two Ways to Calculate It |

323
(1)

| | |
| --- | --- |
| | The MRP Curve Is the Firm's Factor Demand Curve |

324
(1)
325
(1)

| | |
| --- | --- |
| | An Important Question: Is MRP = VMP? |

325
(1)

| | |
| --- | --- |
| | Marginal Factor Cost---The Firm's Factor Supply Curve |

325
(1)

| | |
| --- | --- |
| | How Many Units of a Factor Should a Firm Buy? |

326
(1)

| | |
| --- | --- |
| | When There Is More Than One Factor, How Much of Each Factor Should the Firm Buy? |

327
(2)
329
(9)

| | |
| --- | --- |
| | Shifts in a Firm's MRP, or Factor Demand, Curve |

329
(1)
329
(3)

| | |
| --- | --- |
| | The Elasticity of Demand for Labor |

332
(1)
333
(1)

| | |
| --- | --- |
| | An Individual's Supply of Labor |

334
(1)

| | |
| --- | --- |
| | Shifts in the Labor Supply Curve |

334
(1)

| | |
| --- | --- |
| | Putting Supply and Demand Together |

335
(1)

| | |
| --- | --- |
| | Why Do Wage Rates Differ? |

335
(1)

| | |
| --- | --- |
| | Why Demand and Supply Differ in Different Labor Markets |

336
(2)

| | |
| --- | --- |
| | Why Did You Choose the Major That You Chose? |

338
(1)

| | |
| --- | --- |
| | Marginal Productivity Theory |

338
(2)

| | |
| --- | --- |
| | Labor Markets and Information |

340
(2)

| | |
| --- | --- |
| | Screening Potential Employees |

340
(1)
341
(1)

| | |
| --- | --- |
| | Is It Discrimination or Is It an Information Problem? |

341
(1)
342
(1)
342
(1)
343
(1)
343
(1)

| | |
| --- | --- |
| | Working With Numbers and Graphs |

343
(1)
344
(1)
345
(18)

| | |
| --- | --- |
| | The Facts and Figures of Labor Unions |

346
(1)
346
(1)
346
(1)

| | |
| --- | --- |
| | Objectives of Labor Unions |

347
(1)

| | |
| --- | --- |
| | Employment for All Members |

347
(1)

| | |
| --- | --- |
| | Maximizing the Total Wage Bill |

347
(1)

| | |
| --- | --- |
| | Maximizing Income for a Limited Number of Union Members |

347
(1)
348
(1)

| | |
| --- | --- |
| | Practices of Labor Unions |

348
(4)

| | |
| --- | --- |
| | Affecting Elasticity of Demand for Union Labor |

349
(1)

| | |
| --- | --- |
| | Affecting the Demand for Union Labor |

349
(1)

| | |
| --- | --- |
| | Affecting the Supply of Union Labor |

350
(1)

| | |
| --- | --- |
| | Affecting Wages Directly: Collective Bargaining |

351
(1)
351
(1)
352
(8)
352
(3)
355
(2)

| | |
| --- | --- |
| | Unions' Effects on Prices |

357
(1)

| | |
| --- | --- |
| | Unions' Effects on Productivity and Efficiency: Two Views |

357
(3)
360
(1)
360
(1)
361
(1)
361
(1)

| | |
| --- | --- |
| | Working With Numbers and Graphs |

361
(1)
362
(1)

| | |
| --- | --- |
| | The Distribution of Income and Poverty |

363
(22)

| | |
| --- | --- |
| | Some Facts About Income Distribution |

364
(5)

| | |
| --- | --- |
| | Who Are the Rich and How Rich Are They? |

364
(1)

| | |
| --- | --- |
| | Adjusting the Income Distribution |

364
(3)

| | |
| --- | --- |
| | The Effect of Age on the Income Distribution |

367
(1)
368
(1)

| | |
| --- | --- |
| | Measuring Income Equality |

369
(3)
369
(1)
370
(1)

| | |
| --- | --- |
| | A Limitation of the Gini Coefficient |

371
(1)

| | |
| --- | --- |
| | Why Income Inequality Exists |

372
(4)

| | |
| --- | --- |
| | Factors Contributing to Income Inequality |

372
(2)

| | |
| --- | --- |
| | Income Differences: Some Are Voluntary, Some Are Not |

374
(2)

| | |
| --- | --- |
| | Normative Standards of Income Distribution |

376
(3)

| | |
| --- | --- |
| | The Marginal Productivity Normative Standard |

376
(2)

| | |
| --- | --- |
| | The Absolute Income Equality Normative Standard |

378
(1)

| | |
| --- | --- |
| | The Rawlsian Normative Standard |

378
(1)
379
(1)
379
(3)
379
(1)

| | |
| --- | --- |
| | Limitations of the Official Poverty Income Statistics |

380
(1)
380
(1)

| | |
| --- | --- |
| | What Is the Justification for Government Redistributing Income? |

380
(2)
382
(1)
383
(1)
384
(1)
384
(1)

| | |
| --- | --- |
| | Working With Numbers and Graphs |

384
(1)
384
(1)

| | |
| --- | --- |
| | Interest, Rent, and Profit |

385
(18)
386
(6)

| | |
| --- | --- |
| | Loanable Funds: Demand and Supply |

386
(2)

| | |
| --- | --- |
| | The Price for Loanable Funds and the Return on Capital Goods Tend to Equality |

388
(1)

| | |
| --- | --- |
| | Why Do Interest Rates Differ? |

388
(1)

| | |
| --- | --- |
| | Nominal and Real Interest Rates |

389
(1)

| | |
| --- | --- |
| | Present Value: What Is Something Tomorrow Worth Today? |

390
(1)

| | |
| --- | --- |
| | Deciding Whether or Not to Purchase a Capital Good |

391
(1)
392
(5)

| | |
| --- | --- |
| | David Ricardo, the Price of Grain, and Land Rent |

393
(1)

| | |
| --- | --- |
| | The Supply Curve of Land Can Be Upward-Sloping |

394
(1)

| | |
| --- | --- |
| | Economic Rent and Other Factors of Production |

395
(1)

| | |
| --- | --- |
| | Economic Rent and Baseball Players: The Perspective From Which the Factor Is Viewed Matters |

395
(1)

| | |
| --- | --- |
| | Competing for Artificial and Real Rents |

396
(1)

| | |
| --- | --- |
| | Do People Overestimate Their Worth to Others, or Are They Simply Seeking Economic Rent? |

396
(1)
397
(3)
397
(1)

| | |
| --- | --- |
| | What Is Entrepreneurship? |

398
(1)

| | |
| --- | --- |
| | What Do a Microwave Oven and an Errand Runner Have in Common? |

398
(1)

| | |
| --- | --- |
| | Profit and Loss as Signals |

399
(1)
400
(1)
400
(1)
401
(1)
401
(1)

| | |
| --- | --- |
| | Working With Numbers and Graphs |

401
(1)
402
(1)

| | |
| --- | --- |
| | Part 5: Market Failure and Public Choice |

| | |
| --- | --- |
| | Market Failure: Externalities, Public Goods, and Asymmetric Information |

403
(27)
404
(1)
404
(6)

| | |
| --- | --- |
| | Costs and Benefits of Activities |

404
(1)

| | |
| --- | --- |
| | Marginal Costs and Benefits of Activities |

405
(1)

| | |
| --- | --- |
| | Social Optimality or Efficiency Conditions |

405
(1)

| | |
| --- | --- |
| | Three Categories of Activities |

405
(1)

| | |
| --- | --- |
| | Externalities in Consumption and in Production |

406
(1)

| | |
| --- | --- |
| | Diagram of a Negative Externality |

406
(2)

| | |
| --- | --- |
| | Diagram of a Positive Externality |

408
(2)

| | |
| --- | --- |
| | Internalizing Externalities |

410
(5)
410
(1)
410
(1)

| | |
| --- | --- |
| | Assigning Property Rights |

411
(1)
412
(1)

| | |
| --- | --- |
| | Combining Property Rights Assignments and Voluntary Agreements |

412
(2)

| | |
| --- | --- |
| | Beyond Internalizing: Setting Regulations |

414
(1)

| | |
| --- | --- |
| | Dealing With a Negative Externality in the Environment |

415
(3)

| | |
| --- | --- |
| | Is No Pollution Worse Than Some Pollution? |

415
(1)

| | |
| --- | --- |
| | Two Methods to Reduce Air Pollution |

416
(2)

| | |
| --- | --- |
| | Public Goods: Excludable and Nonexcludable |

418
(3)
418
(1)
419
(1)

| | |
| --- | --- |
| | Nonexcludable Versus Nonrivalrous |

420
(1)
421
(5)

| | |
| --- | --- |
| | Asymmetric Information in a Product Market |

421
(1)

| | |
| --- | --- |
| | Asymmetric Information in a Factor Market |

422
(1)
422
(1)
423
(1)
424
(2)
426
(1)
427
(1)
428
(1)
428
(1)

| | |
| --- | --- |
| | Working With Numbers and Graphs |

428
(1)
429
(1)

| | |
| --- | --- |
| | Public Choice: Economic Theory Applied to Politics |

430
(27)
431
(1)
431
(3)

| | |
| --- | --- |
| | Moving Toward the Middle: The Median Voter Model |

431
(1)

| | |
| --- | --- |
| | What Does the Theory Predict? |

432
(2)

| | |
| --- | --- |
| | Voters and Rational Ignorance |

434
(2)

| | |
| --- | --- |
| | The Costs and Benefits of Voting |

434
(1)
435
(1)
436
(3)

| | |
| --- | --- |
| | Example 1: Voting for a Nonexcludable Public Good |

436
(2)

| | |
| --- | --- |
| | Example 2: Voting and Efficiency |

438
(1)
439
(8)

| | |
| --- | --- |
| | Information and Lobbying Efforts |

439
(2)

| | |
| --- | --- |
| | Congressional Districts as Special Interest Groups |

441
(1)

| | |
| --- | --- |
| | Public Interest Talk, Special Interest Legislation |

441
(1)

| | |
| --- | --- |
| | Special Interest Groups and Rent Seeking |

442
(5)
447
(1)
448
(1)
448
(1)
449
(1)
450
(1)
450
(1)

| | |
| --- | --- |
| | Working With Numbers and Graphs |

450
(1)
451
(1)

| | |
| --- | --- |
| | Appendix C: The Economics of Transfers |

452
(1)

| | |
| --- | --- |
| | The Marginal Return of Transferring |

452
(1)

| | |
| --- | --- |
| | Ability to Effect Transfers |

452
(1)

| | |
| --- | --- |
| | The Transaction Costs of Transfers and ``Money for Nothing'' |

453
(1)

| | |
| --- | --- |
| | Political Extortion and Transfers |

453
(1)
454
(3)

| | |
| --- | --- |
| | Part 6: International Economics: Theory and Policy |

457
(18)

| | |
| --- | --- |
| | International Trade Theory |

458
(3)

| | |
| --- | --- |
| | How Do Countries Know What to Trade? |

458
(3)

| | |
| --- | --- |
| | How Do Countries Know When They Have a Comparative Advantage? |

461
(1)
461
(10)

| | |
| --- | --- |
| | The Distributional Effects of International Trade |

461
(2)

| | |
| --- | --- |
| | Consumers' and Producers' Surplus |

463
(1)

| | |
| --- | --- |
| | The Benefits and Costs of Trade Restrictions |

464
(3)

| | |
| --- | --- |
| | If Free Trade Results in Net Gain, Why Do Nations Sometimes Restrict Trade? |

467
(3)
470
(1)

| | |
| --- | --- |
| | The World Trade Organization (WTO) |

471
(1)
471
(1)
472
(1)
472
(1)
473
(1)

| | |
| --- | --- |
| | Working With Numbers and Graphs |

473
(1)
474
(1)
475
(36)
476
(6)
476
(4)
480
(1)
480
(1)
480
(1)

| | |
| --- | --- |
| | What the Balance of Payments Equals |

481
(1)

| | |
| --- | --- |
| | The Foreign Exchange Market |

482
(2)
482
(1)

| | |
| --- | --- |
| | The Demand for and Supply of Currencies |

483
(1)
484
(4)

| | |
| --- | --- |
| | The Equilibrium Exchange Rate |

484
(1)

| | |
| --- | --- |
| | Changes in the Equilibrium Exchange Rate |

485
(1)

| | |
| --- | --- |
| | Factors That Affect the Equilibrium Exchange Rate |

486
(2)
488
(7)

| | |
| --- | --- |
| | Fixed Exchange Rates and Overvalued/Undervalued Currency |

488
(2)

| | |
| --- | --- |
| | What Is So Bad About an Overvalued Dollar? |

490
(1)

| | |
| --- | --- |
| | Government Involvement in a Fixed Exchange Rate System |

491
(1)

| | |
| --- | --- |
| | Options Under a Fixed Exchange Rate System |

491
(2)
493
(2)

| | |
| --- | --- |
| | Fixed Exchange Rates Versus Flexible Exchange Rates |

495
(3)

| | |
| --- | --- |
| | Promoting International Trade |

495
(1)
495
(3)

| | |
| --- | --- |
| | The Current International Monetary System |

498
(2)
500
(1)
500
(1)
501
(1)
502
(1)

| | |
| --- | --- |
| | Working With Numbers and Graphs |

502
(1)
503
(2)

| | |
| --- | --- |
| | Appendix D: Should You Major in Economics? |

505
(1)

| | |
| --- | --- |
| | Five Myths About Economics and an Economics Major |

506
(2)

| | |
| --- | --- |
| | What Awaits You as an Economics Major? |

508
(1)
509
(1)

| | |
| --- | --- |
| | Places to Find More Information |

510
(1)
510
(1)
Self-Test Appendix
511
(16)
Glossary
527
(8)
Index
535