Note: Supplemental materials are not guaranteed with Rental or Used book purchases.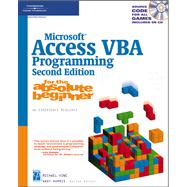 Microsoft Access Vba Programming For The Absolute Beginner
ISBN13:
9781592007233
by
Vine, Michael
Related Products
Summary
If you are new to programming with Microsoft Access VBA and are looking for a solid introduction, this is the book for you. Developed by computer science professors, books in the for the absolute beginner series teach the principles of programming through simple game creation. Covering Access 2003, "Microsoft Access VBA Programming for the Absolute Beginner" provides you with the skills that you need for more practical Access VBA programming applications and shows you how to put these skills to use in realworld scenarios. Best of all, by the time you finish this book, you will be able to apply the basic principles you've learned to the next programming language you tackle.
Author Biography
Michael Vine currently works full time at a Fortune 100 company as an IT Project Manager overseeing the development of enterprise data warehouses
Table of Contents
Introduction
xiii
Chapter 1 ACCESS ESSENTIALS
1
(34)

| | |
| --- | --- |
| | Getting Started with Access 2003 |

1
(2)
2
(1)
3
(1)

| | |
| --- | --- |
| | Your First Access Database |

3
(28)

| | |
| --- | --- |
| | Creating an Access Database |

4
(4)
8
(4)
12
(2)
14
(2)
16
(5)
21
(1)
21
(2)

| | |
| --- | --- |
| | Startup Forms and Dashboards |

23
(3)
26
(5)

| | |
| --- | --- |
| | Getting Help with Access 2003 |

31
(1)
32
(3)
Chapter 2 INTRODUCTION TO ACCESS VBA
35
(32)

| | |
| --- | --- |
| | The Event-Driven Paradigm |

35
(1)
36
(1)
37
(4)

| | |
| --- | --- |
| | Introduction to Event Procedures |

39
(1)

| | |
| --- | --- |
| | Introduction to VBA Statements |

40
(1)

| | |
| --- | --- |
| | Accessing Objects and Their Properties |

41
(11)
42
(1)
43
(1)
44
(1)

| | |
| --- | --- |
| | Command and Label Objects |

45
(5)

| | |
| --- | --- |
| | Getting User Input with Text Boxes |

50
(2)

| | |
| --- | --- |
| | Variables and Beginning Data Types |

52
(7)

| | |
| --- | --- |
| | Variable Naming Conventions |

56
(1)
57
(1)
58
(1)

| | |
| --- | --- |
| | VBA Arithmetic and Order of Operations |

59
(1)

| | |
| --- | --- |
| | Chapter Program: Fruit Stand |

60
(5)
65
(2)
Chapter 3 CONDITIONS
67
(30)
67
(5)
69
(1)
70
(2)
72
(2)
74
(5)
74
(3)
77
(2)

| | |
| --- | --- |
| | Common Controls Continued |

79
(9)
80
(2)
82
(3)
85
(2)
87
(1)
88
(7)
95
(2)
Chapter 4 LOOPING STRUCTURES
97
(24)

| | |
| --- | --- |
| | Introduction to Looping Structures |

97
(6)
99
(1)
100
(1)
101
(1)
102
(1)
102
(1)
103
(8)
105
(3)
108
(2)
110
(1)
111
(3)

| | |
| --- | --- |
| | Chapter Program: Math Quiz |

114
(4)
118
(3)
Chapter 5 FUNCTIONS CONTINUED
121
(26)
121
(8)
122
(1)
122
(2)
124
(1)
125
(1)
126
(1)
127
(1)
128
(1)
128
(1)
129
(4)
130
(1)
130
(1)
130
(1)
131
(1)
131
(1)
131
(1)
132
(1)
132
(1)
133
(1)
133
(1)
133
(2)
134
(1)
134
(1)
134
(1)
135
(1)
135
(5)
137
(1)
137
(1)
138
(2)

| | |
| --- | --- |
| | Chapter Program: Secret Message |

140
(4)
144
(3)
Chapter 6 CODE REUSE AND DATA STRUCTURES
147
(34)
147
(7)

| | |
| --- | --- |
| | Introduction to User-Defined Procedures |

149
(2)
151
(1)
151
(1)
152
(2)
154
(3)
157
(7)
158
(2)
160
(1)
161
(2)

| | |
| --- | --- |
| | Passing Arrays as Arguments |

163
(1)
164
(5)

| | |
| --- | --- |
| | Type and End Type Statements |

164
(1)

| | |
| --- | --- |
| | Declaring Variables of User-Defined Type |

165
(1)
166
(3)
169
(8)
177
(4)
Chapter 7 DEBUGGING, INPUT VALIDATION, FILE PROCESSING, AND ERROR HANDLING
181
(32)
181
(8)
182
(1)
183
(2)
185
(1)
186
(1)
186
(3)
189
(4)
189
(2)

| | |
| --- | --- |
| | Checking a Range of Values |

191
(2)
193
(5)
195
(2)
197
(1)
198
(7)

| | |
| --- | --- |
| | About Sequential File Access |

199
(1)

| | |
| --- | --- |
| | Opening a Sequential Data File |

199
(1)

| | |
| --- | --- |
| | Reading Sequential Data from a File |

200
(1)

| | |
| --- | --- |
| | Writing Sequential Data to a File |

201
(1)
202
(1)

| | |
| --- | --- |
| | Error Trapping for File Access |

203
(2)

| | |
| --- | --- |
| | Chapter Program: Trivial Challenge |

205
(5)
210
(3)
Chapter 8 MICROSOFT JET SQL
213
(26)
213
(3)

| | |
| --- | --- |
| | Data Manipulation Language |

216
(17)
216
(2)
218
(3)
221
(1)
222
(3)
225
(2)
227
(1)
228
(3)
231
(1)
232
(1)
232
(1)
233
(2)
233
(1)
234
(1)
235
(1)
235
(4)
Chapter 9 DATABASE PROGRAMMING WITH ADO
239
(38)
239
(1)
240
(4)
244
(1)

| | |
| --- | --- |
| | Introduction to Database Locks |

245
(18)
246
(1)

| | |
| --- | --- |
| | Retrieving and Browsing Data |

247
(10)
257
(2)
259
(2)
261
(2)

| | |
| --- | --- |
| | Chapter Program: Choose My Adventure |

263
(11)
274
(3)
Chapter 10 OBJECT-ORIENTED PROGRAMMING WITH ACCESS VBA
277
(26)

| | |
| --- | --- |
| | Introduction to Object-Oriented Programming |

277
(1)
278
(13)

| | |
| --- | --- |
| | Working with Class Modules |

279
(2)
281
(3)
284
(3)

| | |
| --- | --- |
| | Creating and Working with New Instances |

287
(4)
291
(3)

| | |
| --- | --- |
| | Adding Members to a Collection |

291
(1)

| | |
| --- | --- |
| | Removing Members from a Collection |

292
(1)

| | |
| --- | --- |
| | Accessing a Member in a Collection |

293
(1)
293
(1)

| | |
| --- | --- |
| | Chapter Program: Monster Dating Service |

294
(7)
301
(2)
Chapter 11 MICROSOFT OFFICE OBJECTS
303
(22)

| | |
| --- | --- |
| | Introduction to Microsoft Office Objects |

303
(1)
304
(9)
310
(3)
313
(3)
314
(1)
315
(1)
316
(3)

| | |
| --- | --- |
| | Chapter Program: Animated Math |

319
(4)
323
(2)
Chapter 12 INTRODUCTION TO DATA ACCESS PAGES AND ACCESS SECURITY
325
(24)

| | |
| --- | --- |
| | Introduction to Data Access Pages |

325
(11)

| | |
| --- | --- |
| | Creating Data Access Pages |

327
(4)
331
(4)

| | |
| --- | --- |
| | Publishing Data Access Pages |

335
(1)

| | |
| --- | --- |
| | Introduction to Access Security |

336
(10)

| | |
| --- | --- |
| | Activating Logon Procedures |

336
(2)

| | |
| --- | --- |
| | Enabling User-Level Security |

338
(4)

| | |
| --- | --- |
| | Connecting to a Workgroup |

342
(2)

| | |
| --- | --- |
| | Securing Access from Data Access Pages |

344
(2)
346
(3)
Appendix A COMMON CHARACTER CODES
349
(2)
Appendix B KEYBOARD SHORTCUTS FOR THE CODE WINDOW
351
(2)
Appendix C TRAPPABLE ERRORS
353
(6)
INDEX
359