Note: Supplemental materials are not guaranteed with Rental or Used book purchases.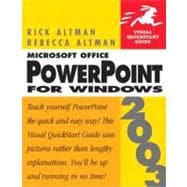 Related Products
Summary
Whether you love it or hate it, Microsoft PowerPoint¿the application most professionals turn to for creating easy and polished presentations¿is here to stay. And the new version of PowerPoint boasts improved collaboration and data management tools designed to make you even more productive. If you¿re looking to get quickly acquainted with all of the latest version¿s new bells and whistles, you needPowerPoint 2003 for Windows: Visual QuickStart Guide, the quickest, easiest way to learn how to add slides, movie clips, sound, animation¿even Web pages¿to presentations using this robust package. Thanks to the book's straightforward, task-based format, you can go directly to the information you need.PowerPoint 2003 for Windows: Visual QuickStart Guideuses hundreds of screenshots and step-by-step instructions to explain just what you need to know to get started with PowerPoint. Whether you use it as a tutorial or a reference guide, you'll be putting together impressive presentations with professional-looking transitions and effects in no time.
Author Biography
Rebecca Altman is a corporate trainer, courseware developer, and technical writer. She is the author of Peachpit¿s PowerPoint 2002/2001 for Windows and Macintosh: Visual QuickStart Guide and many other computer books. Rebecca has also written user¿s guides for personal computers and has developed content for PowerPoint training videos. Rick Altman has been writing, consulting, and lecturing on electronic publishing and digital design since 1986. He is the author of six editions of Mastering CorelDRAW and is currently preparing to host the debut PowerPoint Live conference in 2003.
Table of Contents
Introduction
xiii
Chapter 1: Introducing PowerPoint
1
(12)

| | |
| --- | --- |
| | Getting Creative with PowerPoint |

2
(2)

| | |
| --- | --- |
| | The PowerPoint 2003 Interface |

4
(2)
6
(1)
7
(1)
8
(1)
9
(1)
10
(1)
11
(2)
Chapter 2: A Quick Tour of PowerPoint
13
(20)
14
(2)
16
(1)
17
(1)
18
(1)
19
(2)
21
(1)
22
(1)

| | |
| --- | --- |
| | Navigating a Presentation |

23
(1)

| | |
| --- | --- |
| | Saving, Opening, and Closing Presentations |

24
(2)
26
(1)
27
(1)
28
(1)
29
(1)

| | |
| --- | --- |
| | Using Transitions and Animation |

30
(1)
31
(2)
Chapter 3: Creating Text Slides
33
(26)
34
(1)

| | |
| --- | --- |
| | Entering Text into a Placeholder |

35
(1)
36
(1)

| | |
| --- | --- |
| | Manipulating Text Placeholders |

37
(1)
38
(2)

| | |
| --- | --- |
| | Using the Spelling Checker |

40
(1)

| | |
| --- | --- |
| | Correcting Mistakes Automatically |

41
(1)
42
(1)
43
(1)

| | |
| --- | --- |
| | Correcting Style Inconsistencies |

44
(2)

| | |
| --- | --- |
| | Numbering a List Automatically |

46
(1)
47
(2)

| | |
| --- | --- |
| | Adjusting Bullet Placement |

49
(1)
50
(1)

| | |
| --- | --- |
| | Adding Text Effects and Color |

51
(2)
53
(1)

| | |
| --- | --- |
| | Formatting a Text Placeholder |

54
(1)

| | |
| --- | --- |
| | Controlling Line and Paragraph Spacing |

55
(2)

| | |
| --- | --- |
| | Copying Formatting Attributes |

57
(2)
Chapter 4: Inserting Charts
59
(16)
60
(1)
61
(1)
62
(2)
64
(1)
65
(1)
66
(1)
67
(2)
69
(1)
70
(1)

| | |
| --- | --- |
| | Repositioning Data Labels |

71
(1)
72
(1)

| | |
| --- | --- |
| | Creating Two Charts on a Slide |

73
(2)
Chapter 5: Formatting Charts
75
(24)
76
(1)
77
(1)
78
(1)

| | |
| --- | --- |
| | Changing the Color of a Data Series |

79
(1)

| | |
| --- | --- |
| | Filling a Data Series with Textures or Patterns |

80
(2)

| | |
| --- | --- |
| | Filling a Data Series with a Graphics File |

82
(2)
84
(2)

| | |
| --- | --- |
| | Inserting/Removing Gridlines |

86
(1)
87
(1)
88
(1)
89
(2)
91
(1)
92
(1)
93
(2)
95
(1)

| | |
| --- | --- |
| | Choosing a Custom Chart Type |

96
(1)

| | |
| --- | --- |
| | Defining a Custom Chart Type |

97
(1)

| | |
| --- | --- |
| | Applying a User-Defined Chart Type |

98
(1)
Chapter 6: Creating Pie Charts
99
(18)

| | |
| --- | --- |
| | Inserting a Pie Chart Slide |

100
(2)
102
(1)
103
(1)
104
(1)
105
(2)
107
(1)
108
(1)
109
(1)
110
(2)

| | |
| --- | --- |
| | Resizing and Repositioning a Pie |

112
(1)
113
(1)
114
(1)

| | |
| --- | --- |
| | Entering Data for Linked Pies |

115
(2)
Chapter 7: Using Organization Charts and Diagrams
117
(16)

| | |
| --- | --- |
| | Using an Organization Chart |

118
(2)

| | |
| --- | --- |
| | Using the Diagram Objects |

120
(1)

| | |
| --- | --- |
| | Editing the Organization Chart Diagram Object |

121
(5)

| | |
| --- | --- |
| | Creating a Custom Flowchart or Diagram |

126
(2)
128
(1)
129
(1)

| | |
| --- | --- |
| | Formatting the Connecting Lines |

130
(1)
131
(2)
Chapter 8 Creating Tables
133
(26)
134
(2)

| | |
| --- | --- |
| | Entering Text into a Table |

136
(1)
137
(1)
138
(1)
139
(1)

| | |
| --- | --- |
| | Inserting Rows and Columns |

140
(1)

| | |
| --- | --- |
| | Deleting Rows and Columns |

141
(1)
142
(2)
144
(3)
147
(1)
148
(2)

| | |
| --- | --- |
| | Aligning Text within a Cell |

150
(2)
152
(3)

| | |
| --- | --- |
| | AutoFormatting a Word Table |

155
(2)
157
(2)
Chapter 9: Adding Graphical Objects
159
(20)
160
(1)
161
(2)
163
(1)
164
(1)
165
(1)

| | |
| --- | --- |
| | Drawing Rectangles and Ovals |

166
(1)

| | |
| --- | --- |
| | Creating Polygons and Freehand Drawings |

167
(2)
169
(1)
170
(1)

| | |
| --- | --- |
| | Filling an Object with Color |

171
(1)

| | |
| --- | --- |
| | Filling an Object with a Pattern |

172
(2)

| | |
| --- | --- |
| | Filling an Object with a Graphics File |

174
(1)
175
(2)
177
(2)
Chapter 10: Importing Graphics
179
(14)
180
(3)
183
(2)
185
(2)

| | |
| --- | --- |
| | Finding Clip Art on the Web |

187
(1)
188
(1)

| | |
| --- | --- |
| | Inserting Multiple Graphics Files |

189
(1)
190
(3)
Chapter 11: Manipulating Graphical Objects
193
(18)
194
(1)
195
(1)
196
(1)
197
(1)

| | |
| --- | --- |
| | Displaying a Slide Miniature |

198
(1)
199
(1)
200
(1)
201
(1)

| | |
| --- | --- |
| | Copying Object Attributes |

202
(1)
203
(1)
204
(2)
206
(2)

| | |
| --- | --- |
| | Changing the Stacking Order |

208
(1)
209
(1)
210
(1)
Chapter 12: Making Global Changes
211
(18)

| | |
| --- | --- |
| | Changing the Default Colors |

212
(2)

| | |
| --- | --- |
| | Creating a Gradient Background |

214
(2)

| | |
| --- | --- |
| | Creating a Two-Color Gradient |

216
(2)
218
(1)
219
(1)
220
(1)

| | |
| --- | --- |
| | Using More Than One Master |

221
(1)

| | |
| --- | --- |
| | Changing the Default Format for Text |

222
(1)
223
(1)
224
(2)
226
(3)
Chapter 13: Working in Outline View
229
(14)
230
(1)
231
(1)
232
(1)

| | |
| --- | --- |
| | Collapsing and Expanding the Outline |

233
(2)

| | |
| --- | --- |
| | Rearranging and Deleting Slides |

235
(2)

| | |
| --- | --- |
| | Hiding and Displaying Formatting |

237
(1)
238
(2)
240
(3)
Chapter l4: Working in Slide Sorter View
243
(12)
244
(1)
245
(1)
246
(1)
247
(1)
248
(2)
250
(1)

| | |
| --- | --- |
| | Copying Slides Between Presentations |

251
(2)

| | |
| --- | --- |
| | Inserting an Entire Presentation |

253
(2)
Chapter 15: Producing a Slide Show
255
(18)
256
(2)
258
(1)
259
(1)
260
(2)
262
(1)
263
(1)
264
(1)
265
(2)
267
(2)

| | |
| --- | --- |
| | Creating a Self Running Slide Show |

269
(1)

| | |
| --- | --- |
| | Rehearsing the Slide Show |

270
(1)

| | |
| --- | --- |
| | Taking Notes During a Slide Show |

271
(2)
Chapter 16 Applying Animation
273
(20)

| | |
| --- | --- |
| | Adding a Transition Effect to a Slide |

274
(2)

| | |
| --- | --- |
| | Applying Preset Animations |

276
(2)
278
(1)

| | |
| --- | --- |
| | Animating a Bulleted List |

279
(3)
282
(4)
286
(2)
288
(2)

| | |
| --- | --- |
| | Animating the Slide Masters |

290
(2)

| | |
| --- | --- |
| | Overriding Animation on the Slide Master |

292
(1)
Chapter 17: Using Sound and Video
293
(12)
294
(2)
296
(2)
298
(2)
300
(2)

| | |
| --- | --- |
| | Using the Clip Organizer to Play Sounds and Movies |

302
(3)
Chapter 18: Taking Your Show on the Road
305
(16)

| | |
| --- | --- |
| | Showing Your Presentation on |

306
(5)
311
(2)

| | |
| --- | --- |
| | Viewing a Slide Show when PowerPoint Is Nowhere to Be Found |

313
(1)

| | |
| --- | --- |
| | Packaging Your Presentation on CD |

314
(2)
316
(3)

| | |
| --- | --- |
| | Creating Password-Protection |

319
(2)
Chapter 19: From Screen to Toner: Printing Your Presentation
321
(14)
322
(1)

| | |
| --- | --- |
| | Previewing Slides in Grayscale |

323
(1)
324
(2)
326
(1)
327
(1)
328
(1)
329
(1)
330
(2)
332
(1)
333
(1)
334
(1)
Chapter 20: Presenting on the Internet
335
(16)
337
(4)

| | |
| --- | --- |
| | Saving a Presentation to an FTP Site |

341
(2)
343
(1)

| | |
| --- | --- |
| | Saving a PowerPoint File for the Web |

344
(4)

| | |
| --- | --- |
| | Previewing a Slide Show in a Web Browser |

348
(3)
Index
351