Note: Supplemental materials are not guaranteed with Rental or Used book purchases.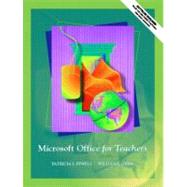 Related Products
Summary
This practical guide for teachers who want to learn how to use the Microsoft Office suite as&a tool in instruction, learning, and classroom management. &Through&step-by-step "how-to" exercises and helpful classroom examples, the various features of Word, PowerPoint, Excel, Access, Outlook, & and Publisher are explained in detail.& Inservice Teachers.
Author Biography
Patricia J. Fewell is a professor of secondary education and foundations at Eastern Illinois University.
Table of Contents
1. Introduction.
2. Office Basics.
3. Word 2002.
4. PowerPoint 2002.
5. Excel 2002.
6. Access 2002.
7. Outlook 2002.
Appendix A. PowerPoint.
Appendix B. Excel.
Appendix C. Access.
Appendix D. Outlook.
Appendix E. Windows.
Appendix F. Macintosh.
Index.

Excerpts
Conceptual Framework In this book, computers and associated software are presented as tools or means to accomplish tasks in instruction, learning, and classroom management. From this perspective, computer software is referred to as applications software. We discuss five categories of applications software, including word processing, presentation, database, spreadsheet, and telecommunications. Each category is presented as part of the Microsoft Office suite in Word, PowerPoint, Access, Excel, and Outlook. We offer specific instructions and recommendations for using these products in the classroom and, therefore, try to provide teachers a starting point from which to develop their technological knowledge as well as to begin integrating technology into the curriculum. Teachers are busy people and often do not have time to learn new software applications. Word processing, databases, and spreadsheets can improve work efficiency, expand the range of tasks performed, improve accuracy and effectiveness, and reduce the amount of time needed to perform routine tasks. However, the initial time needed to learn these applications can be an obstacle for some teachers. We attempt to address this issue in three ways. First, we present a visually illustrated and nontechnical approach to learning the Microsoft Office XP suite. The book includes software "screen-capture" illustrations supplemented with text descriptions, work templates, and exercises to help motivate teachers to learn and use these applications, thereby reducing the frustration one often experiences when studying intensive technical manuals. Second, we believe it is useful to build on the suggestions and work of others; so we have created work templates with the Office products (such as sample newsletters, a grade book, and so on) and exercises that demonstrate the usefulness of the Microsoft Office suite and the diversity of its applications. Teachers can quickly and easily tailor these templates and exercises to meet their specific needs. Third, because there are many tasks that teachers perform each day in the classroom, such as creating grade books, newsletters, and posters, or making presentations to parent groups or the school board, the book focuses on these tasks as a catalyst for learning the Microsoft Office suite. For example, many preservice teachers need to know how to create a class newsletter, store student records, calculate test scores, and help students create an electronic presentation for which word processing, database, spreadsheet, and presentation development skills are fundamental. The activities in this book focus on these tasks to cultivate basic computing proficiency. Using nontechnical and graphically illustrated "how-to" procedures, teachers and students accomplish real-world, computer-based tasks and, in doing so, develop skills in word processing, database management, using spreadsheets, and making presentations. We have written this book for teachers who have very basic computing skills, such as opening, creating, and closing files and operating a mouse. The activities described in the book require a computer capable of running Microsoft Office XP. Organization Chapter I provides an introduction to the book and offers information about state and national technology standards for teachers and students for integrating technology in the classroom. Chapter 2 addresses the Microsoft Office XP interface, including taskbars, menu options, and working with Windows. It also presents the steps for configuring toolbars and using the Office Assistant. Chapter 3 discusses word processing, including the process of creating a new Microsoft Word document and modifying an existing one. It focuses on creating a book report, a Web page document, and a newsletter. Using the chapter activities, students create word processing documents. They use the copy, cut, paste, and formatting options as well as WordArt and clip art to create