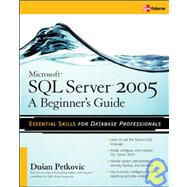 Microsoft SQL Server 2005: A Beginner''s Guide
by
Petkovic, Dusan
McGraw-Hill Osborne Media
Questions About This Book?
What version or edition is this?
This is the 1st edition with a publication date of 12/13/2005.
What is included with this book?
The New copy of this book will include any supplemental materials advertised. Please check the title of the book to determine if it should include any CDs, lab manuals, study guides, etc.
Related Products
Summary
It's been five years since Microsoft released a new version of SQL Server-which holds 39% of the Windows database market-and the latest edition of this bestselling beginner's guide gets users up and running on SQL Server 2005. The book covers database concepts, and discusses key topics for new users including the SQL Server Workbench,T-SQL, automated administration tasks, security, and analysis. Previous edition sold 30,000 copies Worked examples and exercises throughout provide hands-on experience Free code will be available online
Author Biography
Dusan Petkovic (Rosenheim, Germany) is a professor in the Department of Computer Science at the Polytechnic in Rosenheim, Germany. He is the best-selling author of two editions of SQL Server: A Beginner's Guide and has authored numerous articles for SQL Server Magazine and technical papers for Embarcadero.
Table of Contents
Acknowledgments
xix
Introduction
xxi

| | |
| --- | --- |
| | Part I SQL Server: Basic Concepts |

| | |
| --- | --- |
| | Database Systems and SQL Server |

3
(20)

| | |
| --- | --- |
| | Database Systems: An Overview |

6
(3)

| | |
| --- | --- |
| | Variety of User Interfaces |

7
(1)

| | |
| --- | --- |
| | Physical Data Independence |

7
(1)

| | |
| --- | --- |
| | Logical Data Independence |

7
(1)
7
(1)
8
(1)
8
(1)
8
(1)

| | |
| --- | --- |
| | Security and Authorization |

9
(1)

| | |
| --- | --- |
| | Relational Database Systems |

9
(3)

| | |
| --- | --- |
| | Working with the Book's Sample Database |

9
(3)

| | |
| --- | --- |
| | SQL: A Relational Database Language |

12
(2)
14
(1)
14
(6)
16
(2)

| | |
| --- | --- |
| | Entity-Relationship (ER) Model |

18
(2)
20
(1)

| | |
| --- | --- |
| | Overview of Microsoft SQL Server |

20
(1)
21
(2)

| | |
| --- | --- |
| | SQL Server Management Studio |

23
(26)

| | |
| --- | --- |
| | The SQL Server Program Group and Books Online |

24
(1)

| | |
| --- | --- |
| | Introduction to SQL Server Management Studio |

25
(19)

| | |
| --- | --- |
| | Using Management Studio with the SQL Server Database Engine |

28
(4)

| | |
| --- | --- |
| | Managing Databases Using Object Explorer |

32
(7)

| | |
| --- | --- |
| | Authoring Activities Using SQL Server Management Studio |

39
(5)
44
(1)
44
(5)

| | |
| --- | --- |
| | Part II Transact-SQL Language |

49
(24)
50
(3)
52
(1)
52
(1)
52
(1)
53
(6)
53
(1)
54
(2)
56
(1)
57
(1)
58
(1)
59
(1)
59
(1)
60
(1)
60
(7)
61
(1)
62
(1)
63
(2)
65
(1)
65
(2)
67
(2)
68
(1)
69
(1)
70
(1)
71
(2)
73
(38)

| | |
| --- | --- |
| | Creating Database Objects |

74
(24)
74
(4)

| | |
| --- | --- |
| | Create Table: A Basic Form |

78
(2)

| | |
| --- | --- |
| | Create Table: The Enhanced Form |

80
(1)

| | |
| --- | --- |
| | Create Table and Declarative Integrity Constraints |

81
(5)
86
(5)

| | |
| --- | --- |
| | Creating Other Database Objects |

91
(2)

| | |
| --- | --- |
| | Integrity Constraints and Domains |

93
(5)

| | |
| --- | --- |
| | Modifying Database Objects |

98
(7)
99
(1)

| | |
| --- | --- |
| | Altering a Table: A Basic Form |

100
(2)

| | |
| --- | --- |
| | Altering a Table: Enhanced Form |

102
(3)

| | |
| --- | --- |
| | Removing Database Objects |

105
(1)
106
(1)
106
(5)
111
(58)

| | |
| --- | --- |
| | Select Statement: A Basic Form |

112
(2)
114
(17)
117
(5)
122
(3)

| | |
| --- | --- |
| | Queries Involving Null Values |

125
(2)
127
(4)
131
(8)

| | |
| --- | --- |
| | Subqueries and Comparison Operators |

132
(1)

| | |
| --- | --- |
| | Subqueries and In Operator |

133
(2)
135
(3)
138
(1)

| | |
| --- | --- |
| | Queries in the From Clause |

138
(1)
139
(2)
141
(8)
141
(6)
147
(1)

| | |
| --- | --- |
| | Superaggregates (Operators Cube and Rollup) |

148
(1)

| | |
| --- | --- |
| | User-Defined Aggregate Functions |

148
(1)
149
(1)
150
(2)

| | |
| --- | --- |
| | Select Statement and Identity Property |

152
(2)
154
(5)
159
(2)
161
(3)
164
(1)
165
(1)
166
(1)
166
(3)
169
(36)
170
(17)

| | |
| --- | --- |
| | Two Syntax Forms to Implement Joins |

171
(1)
171
(4)
175
(2)
177
(2)
179
(1)

| | |
| --- | --- |
| | Joining More Than Two Tables |

180
(2)

| | |
| --- | --- |
| | Joining a Table with Itself |

182
(2)
184
(3)
187
(6)

| | |
| --- | --- |
| | Exists Function and Subqueries |

189
(4)

| | |
| --- | --- |
| | Should You Use Join or Subqueries? |

193
(2)
193
(1)
194
(1)
195
(7)

| | |
| --- | --- |
| | CTE and Nonrecursive Queries |

195
(2)

| | |
| --- | --- |
| | Common Table Expressions and Recursive Queries |

197
(5)
202
(1)
203
(2)

| | |
| --- | --- |
| | Modification of a Table's Contents |

205
(12)
206
(4)
206
(3)
209
(1)
210
(3)
213
(2)
215
(1)
216
(1)

| | |
| --- | --- |
| | Stored Procedures and User-Defined Functions |

217
(28)
218
(7)
218
(1)
219
(1)
220
(1)
221
(1)

| | |
| --- | --- |
| | Miscellaneous Procedural Statements |

222
(1)

| | |
| --- | --- |
| | Handling Events With Try and Catch Statements |

223
(2)
225
(12)

| | |
| --- | --- |
| | Creation and Execution of Stored Procedures |

226
(5)
231
(1)

| | |
| --- | --- |
| | Stored Procedures and CLR |

231
(6)
237
(6)

| | |
| --- | --- |
| | Creation and Execution of User-Defined Functions |

237
(4)

| | |
| --- | --- |
| | User-Defined Functions and CLR |

241
(2)
243
(1)
243
(2)

| | |
| --- | --- |
| | Indices and Query Optimization |

245
(38)
246
(14)

| | |
| --- | --- |
| | Clustered and Nonclustered Indices |

248
(2)

| | |
| --- | --- |
| | Indices and the Corresponding Transact-SQL Statements |

250
(6)

| | |
| --- | --- |
| | Editing Index Information |

256
(1)
257
(1)

| | |
| --- | --- |
| | Guidelines for Creating Indices |

258
(2)

| | |
| --- | --- |
| | General Criteria to Improve Efficiency |

260
(5)

| | |
| --- | --- |
| | Join vs. Correlated Subquery |

260
(1)
261
(1)
261
(1)

| | |
| --- | --- |
| | Transact-SQL Statements for Query Optimization |

262
(3)
265
(13)
265
(2)

| | |
| --- | --- |
| | Implementing the Join Operation |

267
(1)
268
(10)

| | |
| --- | --- |
| | The DBCC Command and Indices |

278
(2)
280
(1)
280
(3)
283
(24)
284
(7)
285
(4)

| | |
| --- | --- |
| | Altering and Removing Views |

289
(2)
291
(7)
291
(1)

| | |
| --- | --- |
| | Insert Statement and a View |

292
(3)

| | |
| --- | --- |
| | Update Statement and a View |

295
(2)

| | |
| --- | --- |
| | Delete Statement and a View |

297
(1)
298
(7)
299
(3)

| | |
| --- | --- |
| | Benefits of Indexed Views |

302
(1)
303
(2)
305
(1)
305
(2)
307
(18)
308
(3)
308
(1)
309
(1)
309
(1)
310
(1)
310
(1)
310
(1)
311
(1)
311
(2)
312
(1)
313
(1)
313
(1)
313
(2)

| | |
| --- | --- |
| | Other Ways to Access System Information |

315
(8)
316
(2)
318
(2)
320
(1)
320
(3)
323
(1)
324
(1)
325
(40)
326
(6)

| | |
| --- | --- |
| | SQL Server Encryption Policy and Mechanisms |

327
(2)

| | |
| --- | --- |
| | Setting Up SQL Server Security Using DDL |

329
(2)

| | |
| --- | --- |
| | Setting Up SQL Server Security Using System Procedures |

331
(1)

| | |
| --- | --- |
| | System Procedures Concerning Logins |

331
(1)
332
(4)
333
(1)

| | |
| --- | --- |
| | DDL Statements Concerning Schema |

334
(2)
336
(4)

| | |
| --- | --- |
| | Setting Up Database User Accounts with DDL |

336
(2)

| | |
| --- | --- |
| | Setting Up Database User Accounts Using System Procedures |

338
(1)
339
(1)
340
(11)
340
(1)

| | |
| --- | --- |
| | Fixed Server Roles and Their Permissions |

341
(2)
343
(1)

| | |
| --- | --- |
| | Fixed Database Roles and Their Permissions |

344
(2)
346
(3)

| | |
| --- | --- |
| | User-Defined Database Roles |

349
(2)
351
(8)
351
(6)
357
(1)
358
(1)
359
(1)

| | |
| --- | --- |
| | Stored Procedures and Data Access |

360
(1)
361
(1)
362
(3)
365
(20)
366
(1)
366
(10)

| | |
| --- | --- |
| | Application Areas for After Triggers |

369
(4)

| | |
| --- | --- |
| | Application Areas for Instead of Triggers |

373
(1)
374
(1)
375
(1)
376
(5)
381
(2)

| | |
| --- | --- |
| | Modifying Trigger's Structure |

383
(1)
383
(1)
384
(1)
385
(20)
386
(1)

| | |
| --- | --- |
| | Transact-SQL Statements and Transactions |

387
(4)
391
(1)
391
(6)
392
(1)
393
(3)

| | |
| --- | --- |
| | The Select Statement and Locking |

396
(1)
397
(4)

| | |
| --- | --- |
| | Row Versioning and Snapshot Isolation Level |

399
(2)
401
(1)
402
(1)
402
(3)

| | |
| --- | --- |
| | SQL Server System Environment |

405
(22)
406
(4)
407
(3)
410
(1)
410
(1)
410
(1)
411
(5)
412
(1)
413
(1)
414
(2)
416
(2)
418
(1)
418
(1)
419
(4)

| | |
| --- | --- |
| | Multiprocessor Hardware Architectures |

420
(1)

| | |
| --- | --- |
| | Multithreading Architecture of SQL Server |

421
(2)
423
(1)
423
(4)

| | |
| --- | --- |
| | Part III SQL Server: System Administration |

| | |
| --- | --- |
| | Overview of System Administration |

427
(6)
428
(3)

| | |
| --- | --- |
| | MS SQL Server 2005 Program Group |

429
(1)
429
(1)
430
(1)
431
(1)
432
(1)

| | |
| --- | --- |
| | Planning the Installation and Installing SQL Server |

433
(16)

| | |
| --- | --- |
| | Planning the Installation |

434
(3)
434
(1)

| | |
| --- | --- |
| | Hardware and Software Requirements |

435
(1)
436
(1)

| | |
| --- | --- |
| | Installation Recommendations |

437
(1)
437
(8)

| | |
| --- | --- |
| | Beginning the Installation |

438
(7)

| | |
| --- | --- |
| | Configuring SQL Server After Installation |

445
(1)

| | |
| --- | --- |
| | Create Server Groups and Register the Server |

445
(1)
446
(1)

| | |
| --- | --- |
| | Starting and Stopping an Instance of SQL Server |

446
(2)
448
(1)

| | |
| --- | --- |
| | Managing Databases and Database Files |

449
(12)
450
(2)
451
(1)
452
(6)
452
(1)

| | |
| --- | --- |
| | Viewing and Modifying Database Options |

453
(3)
456
(2)

| | |
| --- | --- |
| | Managing Transaction Logs |

458
(1)
459
(1)
459
(2)
461
(12)
462
(3)

| | |
| --- | --- |
| | Implementing a Security Mode |

463
(1)

| | |
| --- | --- |
| | Managing SQL Server Logins |

464
(1)

| | |
| --- | --- |
| | Database Security Permissions |

465
(3)
465
(3)
468
(3)
471
(1)
471
(2)
473
(34)
474
(1)

| | |
| --- | --- |
| | Software and Hardware Failures |

474
(1)
475
(1)
475
(3)
476
(1)
476
(1)
476
(2)
478
(1)
478
(13)

| | |
| --- | --- |
| | Backup Using Management Studio |

478
(4)

| | |
| --- | --- |
| | Backup Using Transact-SQL Statements |

482
(3)

| | |
| --- | --- |
| | Which Databases to Back Up? |

485
(1)

| | |
| --- | --- |
| | Minimizing System Downtime |

486
(3)
489
(2)
491
(13)
491
(1)
492
(9)
501
(2)
503
(1)
504
(1)
504
(3)

| | |
| --- | --- |
| | Automating System Administration Tasks |

507
(20)
508
(1)
509
(1)

| | |
| --- | --- |
| | Running and Configuring SQL Server Agent |

510
(1)

| | |
| --- | --- |
| | Creating Jobs and Operators |

510
(7)
510
(1)

| | |
| --- | --- |
| | Creating a Job Using SQL Server Management Studio |

511
(3)
514
(1)

| | |
| --- | --- |
| | Creating Operators for Notification |

515
(1)

| | |
| --- | --- |
| | Viewing the Job History Log |

516
(1)
517
(7)
517
(2)
519
(1)
519
(1)

| | |
| --- | --- |
| | Defining Alerts to Handle SQL Server Errors |

520
(3)

| | |
| --- | --- |
| | Defining Alerts to Handle User-Defined Errors |

523
(1)
524
(1)
525
(2)
527
(30)
528
(1)

| | |
| --- | --- |
| | Factors that Affect Performance |

529
(9)

| | |
| --- | --- |
| | Database Applications and Performance |

529
(2)

| | |
| --- | --- |
| | The Database Server and Performance |

531
(1)

| | |
| --- | --- |
| | System Resources and Performance |

532
(1)
533
(5)
538
(10)

| | |
| --- | --- |
| | Application Performance Tools |

538
(4)

| | |
| --- | --- |
| | SQL Server-Specific Monitoring |

542
(4)

| | |
| --- | --- |
| | Tools for Monitoring System Resources |

546
(2)
548
(9)
548
(1)

| | |
| --- | --- |
| | Database Engine Tuning Advisor |

549
(7)
556
(1)
557
(12)
558
(1)

| | |
| --- | --- |
| | Ways to Partition Your Data |

559
(1)

| | |
| --- | --- |
| | Steps for Creating Partitioned Tables |

559
(7)
560
(1)

| | |
| --- | --- |
| | Determine Partitioning Key and Number of Partitions |

560
(1)

| | |
| --- | --- |
| | Create a Filegroup for Each Partition |

561
(1)

| | |
| --- | --- |
| | Create Partition Function and Partition Scheme |

562
(3)
565
(1)

| | |
| --- | --- |
| | Guidelines for Partitioning Tables and Indices |

566
(1)
566
(3)
569
(20)
570
(2)

| | |
| --- | --- |
| | Methods for Distributing Data |

570
(2)

| | |
| --- | --- |
| | SQL Server Replication---An Overview |

572
(8)

| | |
| --- | --- |
| | Publishers, Distributors, and Subscribers |

572
(1)

| | |
| --- | --- |
| | Publications and Articles |

573
(2)
575
(3)
578
(2)
580
(4)

| | |
| --- | --- |
| | Configuring the Distribution and Publication Servers |

580
(1)
581
(2)

| | |
| --- | --- |
| | Setting Up Subscription Servers |

583
(1)
584
(1)
585
(4)

| | |
| --- | --- |
| | Part IV Microsoft Analysis Services |

| | |
| --- | --- |
| | Data Warehousing: An Introduction |

589
(16)

| | |
| --- | --- |
| | Online Transaction Processing vs. Data Warehousing |

590
(2)

| | |
| --- | --- |
| | Online Transaction Processing |

590
(1)
591
(1)

| | |
| --- | --- |
| | Data Warehouses and Data Marts |

592
(3)
595
(3)
595
(3)
598
(2)
599
(1)
600
(2)
601
(1)
602
(1)
603
(1)
603
(2)

| | |
| --- | --- |
| | Microsoft Analysis Services |

605
(16)
607
(5)

| | |
| --- | --- |
| | Analysis Services and Cubes |

612
(7)
614
(1)

| | |
| --- | --- |
| | Designing Storage Aggregation and Processing the Cube |

615
(3)
618
(1)
619
(2)

| | |
| --- | --- |
| | Business Intelligence and SQL |

621
(18)

| | |
| --- | --- |
| | OLAP Extensions in Transact-SQL |

622
(15)
622
(4)
626
(2)
628
(6)
634
(2)

| | |
| --- | --- |
| | Pivot and Unpivot Operators |

636
(1)
637
(2)

| | |
| --- | --- |
| | Microsoft Reporting Services |

639
(20)
640
(2)
640
(1)
641
(1)
641
(1)
642
(10)
643
(7)
650
(2)

| | |
| --- | --- |
| | Processing and Managing Reports |

652
(1)

| | |
| --- | --- |
| | Accessing and Delivering Reports |

653
(3)
653
(2)
655
(1)
656
(1)
656
(3)
659
(10)
660
(1)

| | |
| --- | --- |
| | XML and Related Languages |

661
(4)
661
(4)

| | |
| --- | --- |
| | Document Type Definitions |

665
(3)
667
(1)
668
(1)
669
(18)

| | |
| --- | --- |
| | Storing XML in Relational Databases |

670
(1)
671
(7)
674
(1)
675
(3)

| | |
| --- | --- |
| | Constructing XML Documents Using the for XML Clause |

678
(7)
678
(1)
679
(1)
680
(2)
682
(1)

| | |
| --- | --- |
| | Specifying Directives with Different Modes |

683
(2)
685
(1)
686
(1)
Index
687