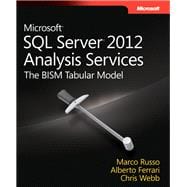 Summary
Create Business Intelligence (BI) solutions with the Business Intelligence Semantic Model (BISM) Tabular model-and discover a simpler method for analyzing business data. Led by three BI experts, you'll learn how to use several BISM tools, such as the Vertipaq in-memory storage engine, the DAX programming language, and the semantic model that enables data navigation. Whether you're experienced with the BISM Multidimensional model or a SQL Server developer new to Analysis Services, this book is the ideal way to get started with the BISM Tabular model. Topics include: BISM architecture Loading data inside the tabular model Basics of the DAX language Understanding evaluation contexts Querying tabular Understanding time intelligence in DAX
Author Biography
Alberto Ferrari is a Business Intelligence consultant whose two main interests are in a methodological approach to the BI development lifecycle, and performance tuning of ETL and SQL code. His activities are related to designing and implementing solutions based on Integration Services and Analysis Services for the financial, manufacturing and statistical areas. He is also a book author and a speaker in international conferences such as PASS Summit, SQLRally and SQLBits. Alberto holds an SSAS Maestro certification.
Table of Contents
Foreword
Introduction
Introducing the Tabular Model
Getting Started with the Tabular Model
Loading Data Inside Tabular
DAX Basics
Understanding Evaluation Context
Querying Tabular
DAX Advanced
Understanding Time Intelligence in DAX
Understanding xVelocity and DirectQuery
Building Hierarchies
Data Modeling in Tabular
Using Advanced Tabular Relationships
The Tabular Presentation Layer
Tabular and PowerPivot
Security
Interfacing with Tabular
Tabular Deployment
Optimizations and Monitoring
DAX Functions Reference
Table of Contents provided by Publisher. All Rights Reserved.