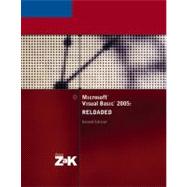 Microsoft Visual Basic 2005: RELOADED, Second Edition
by
Zak, Diane
Questions About This Book?
Why should I rent this book?
Renting is easy, fast, and cheap! Renting from eCampus.com can save you hundreds of dollars compared to the cost of new or used books each semester. At the end of the semester, simply ship the book back to us with a free UPS shipping label! No need to worry about selling it back.
How do rental returns work?
Returning books is as easy as possible. As your rental due date approaches, we will email you several courtesy reminders. When you are ready to return, you can print a free UPS shipping label from our website at any time. Then, just return the book to your UPS driver or any staffed UPS location. You can even use the same box we shipped it in!
What version or edition is this?
This is the 2nd edition with a publication date of 1/17/2006.
What is included with this book?
The Used copy of this book is not guaranteed to include any supplemental materials. Typically, only the book itself is included.
The Rental copy of this book is not guaranteed to include any supplemental materials. You may receive a brand new copy, but typically, only the book itself.
Summary
Microsoft Visual Basic 2005: RELOADED, Second Edition leverages the powerful pedagogy of the first edition, but takes it to the next level with Visual Basic 2005. The highly visual four-color interior clearly illustrates topics and features such as Tips and How To boxes. Added to the end of every chapter is an exciting tutorial in which students create and program a game. Complete programming examples have been updated at the end of each chapter, allowing students to see the concepts they have learned and how they are applied. The new Self-Check Question and Answer sections allow students to determine whether they understand the topics. Quick Reviews and Key Terms, as well as a Glossary at the end of the book, provide easy reference for important concepts and terms.
Table of Contents
Preface
xiii
Read This Before You Begin
xviii

| | |
| --- | --- |
| | An Introduction to Visual Basic 2005 |

1
(70)
2
(1)

| | |
| --- | --- |
| | A Brief History of Programming Languages |

2
(2)
3
(1)
3
(1)
3
(1)
4
(2)
6
(4)

| | |
| --- | --- |
| | The Common Language Runtime |

7
(1)

| | |
| --- | --- |
| | Solutions, Projects, and Files |

7
(1)

| | |
| --- | --- |
| | Starting Microsoft Visual Studio 2005 |

8
(2)

| | |
| --- | --- |
| | Creating a Visual Basic 2005 Windows-Based Application |

10
(2)

| | |
| --- | --- |
| | Managing the Windows in the IDE |

11
(1)

| | |
| --- | --- |
| | The Windows Form Designer Window |

12
(1)

| | |
| --- | --- |
| | The Solution Explorer Window |

13
(2)
15
(4)

| | |
| --- | --- |
| | Properties of a Windows Form Object |

16
(3)
19
(5)
21
(1)
22
(2)
24
(3)
26
(1)
27
(1)

| | |
| --- | --- |
| | Starting and Ending an Application |

27
(3)

| | |
| --- | --- |
| | Using an Assignment Statement |

30
(1)
31
(1)

| | |
| --- | --- |
| | Closing the Current Solution |

32
(1)

| | |
| --- | --- |
| | Opening an Existing Solution |

32
(1)

| | |
| --- | --- |
| | Programming Tutorial: Creating a Visual Basic 2005 Application |

33
(23)

| | |
| --- | --- |
| | Starting Visual Studio .NET |

33
(1)

| | |
| --- | --- |
| | Creating a Visual Basic 2005 Windows-based Application |

34
(1)

| | |
| --- | --- |
| | Managing the Windows in the IDE |

35
(1)

| | |
| --- | --- |
| | Using the Toolbox Window to Add Objects to a Form |

36
(4)

| | |
| --- | --- |
| | Using the Properties Window to Change an Object's Properties |

40
(3)
43
(1)

| | |
| --- | --- |
| | Displaying an Image in a Picture Box Control |

44
(2)

| | |
| --- | --- |
| | Starting and Ending an Application |

46
(3)

| | |
| --- | --- |
| | Writing Visual Basic 2005 Code |

49
(4)

| | |
| --- | --- |
| | Closing the Current Solution |

53
(1)

| | |
| --- | --- |
| | Opening an Existing Solution |

53
(1)
53
(1)
54
(2)

| | |
| --- | --- |
| | Exiting Visual Studio .NET |

56
(1)

| | |
| --- | --- |
| | Programming Example: State Capitals |

56
(2)
56
(2)
58
(1)
58
(2)
60
(3)

| | |
| --- | --- |
| | Self-Check Questions and Answers |

63
(1)
64
(3)

| | |
| --- | --- |
| | Review Exercises - Short Answer |

67
(1)
67
(2)
69
(2)

| | |
| --- | --- |
| | Castle's Ice Cream Parlor |

69
(1)
69
(1)
69
(1)
70
(1)

| | |
| --- | --- |
| | Creating a User Interface |

71
(56)
72
(1)
72
(6)

| | |
| --- | --- |
| | Identifying the Application's Tasks |

72
(2)
74
(3)
77
(1)

| | |
| --- | --- |
| | Designing the User Interface |

78
(8)
81
(3)

| | |
| --- | --- |
| | Including Graphics in the User Interface |

84
(1)

| | |
| --- | --- |
| | Including Different Fonts in the User Interface |

85
(1)

| | |
| --- | --- |
| | Including Color in the User Interface |

85
(1)
86
(1)

| | |
| --- | --- |
| | Setting the TabIndex Property |

87
(3)

| | |
| --- | --- |
| | Designating Default and Cancel Buttons |

90
(1)

| | |
| --- | --- |
| | Including Splash Screens and Dialog Boxes in an Application |

91
(2)
93
(2)

| | |
| --- | --- |
| | Programming Tutorial: Creating the Color Game Application |

95
(16)

| | |
| --- | --- |
| | Completing the MainForm's Interface |

96
(4)
100
(1)

| | |
| --- | --- |
| | Coding the Color Buttons' Click Event Procedures |

101
(1)

| | |
| --- | --- |
| | Coding the Clear Colors Button's Click Event Procedure |

102
(1)

| | |
| --- | --- |
| | Adding the DialogForm to the Color Game Project |

102
(2)

| | |
| --- | --- |
| | Coding the DialogForm and the Options Button |

104
(2)

| | |
| --- | --- |
| | Adding the SplashScreenForm to the Color Game Project |

106
(1)

| | |
| --- | --- |
| | Completing the Color Game Application |

107
(4)

| | |
| --- | --- |
| | Programming Example: Moonbucks Coffee |

111
(4)
112
(1)
112
(1)

| | |
| --- | --- |
| | Objects, Properties, and Settings |

113
(1)
114
(1)
115
(1)
115
(2)
117
(1)

| | |
| --- | --- |
| | Self-Check Questions and Answers |

118
(1)
119
(2)

| | |
| --- | --- |
| | Review Exercises - Short Answer |

121
(1)
122
(2)
124
(3)

| | |
| --- | --- |
| | Crispies Bagels and Bites |

124
(1)
124
(1)
125
(1)
125
(2)

| | |
| --- | --- |
| | Variables, Constants, Methods, and Calculations |

127
(68)
128
(3)

| | |
| --- | --- |
| | Selecting a Data Type for a Variable |

128
(2)

| | |
| --- | --- |
| | Selecting a Name for a Variable |

130
(1)
131
(1)

| | |
| --- | --- |
| | Assigning Data to an Existing Variable |

132
(9)

| | |
| --- | --- |
| | Using the TryParse Method |

134
(6)
140
(1)

| | |
| --- | --- |
| | Writing Arithmetic Expressions |

141
(3)

| | |
| --- | --- |
| | The Scope and Lifetime of a Variable |

144
(4)
148
(2)
150
(2)

| | |
| --- | --- |
| | Option Explicit and Option Strict |

152
(2)

| | |
| --- | --- |
| | Coding the Skate-Away Sales Application |

154
(4)

| | |
| --- | --- |
| | Using Pseudocode to Plan a Procedure |

155
(1)

| | |
| --- | --- |
| | Using a Flowchart to Plan a Procedure |

156
(2)

| | |
| --- | --- |
| | Coding the Clearbutton's Click Event Procedure |

158
(3)

| | |
| --- | --- |
| | Clearing the Contents of a Control's Text Property |

159
(1)
160
(1)

| | |
| --- | --- |
| | Coding The Calcbutton's Click Event Procedure |

161
(3)

| | |
| --- | --- |
| | Testing and Debugging the Application |

164
(2)

| | |
| --- | --- |
| | Formatting Numeric Output |

166
(4)

| | |
| --- | --- |
| | Programming Tutorial: Creating the Change Game Application |

170
(7)

| | |
| --- | --- |
| | Completing the Change Game Application |

171
(1)

| | |
| --- | --- |
| | Coding the clearButton's Click Event Procedure |

172
(1)

| | |
| --- | --- |
| | Coding the calcButton's Click Event Procedure |

173
(4)

| | |
| --- | --- |
| | Programming Example: Currency Calculator |

177
(4)
178
(1)
178
(1)

| | |
| --- | --- |
| | Objects, Properties, and Settings |

179
(1)
180
(1)
180
(1)
180
(1)
181
(2)
183
(1)

| | |
| --- | --- |
| | Self-Check Questions and Answers |

184
(2)
186
(2)

| | |
| --- | --- |
| | Review Exercises - Short Answer |

188
(1)
189
(4)
193
(2)
193
(1)
193
(1)
193
(1)
193
(2)

| | |
| --- | --- |
| | Making Decisions in a Program |

195
(74)
196
(1)

| | |
| --- | --- |
| | Writing Pseudocode for the If and If/Else Selection Structures |

197
(1)

| | |
| --- | --- |
| | Flowcharting the If and If/Else Selection Structures |

198
(1)

| | |
| --- | --- |
| | Coding the If and If/Else Selection Structures |

199
(1)
200
(9)

| | |
| --- | --- |
| | Using Comparison Operators -- Swapping Numeric Values |

202
(4)

| | |
| --- | --- |
| | Using Comparison Operators -- Example 2 |

206
(3)

| | |
| --- | --- |
| | Using the ToUpper and ToLower Methods |

209
(2)
211
(6)
214
(2)

| | |
| --- | --- |
| | Using Logical Operators in an If...Then...Else Statement |

216
(1)

| | |
| --- | --- |
| | The String.IsNullOrempty Method |

217
(1)

| | |
| --- | --- |
| | Modifying the Skate-Away Sales Application |

218
(3)

| | |
| --- | --- |
| | The MessageBox.Show Method |

221
(5)

| | |
| --- | --- |
| | Nested Selection Structures |

226
(5)

| | |
| --- | --- |
| | The If/Elself/Else Selection Structure |

231
(2)

| | |
| --- | --- |
| | The Case Selection Structure |

233
(4)

| | |
| --- | --- |
| | Using To and Is in an ExpressionList |

235
(2)

| | |
| --- | --- |
| | Generating Random Integers |

237
(2)

| | |
| --- | --- |
| | Programming Tutorial: Creating the Rock, Paper, Scissors Game Application |

239
(1)

| | |
| --- | --- |
| | Creating the Rock, Paper, Scissors Game Interface |

240
(12)

| | |
| --- | --- |
| | Coding the Rock, Paper, Scissors Game Application |

242
(6)

| | |
| --- | --- |
| | Programming Example: Fat Calculator Application |

248
(1)
249
(1)
249
(1)

| | |
| --- | --- |
| | Objects, Properties, and Settings |

249
(1)
250
(1)
250
(1)
251
(1)
252
(1)
253
(2)

| | |
| --- | --- |
| | Self-Check Questions and Answers |

255
(1)
256
(3)

| | |
| --- | --- |
| | Review Exercises - Short Answer |

259
(4)
263
(5)
268
(1)

| | |
| --- | --- |
| | Allenton Water Department |

268
(1)
268
(1)
268
(1)
268
(1)

| | |
| --- | --- |
| | Repeating Program Instructions |

269
(80)
270
(1)
270
(4)
274
(7)

| | |
| --- | --- |
| | The Monthly Payment Calculator Application |

277
(1)

| | |
| --- | --- |
| | Selecting the Existing Text in a Text Box |

278
(2)

| | |
| --- | --- |
| | Coding a Control's TextChanged Event Procedure |

280
(1)

| | |
| --- | --- |
| | Using a List Box in an Interface |

281
(6)

| | |
| --- | --- |
| | Adding Items to a List Box |

282
(2)

| | |
| --- | --- |
| | The SelectedItem and SelectedIndex Properties |

284
(2)

| | |
| --- | --- |
| | The SelectedValueChanged and SelectedIndexChanged Events |

286
(1)

| | |
| --- | --- |
| | Modifying the Monthly Payment Calculator Application |

287
(3)

| | |
| --- | --- |
| | Using a Combo Box in an Interface |

290
(4)
294
(6)

| | |
| --- | --- |
| | Using Counters and Accumulators |

300
(2)
300
(2)

| | |
| --- | --- |
| | The Sales Express Application |

302
(5)

| | |
| --- | --- |
| | Programming Tutorial: Creating the Car Race Game Application |

307
(19)

| | |
| --- | --- |
| | Completing the Car Race Game Interface |

308
(4)

| | |
| --- | --- |
| | Coding the Car Race Game Application |

312
(1)

| | |
| --- | --- |
| | Moving a Control While an Application Is Running |

313
(2)

| | |
| --- | --- |
| | Coding the raceTimer's Tick Event Procedure |

315
(11)

| | |
| --- | --- |
| | Programming Example: Grade Calculator |

326
(4)
326
(1)
327
(1)

| | |
| --- | --- |
| | Objects, Properties, and Settings |

327
(1)
328
(1)
328
(1)
329
(1)
330
(2)
332
(1)

| | |
| --- | --- |
| | Self-Check Questions and Answers |

333
(2)
335
(3)

| | |
| --- | --- |
| | Review Exercises - Short Answer |

338
(2)
340
(7)
347
(2)

| | |
| --- | --- |
| | Sonheim Manufacturing Company |

347
(1)
348
(1)
348
(1)
348
(1)

| | |
| --- | --- |
| | String Manipulation and More Controls |

349
(82)

| | |
| --- | --- |
| | Manipulating Strings in Visual Basic |

350
(1)

| | |
| --- | --- |
| | Determining the Number of Characters Contained in a String |

350
(2)

| | |
| --- | --- |
| | Removing Characters from a String |

352
(6)
356
(2)

| | |
| --- | --- |
| | Replacing Characters in a String |

358
(6)
361
(3)

| | |
| --- | --- |
| | Inserting Characters In a String |

364
(6)
368
(2)

| | |
| --- | --- |
| | Search a String for One or More Characters |

370
(12)
375
(3)
378
(4)

| | |
| --- | --- |
| | Accessing Characters Contained in a String |

382
(3)
385
(8)
388
(5)
393
(6)
393
(3)
396
(3)

| | |
| --- | --- |
| | Programming Tutorial: Hangman Game |

399
(11)
400
(1)
400
(10)

| | |
| --- | --- |
| | Programming Example: Glasgow Health Club Dues Calculator Application |

410
(7)
411
(1)
411
(1)

| | |
| --- | --- |
| | Objects, Properties, and Settings |

412
(1)
413
(1)
414
(1)
414
(3)
417
(1)
418
(1)

| | |
| --- | --- |
| | Self-Check Questions and Answers |

419
(1)
420
(3)

| | |
| --- | --- |
| | Review Exercises -- Short Answer |

423
(1)
424
(5)
429
(2)
429
(1)
430
(1)
430
(1)
430
(1)

| | |
| --- | --- |
| | Sub and Function Procedures |

431
(64)
432
(1)
432
(6)

| | |
| --- | --- |
| | The Gadis Antiques Application |

434
(4)

| | |
| --- | --- |
| | Including Parameters in an Independent Sub Procedure |

438
(1)
438
(10)

| | |
| --- | --- |
| | Passing Variables by Value |

439
(5)

| | |
| --- | --- |
| | Passing Variables by Reference |

444
(4)

| | |
| --- | --- |
| | Associating a Procedure with Different Objects and Events |

448
(3)
451
(4)

| | |
| --- | --- |
| | The Pine Lodge Application |

452
(3)

| | |
| --- | --- |
| | Programming Tutorial: Concentration Game Application |

455
(21)
456
(1)

| | |
| --- | --- |
| | Coding the Concentration Game Application |

457
(7)

| | |
| --- | --- |
| | Converting Object Variables |

464
(3)

| | |
| --- | --- |
| | Completing the Concentration Game Application |

467
(9)

| | |
| --- | --- |
| | Programming Example: Rainfall Application |

476
(4)
476
(1)
476
(1)

| | |
| --- | --- |
| | Objects, Properties, and Settings |

477
(1)
478
(1)
478
(1)
479
(1)
480
(1)
481
(1)

| | |
| --- | --- |
| | Self-Check Questions and Answers |

482
(1)
483
(3)

| | |
| --- | --- |
| | Review Exercises - Short Answer |

486
(2)
488
(4)
492
(3)
492
(1)
492
(1)
493
(1)
493
(2)
495
(56)
496
(1)
496
(2)

| | |
| --- | --- |
| | Storing Data in a One-Dimensional Array |

498
(1)

| | |
| --- | --- |
| | Manipulating One-Dimensional Arrays |

499
(17)

| | |
| --- | --- |
| | Displaying the Contents of a One-Dimensional Array |

500
(2)

| | |
| --- | --- |
| | The For Each...Next Statement |

502
(1)

| | |
| --- | --- |
| | Using the Subscript to Access an Element in a One-Dimensional Array |

503
(2)

| | |
| --- | --- |
| | Searching a One-Dimensional Array |

505
(2)

| | |
| --- | --- |
| | Calculating the Average Amount Stored in a One-Dimensional Numeric Array |

507
(2)

| | |
| --- | --- |
| | Determining the Highest Value Stored in a One-Dimensional Array |

509
(2)

| | |
| --- | --- |
| | Updating the Values Stored in a One-Dimensional Array |

511
(2)

| | |
| --- | --- |
| | Sorting the Data Stored in a One-Dimensional Array |

513
(3)

| | |
| --- | --- |
| | Parallel One-Dimensional Arrays |

516
(3)
519
(6)

| | |
| --- | --- |
| | Storing Data in a Two-Dimensional Array |

521
(1)

| | |
| --- | --- |
| | Searching a Two-Dimensional Array |

522
(3)

| | |
| --- | --- |
| | Programming Tutorial: Lottery Game Application |

525
(5)
525
(1)

| | |
| --- | --- |
| | Coding the Lottery Game Application |

525
(5)

| | |
| --- | --- |
| | Programming Example: Perrytown Gift Shop Application |

530
(6)
531
(1)
531
(1)

| | |
| --- | --- |
| | Objects, Properties, and Settings |

532
(1)
533
(1)
533
(1)
534
(2)
536
(1)
536
(1)

| | |
| --- | --- |
| | Self-Check Questions and Answers |

537
(1)
538
(4)

| | |
| --- | --- |
| | Review Exercises - Short Answer |

542
(1)
543
(6)
549
(2)
549
(1)
549
(1)
550
(1)
550
(1)

| | |
| --- | --- |
| | Structures and Sequential Access files |

551
(46)
552
(10)

| | |
| --- | --- |
| | Using a Structure to Declare a Variable |

553
(1)

| | |
| --- | --- |
| | Passing a Structure Variable to a Procedure |

554
(5)

| | |
| --- | --- |
| | Creating an Array of Structure Variables |

559
(3)
562
(1)
562
(1)

| | |
| --- | --- |
| | Writing Information to a Sequential Access File |

563
(4)

| | |
| --- | --- |
| | Aligning Columns of Information in a Sequential Access File |

566
(1)

| | |
| --- | --- |
| | Reading Information from a Sequential Access File |

567
(3)

| | |
| --- | --- |
| | Determining Whether a File Exists |

568
(2)
570
(1)
571
(4)

| | |
| --- | --- |
| | Programming Tutorial: Modified Car Race Game Application |

575
(6)

| | |
| --- | --- |
| | Modifying the Car Race Game Application |

576
(5)

| | |
| --- | --- |
| | Programming Example: Glovers Application |

581
(5)
582
(1)
582
(1)

| | |
| --- | --- |
| | Objects, Properties, and Settings |

582
(1)
583
(1)
583
(1)
584
(2)
586
(1)
586
(1)

| | |
| --- | --- |
| | Self-Check Questions and Answers |

587
(1)
588
(2)

| | |
| --- | --- |
| | Review Exercises - Short Answer |

590
(2)
592
(3)
595
(2)
595
(1)
595
(1)
595
(1)
595
(2)

| | |
| --- | --- |
| | Creating Classes and Objects |

597
(60)
598
(1)
598
(3)

| | |
| --- | --- |
| | Example 1---Using a Class That Contains Public Variables Only |

601
(3)

| | |
| --- | --- |
| | Example 2---Using a Class That Contains a Private Variable, a Property Procedure, and Two Methods |

604
(8)
608
(1)

| | |
| --- | --- |
| | Methods Other Than Constructors |

609
(3)

| | |
| --- | --- |
| | Example 3---Using a Class That Contains Two Constructors |

612
(5)

| | |
| --- | --- |
| | Example 4---Using a Class That Contains Overloaded Methods |

617
(5)

| | |
| --- | --- |
| | Example 5---Using a Base Class and a Derived Class |

622
(4)

| | |
| --- | --- |
| | Programming Tutorial: Card Game |

626
(12)
627
(1)

| | |
| --- | --- |
| | Coding the Card Game Application |

627
(11)

| | |
| --- | --- |
| | Programming Example: Kessler Landscaping Application |

638
(4)
639
(1)
639
(1)
639
(1)

| | |
| --- | --- |
| | Code (MyRectangle.vb file) |

640
(1)
641
(1)
642
(1)
643
(1)

| | |
| --- | --- |
| | Self-Check Questions and Answers |

644
(1)
645
(2)

| | |
| --- | --- |
| | Review Exercises -- Short Answer |

647
(2)
649
(5)
654
(3)
654
(1)
655
(1)
655
(1)
655
(2)
657
(50)
658
(2)
660
(1)

| | |
| --- | --- |
| | Connecting a Database to an Application |

661
(3)

| | |
| --- | --- |
| | Previewing the Data Contained in a Dataset |

662
(2)

| | |
| --- | --- |
| | Binding the Objects in a Dataset |

664
(8)

| | |
| --- | --- |
| | Having the Computer Create a Bound Control |

664
(6)

| | |
| --- | --- |
| | Binding to an Existing Control |

670
(2)

| | |
| --- | --- |
| | Accessing the Records in a Dataset |

672
(2)
674
(10)
678
(2)

| | |
| --- | --- |
| | Using the Query Builder Dialog Box |

680
(1)

| | |
| --- | --- |
| | Allowing the User to Run a Query |

681
(3)

| | |
| --- | --- |
| | Programming Tutorial: Trivia Game Application |

684
(10)
685
(1)

| | |
| --- | --- |
| | Coding the Trivia Game Application |

685
(9)

| | |
| --- | --- |
| | Programming Example: Cartwright Industries Application |

694
(3)
695
(1)

| | |
| --- | --- |
| | User Interface (drag the table to the form) |

695
(1)

| | |
| --- | --- |
| | Objects, Properties, and Settings |

696
(1)
696
(1)
697
(1)
698
(1)

| | |
| --- | --- |
| | Self-Check Questions and Answers |

699
(1)
700
(2)

| | |
| --- | --- |
| | Review Exercises -- Short Answer |

702
(1)
703
(2)
705
(2)
705
(1)
705
(1)
705
(1)
706
(1)
Appendix A How To Boxes
707
(4)
Appendix B GUI Design Rules
711
(4)
Appendix C Visual Basic Type Conversion Functions
715
(2)
Appendix D Creating a SQL Server Database
717
(6)
Glossary
723
(10)
Index
733