Note: Supplemental materials are not guaranteed with Rental or Used book purchases.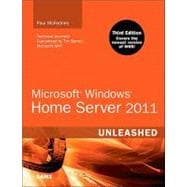 Questions About This Book?
What version or edition is this?
This is the 3rd edition with a publication date of 3/29/2011.
What is included with this book?
The New copy of this book will include any supplemental materials advertised. Please check the title of the book to determine if it should include any CDs, lab manuals, study guides, etc.
The eBook copy of this book is not guaranteed to include any supplemental materials. Typically only the book itself is included.
Summary
This is the most comprehensive, practical, and useful guide to the new "Vail" version of Windows Home Server - packed with new features and now based on Windows Server 2008 R2. Paul McFedries brings together tips, techniques, and shortcuts that can't be found in any other book. He covers all facets of running Windows Home Server 2011: setup, configuration, file/folder sharing, networking, security, digital media streaming and sharing, backup/restore, monitoring, Web and SharePoint site deployment, performance optimization, maintenance, and customization. This edition thoroughly covers Vail's key improvements. Throughout, McFedries demonstrates key techniques through real-world examples, and presents network configurations that readers can easily understand and use. He also presents a full section on advanced Windows Home Server power tools, command line operation, and automated scripting, showing users exactly how to configure, customize, and tune Windows Home Server to meet their specific needs.
Author Biography
Paul McFedries is a Windows expert and full-time technical writer. He has been authoring computer books since 1991 and has more than 70 books to his credit, which combined have sold more than four million copies worldwide. His recent titles include the Sams Publishing book Windows 7 Unleashed and the Que Publishing books Networking with Microsoft Windows Vista and Tweak It and Freak It: A Killer Guide to Making Windows Run Your Way. Paul is also the proprietor of Word Spy (www.wordspy.com), a website devoted to lexpionage, the sleuthing of new words and phrases that have entered the English language. Please drop by Paul's website at www.mcfedries.com, or follow Paul on Twitter at twitter.com/paulmcf and twitter.com/wordspy.
Table of Contents
Introduction 1
Part I Unleashing Windows Home Server Configuration
Chapter 1 Setting Up Your Windows Home Server Network 7
Configuring Windows Home Server for Networking 8
Do You Need to Change the Windows Home Server Workgroup Name? 8
Configuring Windows Home Server with a Static IP Address 8
Setting Up Windows Home Server as a DHCP 11
Connecting Windows Home Server to a Windows 7 Homegroup 13
Viewing the Windows Home Server Network 14
Troubleshooting Network Problems 14
Checking Connection Status 15
Checking Network Utilization 17
Repairing a Network Connection 17
Working with the Network and Internet Troubleshooter 19
Troubleshooting Cables 20
Troubleshooting the Network Interface Card 21
Handling Multiple Network Subnets 24
Making a Remote Desktop Connection to the Server 26
Making Sure That Windows Home Server Is Ready to Host 26
Making the Connection to the Server 27
Disconnecting from the Server 27
From Here 28
Chapter 2 Setting Up and Working with User Accounts 29
Understanding Security Groups 9
Adding a New User 32
Setting the Password Length and Complexity 32
Customizing the Password Length Requirement 33
Building a Strong Password 34
Changing the Password on the Client 35
Adding the User Account 36
Automating Client Logons 39
Modifying User Accounts 41
Viewing Account Properties 42
Changing the Account Password 43
Disabling a User Account 44
Enabling a User Account 45
Removing a User Account 46
Adding a User to a Group 46
Allowing a User to Log On to the Windows Home Server Desktop 47
From Here 48
Chapter 3 Adding Devices to the Windows Home Server Network 49
Installing Windows Home Server Connector on the Client Computers 49
Supported Operating Systems 50
Preparing to Install Windows Home Server Connector 51
Running the Windows Home Server Connector Setup Program 51
Using a Mac on Your Windows Home Server Network 53
Connecting to the Windows Home Server Network 54
Running the Windows Home Server MacConnector Setup Program on Your Mac 55
Mounting a Windows Home Server Shared Folder 56
Using a Mac to Make a Remote Desktop Connection to Windows Home Server 59
Letting Windows Computers See Your Mac Shares 61
Using a Linux Client on Your Windows Home Server Network 65
Viewing the Windows Home Server Network in Ubuntu 65
Letting Windows Computers See Your Ubuntu Shares 66
Adding Other Devices to the Network 72
Adding an Xbox 360 to the Network 72
From Here 73
Chapter 4 Configuring Windows Home Server 75
Running the Windows Home Server Launchpad 76
Running the Windows Home Server Dashboard 77
Changing the Date and Time on Windows Home Server 79
Setting the Current Date and Time 79
Synchronizing the Date and Time with a Time Server 81
Selecting the Windows Home Server Region 83
Changing the Region in the Windows Home Server Dashboard 83
Customizing the Region Formats 83
Configuring Windows Update 85
Configuring Windows Update 85
Updating Windows Home Server 87
Changing the Windows Home Server Password. 88
Restarting or Shutting Down Windows Home Server 89
Configuring the Windows Home Server Startup 89
Configuring Startup with the Advanced Boot Options Menu 90
Configuring Startup with the System Configuration Editor 92
Launching Applications and Scripts at Startup 94
From Here 98
Chapter 5 Setting Up and Using Home Server Storage 99
Understanding Storage in Windows Home Server 2011 99
Server Storage on a One-Drive System 100
Server Storage on a System with Two or More Drives 102
Working with Server Backup Drives 103
Adding a Drive for Server Backups 103
Removing a Server Backup Drive 106
Who Needs Drive Extender? Implementing Spanning, Mirroring, and RAID 107
Creating a Storage Pool Using a Spanned Volume 107
Creating Data Redundancy Using Mirrored Volumes 111
Mimicking Drive Extender by Creating a RAID 5 Volume 112
Repairing Storage 115
From Here 116
Part II Unleashing Windows Home Server Networking
Chapter 6 Sharing Folders and Files on the Home Server 117
Examining the Predefined Windows Home Server Shares 118
Setting User Permissions on Shared Folders 118
Modifying Permissions for a Windows Home Server Shared Folder 119
Sharing Server Folders Outside the Dashboard 120
Working with Shared Folders 123
Creating a New Shared Folder 123
Moving a Shared Folder 124
Accessing Previous Versions of Shared Folders or Files 125
Deleting a Shared Folder 127
Accessing the Windows Home Server Shared Folders 127
Understanding the Universal Naming Convention 128
Mapping a Shared Folder to a Local Drive Letter 130
Disconnecting a Mapped Network Folder 132
Creating a Network Location in Windows 7 and Windows Vista 132
Creating a Network Place in Windows XP 133
Accessing Shared Folders on Your Mac 135
Copying Files to a Shared Folder 135
Publishing a Windows Vista Calendar to the Server 136
Publishing Your Calendar 137
Subscribing to a Calendar 138
Working with Shared Calendars 140
Searching the Shared Folders 140
From Here 145
Chapter 7 Making Connections to Network Computers 147
Configuring a Computer as a Remote Desktop Host 148
Configuring a Windows 7 or Vista Host 149
Configuring an XP Host 150
Restricting the Computers That Can Connect to the Host 151
Connecting via Remote Desktop Connection 153
Getting the Client Computer Ready 153
Making the Connection to the Remote Desktop 153
Disconnecting from the Remote Desktop 158
Connecting via Windows Home Server Remote Web Access 158
Configuring Users for Remote Access 159
Activating Remote Web Access on the Server 160
Displaying the Remote Web Access Page 160
Making the Connection 162
Disconnecting from the Host 163
Connecting via the Internet 163
Connecting with Your Router's IP Address 164
Connecting with a Domain Name Maintained by a Dynamic DNS Service 168
Connecting with a Domain Name Maintained by Windows Home Server 169
Displaying the Remote Web Access Home Page 172
Connecting to a Network Computer 173
Working with Windows Home Server Shares in the Web Browser 173
Enabling Drag-and-Drop Uploading 176
Customizing the Remote Web Access Pages 177
Customizing the Logon Page 178
Adding Web Page Links 179
From Here 182
Chapter 8 Streaming and Sharing Digital Media 183
Streaming Digital Media 184
Getting Your Devices Ready 184
Activating the Windows Home Server Media Server 186
Playing Streamed Media in Windows Media Player 188
Playing Streamed Media in Windows Media Center 190
Streaming Digital Media Over the Internet 191
Sharing Photos 193
Customizing the Pictures Share with a Template 193
Using Server Pictures as a Screensaver Slideshow 194
Adding the Pictures Folder to Windows Media Player 195
Adding the Pictures Folder to Windows Live Photo Gallery 196
Adding the Pictures Folder to Windows Photo Gallery 197
Running a Slide Show from the Pictures Share 198
Changing the Default Picture Import Location to Windows Home Server 198
Sharing Music 198
Customizing the Music Share with a Template 199
Adding the Music Folder to Windows Media Player 200
Changing the Default Rip Location to Windows Home Server 200
Sharing Videos 201
Customizing the Videos Share with a Template 201
Adding the Videos Folder to Windows Media Player 202
Archiving Recorded TV on Windows Home Server 204
From Here 207
Chapter 9 Backing Up and Restoring Network Computers 209
Understanding Windows Home Server's Backup Technology 210
Single Instance Storage 210
No Backup Types 211
Smarter Backups 211
Client Computer Backup Retention 212
Improvements to Client Backups in Windows Home Server 2011 212
Converting Client Partitions to NTFS 213
Format the Partition as NTFS 214
Run the CONVERT Utility 214
Configuring Windows Home Server Backups 215
Configuring the Backup Time 215
Configuring Client Computer Backup Retention 216
Configuring a Computer for Backup 217
Excluding a Disk Drive from a Backup 218
Excluding Folders from a Backup 219
Adding a New Hard Drive to a Backup 220
Turning Off Backups for a Computer 221
Configuring Time Machine to Back Up Your Mac 222
Running a Manual Backup 223
Cancelling a Running Backup 224
Backing Up Other Systems to Windows Home Server 224
Working with Backups 224
Viewing a Computer's List of Backups 226
Viewing Backup Details 227
Preventing Windows Home Server from Deleting a Backup 230
Cleaning Up Old Backups 230
Creating a Bootable USB Recovery Key 231
Repairing a Client's Backups 232
Restoring Network Backups 232
Restoring Backed-Up Files 233
Restoring a Computer to a Previous Configuration 235
From Here 237
Chapter 10 Monitoring Your Network 239
Monitoring the Network Status with the Launchpad Icon 239
Monitoring the Icon Color 240
Monitoring Network Health Alerts 240
Monitoring Windows Home Server with the Alert Viewer 242
Monitoring the Windows Home Server Shares 245
Launching the Computer Management Snap-In 245
Viewing the Current Connections 246
Viewing Connections to Shared Folders 247
Viewing Open Files 248
Closing a User's Session or File 249
Monitoring Remote Desktop Sessions 249
Starting the Remote Desktop Services Manager 250
Viewing Remote Desktop Sessions 250
Sending a Message to a Remote Desktop Client 252
Disconnecting a Remote Desktop Session 253
Monitoring Users via Task Manager 254
From Here 256
Chapter 11 Implementing Windows Home Server Security 257
Enabling Security Auditing on Windows Home Server 257
Activating the Auditing Policies 258
Understanding the Auditing Policies 259
Tracking Auditing Events 266
More Ways to Secure Windows Home Server 270
Renaming the Administrator Account 271
Hiding the Username in the Log On Dialog Box 271
Making Sure Windows Firewall Is Turned On 272
Disabling the Hidden Administrative Shares 274
Securing Network Computers 275
Monitoring Home Computer Security 275
Thwarting Spyware with Windows Defender 276
Protecting Yourself Against Email Viruses 280
Implementing Parental Controls 282
Creating Accounts for the Kids 282
Avoiding Phishing Scams 285
Sharing a Computer Securely 288
Implementing Wireless Network Security 290
From Here 292
Chapter 12 Setting Up a Windows Home Server Website 293
Understanding the Windows Home Server Default Website 294
Viewing the Default Web Application Folders 294
Viewing the Default IIS Website 296
Viewing the Default Website with Internet Information Services Manager 297
Adding Folders and Files to the Default Website 298
Adding a File to a Default Website Folder 298
Adding a Folder to the Default Website 299
Creating a New Website 301
Creating a New Website Using a Different IP Address 302
Creating a New Website Using a Different Port 307
Creating a New Website Using a Host Header 312
Configuring a Website 314
Modifying the Website Bindings 314
Giving a Website Multiple Identities 315
Changing the Website Location 316
Setting the Default Content Page 317
Disabling Anonymous Access 319
From Here 320
Chapter 13 Running a SharePoint Site on Windows Home Server 321
Installing and Configuring Windows SharePoint Foundation 2010 322
Downloading and Installing Windows SharePoint Foundation 2010 322
Running the Initial Windows SharePoint Foundation 2010 Configuration 323
Creating a New SharePoint Web Application 323
Creating a Top-Level SharePoint Site 325
Deleting the Default SharePoint Web Application 328
Restarting the Windows Home Server Default Website 329
Adding a Firewall Exception for the SharePoint Web Application Port 329
Forwarding the SharePoint Port in Your Router 330
Adding Users to the Top-Level SharePoint Site 331
Logging On to the Top-Level SharePoint Site 332
Adding Sites to SharePoint 333
Adding a Top-Level Site 335
Adding a Subsite 335
Working with Site Settings 337
Customizing a Site 337
Working with Users 342
Working with Groups 345
Working with Permissions 347
Deleting a Site 349
Creating Content for a SharePoint Site 350
Storing Images in a Picture Library 350
Tracking Appointments with a Calendar 352
Maintaining a List of Contacts 353
Keeping a List of Web Page Links 355
Deleting Content from a Site 355
From Here 56
Chapter 14 Patching Home Computers with WSUS 357
Installing WSUS 358
Configuring WSUS 359
Synchronizing Updates 361
Connecting Home Computers to WSUS 363
Approving Updates 364
Approving Updates by Hand 365
Approving Updates Using a Rule 365
From Here 367
Part III Unleashing Windows Home Server Performance and Maintenance
Chapter 15 Tuning Windows Home Server Performance 369
Monitoring Performance 369
Monitoring Performance with Task Manager 370
Monitoring Performance with Resource Monitor 382
Monitoring Performance with Performance Monitor 384
Optimizing the Hard Disk 391
Examining Hard Drive Performance Specifications 391
Performing Hard Drive Maintenance 391
Disabling Compression and Encryption 391
Turning Off Windows Search 392
Enabling Write Caching 392
Optimizing Virtual Memory 393
Storing the Paging File Optimally 393
Customizing the Paging File Size 394
Watching the Paging File Size 394
Changing the Paging File's Location and Size 395
Optimizing Applications 396
Adding More Memory 397
Optimizing Application Launching 397
Getting the Latest Device Drivers 397
Setting the Program Priority in Task Manager 397
More Optimization Tricks 398
Adjusting Power Options 398
Eliminate the Use of Visual Effects 399
Optimizing Windows Home Server for Services 400
Upgrading Your Device Drivers 401
From Here 405
Chapter 16 Maintaining Windows Home Server 407
Checking System Uptime 408
Displaying Uptime with the Task Manager 408
Displaying Uptime with the SYSTEMINFO Command 408
Displaying Uptime with Performance Monitor 408
Displaying Uptime with a Script 409
Checking Your Hard Disk for Errors 411
Understanding Clusters 412
Understanding Lost Clusters 413
Understanding Invalid Clusters 413
Understanding Cross-Linked Clusters 413
Understanding Cycles 413
Understanding Windows Home Server's Automatic Disk Checking 414
Running Check Disk 414
Checking Free Disk Space on the System Drive 416
Deleting Unnecessary Files from the System Drive 419
Defragmenting the System Drive 422
Reviewing Event Viewer Logs 424
Setting Up a Maintenance Schedule 425
From Here 426
Chapter 17 Troubleshooting Windows Home Server 427
Replacing Your System Hard Drive 428
Determining the System Hard Drive 428
Replacing the System Drive 429
Checking for Solutions to Problems 430
Understanding Troubleshooting Strategies 432
Did You Get an Error Message? 432
Does an Error or Warning Appear in the Event Viewer Logs? 433
Does an Error Appear in System Information? 433
Did You Recently Edit the Registry? 434
Did You Recently Change Any Windows Settings? 434
Did Windows Home Server "Spontaneously" Reboot? 434
Did You Recently Change Any Application Settings? 437
Did You Recently Install a New Program? 437
Did You Recently Install a New Device? 438
Did You Recently Install an Incompatible Device Driver? 438
Did You Recently Apply an Update from Windows Update? 438
Did You Recently Install a Windows Home Server Update? 439
General Troubleshooting Tips 440
Troubleshooting Using Online Resources 440
Troubleshooting Device Problems 442
Troubleshooting with Device Manager 442
Troubleshooting Device Driver Problems 445
Tips for Downloading Device Drivers 446
Verifying Digitally Signed Files 447
Troubleshooting Startup 448
When to Use the Various Advanced Startup Options 448
Using Safe Mode 448
Using Safe Mode with Networking 449
Using Safe Mode with Command Prompt 449
Using Enable Boot Logging 449
Using Enable VGA Mode 450
Using Last Known Good Configuration 450
Using Directory Services Restore Mode 450
Using Debugging Mode 451
What to Do If Windows Home Server Won't Start in Safe Mode 451
Troubleshooting Startup Using the System Configuration Utility 451
From Here 454
Part IV Unleashing Windows Home Server Advanced Tools
Chapter 18 Working with the Windows Home Server Registry 455
Starting the Registry Editor 456
Navigating the Registry 457
Navigating the Keys Pane 457
Understanding the Registry Settings 458
Getting to Know the Registry's Root Keys 459
Understanding Hives and Registry Files 461
Keeping the Registry Safe 463
Backing Up the Registry 463
Protecting Keys by Exporting Them to Disk 463
Working with Registry Entries 466
Changing the Value of a Registry Entry 466
Renaming a Key or Setting 472
Creating a New Key or Setting 473
Deleting a Key or Setting 473
Finding Registry Entries 473
From Here 474
Chapter 19 Using Windows Home Server's Command-Line Tools 477
Getting to the Command Line 477
Running CMD 478
Opening a Folder in a Command Prompt Session 481
Working at the Command Line 483
Running Commands 483
Working with Long Filenames 484
Changing Folders Faster 485
Taking Advantage of DOSKEY 486
Redirecting Command Output and Input 488
Piping Commands 491
Understanding Batch File Basics 492
Creating Batch Files 493
REM: Adding Comments to a Batch File 493
ECHO: Displaying Messages from a Batch File 494
PAUSE: Temporarily Halting Batch File Execution 495
Using Batch File Parameters 495
FOR: Looping in a Batch File 496
GOTO: Jumping to a Line in a Batch File 497
IF: Handling Batch File Conditions 498
Working with the Command-Line Tools 501
Working with Disk Management Tools 501
Working with File and Folder Management Tools 506
Working with System Management Tools 518
From Here 531
Chapter 20 Using Other Windows Home Server Power Tools 533
Using the Local Group Policy Editor 533
Working with Group Policies 534
Customizing the Windows Security Screen 537
Customizing the Places Bar 539
Increasing the Size of the Recent Documents List 541
Enabling the Shutdown Event Tracker 544
Getting More Out of Control Panel 546
Reviewing Control Panel Icons 546
Understanding Control Panel Files 550
Alternative Methods for Opening Control Panel Icons 552
Putting a Control Panel Submenu on the Start Menu 554
Removing an Icon from Control Panel 554
Showing Only Specified Control Panel Icons 556
Configuring the Microsoft Management Console 557
Launching the MMC 560
Adding a Snap-In 560
Saving a Console 562
Creating a Custom Taskpad View 562
Controlling Snap-Ins with Group Policies 565
Controlling Services 566
Controlling Services with the Services Snap-In 566
Controlling Services at the Command Prompt 569
Controlling Services with a Script 570
Setting Up a Fax Server 574
Adding the Fax Server Role 574
Configuring a Shared Fax Printer 575
Starting the Fax Service Manager 576
Configuring the Fax Modem 576
Starting Windows Fax and Scan 577
Sending a Fax 578
Receiving Faxes 580
From Here 584
Chapter 21 Scripting Windows Home Server 585
Understanding Windows Script Host 586
Running Scripts 587
Running Script Files Directly 588
Using WScript for Windows-Based Scripts 588
Using CScript for Command-Line Scripts 590
Script Properties and .wsh Files 590
Programming Objects 592
Working with Object Properties 592
Working with Object Methods 593
Assigning an Object to a Variable 595
Working with Object Collections 595
Programming the WScript Object 597
Displaying Text to the User 597
Shutting Down a Script 598
Scripting and Automation 598
Programming the WshShell Object 603
Referencing the WshShell Object 604
Displaying Information to the User 604
Running Applications 608
Working with Shortcuts 609
Working with Registry Entries 611
Working with Environment Variables 613
Programming the WshNetwork Object 615
Referencing the WshNetwork Object 615
WshNetwork Object Properties 616
Mapping Network Printers 616
Mapping Network Drives 616
Programming the Windows Management Instrumentation Service 617
Referencing the WMI Service Object 618
Returning Class Instances 618
From Here 622
Part V Appendixes
Appendix A Glossary 625
Appendix B Windows Home Server Keyboard Shortcuts 639
Appendix C Windows Home Server Online Resources 649
Windows Home Server Websites 649
Windows Home Server Blogs 650
Windows Home Server for Developers 651
Index 653