Note: Supplemental materials are not guaranteed with Rental or Used book purchases.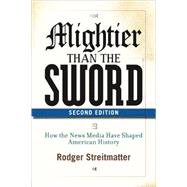 Mightier Than the Sword : How the News Media Have Shaped American History
ISBN13:
9780813343907
by
Streitmatter, Rodger
Summary
In this pathbreaking book, Rodger Streitmatter takes the reader on a sightseeing tour of American history as influenced by the public press, visiting fifteen landmark events in US history, from the American Revolution and the struggle for women's rights to the civil rights movement and Watergate. These are events that stir the political imagination; but, as Streitmatter shows, they also demonstrate how American journalism, since the 1760s, has not merelyrecordedthis nation's history but has played a role inshapingit. This book is the first of its kind. Streitmatter avoids the mind-numbing lists of names, dates, and newspaper headlines that bog down the standard journalism history textbook. Instead, he focuses on a limited number of episodes, identifying common characteristics within the news media. The second edition includes an entirely new chapter on the news media's coverage of the September 11, 2001, terrorist attacks and illustrates how that coverage, or lack of coverage, had a profound effect on the events that followed, including the path to war in Iraq. This new edition also looks beyond traditional journalistic outlets such as newspapers and television news reports and examines the modern-day role that the Internet and its various venues play in reporting the news and shaping history.
Author Biography
Rodger Streitmatter teaches at the School of Communication at the American University in Washington, DC. His the author of Raising Her Voice: African-American Women Journalists Who Changed History and Voices of Revolution: The Dissident Press in America.
Table of Contents
List of Illustrations
p. vii
Preface
p. ix
Acknowledgments
p. xi
Introduction
p. 1
Sowing the Seeds of Revolution
p. 7
Abolition: Turning America's Conscience Against the Sins of Slavery
p. 25
Slowing the Momentum for Women's Rights
p. 41
Attacking Municipal Corruption: The Tweed Ring
p. 58
Journalism as Warmonger: The Spanish-American War
p. 75
Muckraking: The Golden Age of Reform Journalism
p. 93
Defying the Ku Klux Klan
p. 109
Father Coughlin: Fomenting Anti-Semitism via the Radio
p. 126
Creating "Rosie the Riveter": Propelling the American Woman into the Workforce
p. 142
Exposing Joe McCarthy: Television's Finest Hour
p. 157
Pushing the Civil Rights Movement onto the National Agenda
p. 174
Vietnam War: Bringing the Battlefield into the American Living Room
p. 192
Watergate Forces the President to His Knees
p. 210
Rush Limbaugh: Leading the Republican Revolution
p. 225
9/11: Failing the American Public
p. 240
How the News Media Have Shaped American History: Focusing on the How
p. 256
Notes
p. 265
Bibliography
p. 305
About the Book and Author
p. 313
Index
p. 315
Table of Contents provided by Ingram. All Rights Reserved.