Note: Supplemental materials are not guaranteed with Rental or Used book purchases.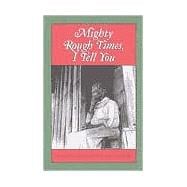 Mighty Rough Times, I Tell You : Personal Accounts of Slavery in Tennessee
ISBN13:
9780895872265
by
Sutcliffe, Andrea
Summary
In 1929, the Social Sciences Department at Fisk University in Nashville, Tennessee, began recording the oral histories of former slaves. During the mid-1930s, the Federal Writers' Project undertook a similar effort, ultimately compiling more than two thousand interviews and ten thousand pages of material in seventeen states.
Table of Contents
Introduction
vii

| | |
| --- | --- |
| | Mighty Rough Times, I Tell You |

3
(4)

| | |
| --- | --- |
| | They Had Whipping Day Every Thursday |

7
(4)

| | |
| --- | --- |
| | My Mother Was the Smartest Black Woman in Eden |

11
(10)
21
(7)

| | |
| --- | --- |
| | We Didn't Know Nothing Else But Slavery |

28
(5)

| | |
| --- | --- |
| | I Got Many a Whipping * |

33
(3)

| | |
| --- | --- |
| | I Was Four Years Old When I Was Put on the Block |

36
(7)

| | |
| --- | --- |
| | I Expect I Am the Oldest Man in Nashville |

43
(5)

| | |
| --- | --- |
| | I Never Worries No Matter What Happens * |

48
(4)

| | |
| --- | --- |
| | My Father and Abe Lincoln Was First Cousins |

52
(7)

| | |
| --- | --- |
| | They Were Saving Me for a Breeding Woman |

59
(7)

| | |
| --- | --- |
| | I Have No Kin in This World * |

66
(2)
68
(7)

| | |
| --- | --- |
| | There Wasn't No Learning Going On in Slavery |

75
(5)

| | |
| --- | --- |
| | I Lived on Gallatin Pike * |

80
(3)
83
(4)

| | |
| --- | --- |
| | I Would Die Fighting Rather Than Be a Slave Again * |

87
(5)

| | |
| --- | --- |
| | I Remember the Yankee Soldiers Well * |

92
(3)

| | |
| --- | --- |
| | I Could Hear the Bullets Flying All Around |

95
(4)

| | |
| --- | --- |
| | My Daddy Was Part Indian * |

99
(4)

| | |
| --- | --- |
| | All My Bosses Were Nigger Traders |

103
(6)

| | |
| --- | --- |
| | Sometimes She Would Lock Us Up in a Dark Closet * |

109
(4)

| | |
| --- | --- |
| | You Couldn't Go Nowhere without a Pass |

113
(5)

| | |
| --- | --- |
| | I Don't Never Want to See Another War |

118
(6)

| | |
| --- | --- |
| | Folks These Days Don't Know What Trouble Looks Like * |

124
(5)

| | |
| --- | --- |
| | They Tried to Make Me Think I Wasn't Free |

129
(10)

| | |
| --- | --- |
| | They Would Turn a Kettle Upside Down * |

139
(3)

| | |
| --- | --- |
| | They Charged Him for His Own Child |

142
(7)

| | |
| --- | --- |
| | I Was Sold Away from My Husband * |

149
(4)

| | |
| --- | --- |
| | I Stole My Learning in the Woods |

153
(5)

| | |
| --- | --- |
| | They Sold My Sister Right in This Nigger-Trading Yard |

158
(8)

| | |
| --- | --- |
| | One Night a Ku Klux Klan Rode Up to Our Door * |

166
(5)

| | |
| --- | --- |
| | Stock Was Treated a Great Deal Better |

171
(4)
175
(6)

| | |
| --- | --- |
| | They Raised the Chillun to Make Money On * |

181
(4)

| | |
| --- | --- |
| | I've Been Here to Hear It Thunder |

185