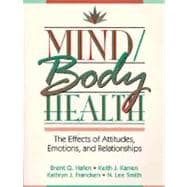 Summary
This exciting new book details the latest scientific proof that attitudes and emotions do indeed affect physical health and can play a major role in the treatment and prevention of disease. Drawing on landmark studies conducted by distinguished researchers, this book presents a solid foundation of evidence that negative emotions such as worry, anxiety, depression, hostility, and anger can increase susceptibility to disease - and that positive emotions such as optimism, humor, and a fighting spirit can protect health and increase longevity.
Unique features: presents scientific data with clarity and simplicity that shows the undeniable connection between the mind and body; demonstrates the body's physical responses to perception of ourselves and our circumstances; covers how social support, friendship, and strong, stable relationships protect our health; discusses how different personalities are either prone to, or able to resist, disease; and explains the scientifically proven changes in heart rate, hormones, and body chemistry that accompany various attitudes and emotions.
An important work for anyone involved in health or behavioral sciences, this book explores findings in the dramatic new field of psychoneuroimmunology, and demonstrates through the most recent technical advances how attitudes and emotions affect immunity.
Table of Contents
Preface
The Mind-Body Connection
p. 1
Psychoneuroimmunology
p. 21
The Impact of Stress on Health
p. 41
Job Stress and Health
p. 81
The Disease-Prone Personality
p. 97
The Coronary/Artery Disease-Prone Personality
p. 125
Anger and Health
p. 169
Hostility and Health
p. 183
Worry, Anxiety, Fear, and Health
p. 205
Depression, Despair, and Health
p. 215
The Disease-Resistant Personality
p. 241
Social Support, Relationships, and Health
p. 261
Loneliness and Health
p. 291
Marriage and Health
p. 317
Families and Health
p. 335
Grief, Bereavement, and Health
p. 357
The Healing Power of Spirituality
p. 377
Altruism and Health
p. 401
The Healing Power of Faith
p. 419
The Healing Power of Hope
p. 443
Explanatory Style and Health
p. 463
Locus of Control and Health
p. 473
Self-Esteem and Health
p. 485
Pessimism, Negativism, and Health
p. 495
Optimism and Health
p. 507
Protecting Health with a Fighting Spirit
p. 523
The Healing Power of Humor and Laughter
p. 541
Behavioral Medicine Treatment: Effects on Medical Outcomes and Costs
p. 563
Methods of Intervention and the Principles of Stress Resilience
p. 585
Epilogue
p. 603
Appendix A The Elements of Human Fulfillment
p. 611
Appendix B The Seven Habits of Highly Effective People
p. 615
Name Index
p. 617
Subject Index
p. 625
Table of Contents provided by Blackwell. All Rights Reserved.