Note: Supplemental materials are not guaranteed with Rental or Used book purchases.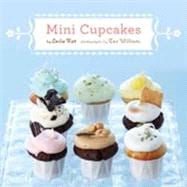 Summary
Mini's Cupcakes specifies the finest ingredients, including Madagascar vanilla, dark Belgium chocolate, and organic fruits to create amazing mini cupcake creations. Combine great cake recipes, such as Key Largo Lime or Chocoholic, with filling recipes, such as banana cream or salted caramel. Add frosting and toppings such as white chocolate ganache or margarita cream cheese and you have endless combinations of rich and decadent goodness. With tips for making, baking, and decorating, this cookbook offers perfect combinations, from the Breakfast at Tiffany's cupcake to Pretty in Pink, from the Diva cupcake to the Mocha Latte. Part delicious cupcake, part tiny pieces of art, Mini's cupcakes are the perfect treat to satisfy your cravings or entertain in style.
Excerpts
S'Mores Please
Mini's Chocoholic Cupcakes
Mini's Matterhorn Frosting
Graham crackers for decoration
Makes 30 cupcakes in perfectly cute 2-ounce soufflé cups
chocolate ingredients
1/2 cup Guittard Extra-Dark Chocolate Chips, at least 62 percent cacao
1/2 cup boiling water, strong coffee, or espresso
wet ingredients
1/2 cup unsweetened applesauce
1/2 cup soybean oil
2 large eggs
1 tablespoon vanilla
dry ingredients
1 1/2 cups unbleached flour
1 cup sugar
1 tablespoon baking powder
1/2 teaspoon salt
1/2 cup Dutch-process cocoa powder
MINI'S CHOCOHOLIC CUPCAKES
BEFORE YOU START: Preheat oven to 350 degrees F.
Place 30 soufflé cups on a flat baking sheet lined with parchment paper or a Silpat.
Place an 18-inch pastry bag with tip inside a large cup with the outside edge hanging over. You will use this to fill the soufflé cups with cupcake batter.
1. In a large glass measuring cup, combine the chocolate and boiling water. Let the chocolate melt in the hot liquid, then stir to combine and set aside.
2. Place all wet ingredients together in a mixing bowl. Mix on low speed with a wire whisk attachment for about 1 minute until all ingredients are blended. Slowly pour the warm chocolate mixture down the side of the bowl while the mixer is on low. Do not add the hot water and chocolate too quickly or you will cook the eggs.
3. Put all dry ingredients in a separate bowl and stir with a spoon to combine.
4. Add dry ingredients to wet ingredients and blend on low speed for 30 seconds until combined. Batter will be lumpy. Scrape down the bowl and turn your mixer on high for 30 seconds. Scrape down bowl again, and return to high for another 30 seconds.
5. Pour batter into prepared pastry bag, then carefully pick up bag and hold the tip upright to prevent the batter from spilling out. Fill the soufflé cups half full.
6. Bake cupcakes for 19 minutes. They are done when you can apply light pressure to the top of the cupcake and it bounces back. Also watch for a shiny part in the center of the cupcakes; if there is shine, they have not cooked long enough.
PRO TIP: It is important to use Dutch-process cocoa in this recipe. The normal grocery store variety of cocoa is usually unsweetened but it has not been treated with an alkali to neutralize its natural acidity.
MINI'S MATTERHORN FROSTING
1/2 cup egg whites, room temperature
1/2 cup light corn syrup
1/2 cup granulated sugar
1 teaspoon vanilla
MINI'S MATTERHORN FROSTING
Frosts 25 to 30 cupcakes
Okay, it's really a Swiss meringue but when finished and on top of a cupcake it reminds me of the Matterhorn at Disneyland.
1. Place egg whites, corn syrup, and sugar into a mixing bowl and whisk together. Place mixing bowl over a pan of simmering water to double boil. Occasionally whisk the mixture to prevent the egg whites from cooking separately from the sugars. The mixture is ready when the temperature reaches 174 degrees F. This will destroy harmful bacteria.
2. Carefully remove the mixing bowl form the hot steam and attach the bowl to your mixer.
3. Using the whisk attachment, beat on low for about 2 minutes, then slowly raise the speed of the mixer until it is on high. Mix until dense soft peaks form. At this point add the vanilla and rewhip until combined.
4. It's best to use this frosting right after it is made; if you do not use it all, store it in your refrigerator for up to a week and rewhip it prior to using.
PRO TIP: Make sure when you separate the egg whites you do not have any yolk in the whites. The fat from the yolk will prevent the whites from whipping.
PRO TIP: Use a towel to put the mixing bowl onto your mixer, as the edges will be very hot from the steam.
Assembly
After your cupcakes have cooled, frost each one with Mini's Matterhorn Frosting, brown using a small kitchen torch, and top with graham crackers.