Note: Supplemental materials are not guaranteed with Rental or Used book purchases.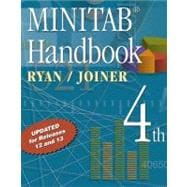 Questions About This Book?
What version or edition is this?
This is the edition with a publication date of 6/14/2000.
What is included with this book?
The New copy of this book will include any supplemental materials advertised. Please check the title of the book to determine if it should include any CDs, lab manuals, study guides, etc.
Summary
Master MINITAB, the leading software package used in industry for quality and process improvement with the MINITAB HANDBOOK: UPDATED FOR RELEASE 14. This book illustrates by example and step-by-step instruction how to use MINITAB 14 to explore and analyze data and uses examples to illustrates how statistical concepts apply to data analysis. More than 4,000 colleges, universities, and high schools rely on MINITAB, making this software the educational standard.
Table of Contents
1
(47)
1
(15)
1
(3)

| | |
| --- | --- |
| | Working with the Minitab Program Window |

4
(4)
8
(1)

| | |
| --- | --- |
| | Working with Dialog Boxes |

9
(2)
11
(3)
14
(1)

| | |
| --- | --- |
| | Understanding Minitab Windows |

15
(1)
16
(8)
18
(1)
18
(1)
18
(3)
21
(2)
23
(1)
23
(1)

| | |
| --- | --- |
| | Working with Minitab Windows |

24
(9)
24
(1)

| | |
| --- | --- |
| | Performing Calculations in the Data Window |

25
(2)

| | |
| --- | --- |
| | Generating Statistics in the Session Window |

27
(1)

| | |
| --- | --- |
| | Creating a Graph in a Graph Window |

28
(1)

| | |
| --- | --- |
| | Opening the History Window |

28
(3)
31
(1)
31
(2)

| | |
| --- | --- |
| | Working with Minitab Projects |

33
(15)
33
(2)

| | |
| --- | --- |
| | Closing a Project and Exiting Minitab |

35
(1)
36
(2)

| | |
| --- | --- |
| | Saving Pieces of a Project |

38
(2)
40
(1)

| | |
| --- | --- |
| | Saving Session, History, and Info Windows |

40
(1)
41
(1)

| | |
| --- | --- |
| | Adding an Empty Worksheet to a Project |

42
(1)
42
(1)
43
(2)

| | |
| --- | --- |
| | Opening a Portable Worksheet |

45
(1)
45
(3)
48
(36)

| | |
| --- | --- |
| | Enabling the Minitab Command Language |

48
(9)
48
(1)

| | |
| --- | --- |
| | Enabling the Command Language |

48
(2)
50
(1)
50
(3)

| | |
| --- | --- |
| | Minitab Command Box Format |

53
(1)
54
(1)

| | |
| --- | --- |
| | Getting Session Command Help |

55
(2)
57
(16)
57
(4)
61
(1)

| | |
| --- | --- |
| | Displaying Data in the Session Window |

62
(1)
63
(4)

| | |
| --- | --- |
| | Saving and Retrieving Data |

67
(1)

| | |
| --- | --- |
| | Getting Worksheet Information |

68
(1)
69
(4)

| | |
| --- | --- |
| | Working with the Contents of the Session Window |

73
(11)

| | |
| --- | --- |
| | Editing the Session Window |

73
(1)

| | |
| --- | --- |
| | Copying and Pasting Commands |

74
(3)

| | |
| --- | --- |
| | Copying Commands from the History Window |

77
(1)

| | |
| --- | --- |
| | Using the Command Line Editor |

77
(1)

| | |
| --- | --- |
| | Disabling the Command Language |

78
(1)
78
(1)
79
(5)
84
(32)
84
(10)
85
(1)
85
(2)

| | |
| --- | --- |
| | Clearing or Deleting Data |

87
(1)
88
(2)
90
(1)
90
(1)
91
(1)
92
(2)
94
(9)
94
(2)

| | |
| --- | --- |
| | Stacking and Unstacking Columns |

96
(1)

| | |
| --- | --- |
| | Generating Patterned Data |

97
(1)
98
(2)
100
(1)
100
(2)
102
(1)

| | |
| --- | --- |
| | Importing and Exporting Data |

103
(6)
104
(1)

| | |
| --- | --- |
| | Exchanging Data with Minitab-Compatible Applications |

105
(2)

| | |
| --- | --- |
| | Saving Data in a Text File |

107
(1)

| | |
| --- | --- |
| | Importing Files in Custom Formats |

108
(1)

| | |
| --- | --- |
| | Importing from a Database |

108
(1)
109
(7)

| | |
| --- | --- |
| | Entering Data into a Matrix |

109
(1)

| | |
| --- | --- |
| | Viewing the Contents of a Matrix |

110
(1)

| | |
| --- | --- |
| | Performing Matrix Calculations |

111
(1)

| | |
| --- | --- |
| | Printing Matrices and Constants |

112
(1)
113
(3)
116
(42)
116
(1)
116
(1)
117
(1)
117
(1)

| | |
| --- | --- |
| | Exploring Graphs in Minitab |

117
(9)
119
(2)

| | |
| --- | --- |
| | Working with Multiple Graphs |

121
(1)
121
(1)
122
(1)
122
(2)

| | |
| --- | --- |
| | Exploring Unique Graph Features |

124
(1)
124
(2)

| | |
| --- | --- |
| | Creating Single-Variable Graphs |

126
(10)
126
(5)
131
(1)

| | |
| --- | --- |
| | Creating a Stem-and-Leaf Plot |

132
(2)
134
(2)

| | |
| --- | --- |
| | Generating One-Number Statistics |

136
(4)

| | |
| --- | --- |
| | Displaying Descriptive Statistics |

136
(2)

| | |
| --- | --- |
| | Displaying Column Statistics |

138
(1)

| | |
| --- | --- |
| | Displaying Row Statistics |

139
(1)
140
(2)

| | |
| --- | --- |
| | Summarizing Categorical and Ordinal Data |

142
(3)
145
(13)

| | |
| --- | --- |
| | Tables of Counts and Percents |

146
(2)

| | |
| --- | --- |
| | Tables of Summary Statistics |

148
(2)
150
(8)

| | |
| --- | --- |
| | Single-Variable Summaries and Graphs |

158
(21)
158
(5)
158
(2)
160
(1)
161
(2)

| | |
| --- | --- |
| | Creating Plots with Groups |

163
(1)

| | |
| --- | --- |
| | Creating Plots with Several Variables |

164
(4)

| | |
| --- | --- |
| | Creating Time Series Plots |

168
(11)
170
(1)

| | |
| --- | --- |
| | Using Time Series Plots to Find Problems |

171
(1)
172
(7)

| | |
| --- | --- |
| | Statistical Distributions |

179
(27)
179
(7)

| | |
| --- | --- |
| | Probability Density Function |

179
(3)

| | |
| --- | --- |
| | Cumulative Distribution Functions |

182
(3)
185
(1)

| | |
| --- | --- |
| | The Binomial Distribution |

186
(4)

| | |
| --- | --- |
| | Calculating Binomial Probabilities with PDF |

187
(1)

| | |
| --- | --- |
| | Cumulative Distribution Function |

188
(1)
189
(1)

| | |
| --- | --- |
| | Normal Approximation to the Binomial |

190
(3)
193
(2)

| | |
| --- | --- |
| | Calculating Poisson Probabilities with PDF |

193
(1)

| | |
| --- | --- |
| | Cumulative Distribution Function |

194
(1)
195
(1)

| | |
| --- | --- |
| | A Summary of Distributions in Minitab |

195
(11)
195
(3)
198
(1)
199
(7)

| | |
| --- | --- |
| | Statistical Distributions and Simulation |

206
(21)

| | |
| --- | --- |
| | Using Simulation to Learn about Randomness |

206
(1)
207
(2)
209
(1)

| | |
| --- | --- |
| | Simulating Data from a Normal Distribution |

209
(6)

| | |
| --- | --- |
| | A Useful Trick for Simulating Data |

213
(2)

| | |
| --- | --- |
| | Simulating Data from the Binomial Distribution |

215
(2)

| | |
| --- | --- |
| | Simulating Data from the Poisson Distribution |

217
(2)

| | |
| --- | --- |
| | Sampling Finite Populations |

219
(1)

| | |
| --- | --- |
| | Simulation Data from Other Distribution |

219
(1)

| | |
| --- | --- |
| | The Base for the Random Number Generator |

220
(7)
220
(7)

| | |
| --- | --- |
| | One-Sample Confidence Intervals and Tests for Population Means |

227
(24)
228
(2)

| | |
| --- | --- |
| | Confidence Interval for μ When σ Is Known |

230
(2)

| | |
| --- | --- |
| | Confidence Interval for μ When σ Is Not Known |

232
(2)

| | |
| --- | --- |
| | Test of Hypothesis for μ When σ Is Known |

234
(2)

| | |
| --- | --- |
| | Test of Hypothesis for μ When σ Is Not Known |

236
(2)

| | |
| --- | --- |
| | Practical Significance versus Statistical Significance |

237
(1)

| | |
| --- | --- |
| | Departures from Assumptions |

238
(13)
238
(1)
238
(4)
242
(9)

| | |
| --- | --- |
| | Comparing Two Means: Confidence Intervals and Tests |

251
(18)

| | |
| --- | --- |
| | Paired and Independent Data |

251
(2)

| | |
| --- | --- |
| | Difference between Two Means: Paired Data |

253
(4)
255
(1)
256
(1)

| | |
| --- | --- |
| | Difference between Two Means: Independent Samples |

257
(12)

| | |
| --- | --- |
| | Data in a Different Format |

261
(3)
264
(5)
269
(26)

| | |
| --- | --- |
| | Analysis of Variance with One Factor |

269
(5)

| | |
| --- | --- |
| | The One-Way Analysis of Variance Procedure |

271
(3)

| | |
| --- | --- |
| | Analysis of Variance with Two Factors |

274
(7)
275
(2)
277
(4)
281
(3)

| | |
| --- | --- |
| | Residuals and Fitted Values |

284
(11)
284
(1)

| | |
| --- | --- |
| | Two-Way Designs with an Interaction Term |

285
(1)

| | |
| --- | --- |
| | Additive Models and Randomized Block Designs |

285
(1)
286
(9)

| | |
| --- | --- |
| | Correlation and Regression |

295
(41)
296
(1)

| | |
| --- | --- |
| | Simple Regression: Fitting a Straight Line |

297
(4)

| | |
| --- | --- |
| | R-Squared (Coefficient of Determination) |

301
(1)

| | |
| --- | --- |
| | Making Inferences from Straight-Line Fits |

301
(5)
302
(1)
303
(3)
306
(5)
307
(2)

| | |
| --- | --- |
| | Notation and Assumptions in Multiple Regression |

309
(1)

| | |
| --- | --- |
| | Confidence Intervals and Tests |

309
(2)
311
(2)

| | |
| --- | --- |
| | Interpreting Residuals in Simple and Polynomial Regression |

313
(3)
316
(4)

| | |
| --- | --- |
| | Effect of Transformations on Assumptions |

320
(1)

| | |
| --- | --- |
| | Plotting Regression Lines |

320
(16)
322
(14)

| | |
| --- | --- |
| | Chi-Square Tests and Contingency Tables |

336
(16)

| | |
| --- | --- |
| | Chi-Square Goodness-of-Fit Test |

336
(2)
338
(2)

| | |
| --- | --- |
| | Making the Table and Computing Chi-Square |

340
(2)

| | |
| --- | --- |
| | Tables with Small Expected Counts |

342
(10)
344
(8)
352
(26)
353
(4)
354
(1)

| | |
| --- | --- |
| | Sign Confidence Intervals |

355
(1)
356
(1)

| | |
| --- | --- |
| | Wilcoxon Signed Rank Procedures |

357
(4)

| | |
| --- | --- |
| | Wilcoxon Signed Rank Test |

358
(2)

| | |
| --- | --- |
| | Wilcoxon Confidence Interval |

360
(1)

| | |
| --- | --- |
| | Two-Sample Rank Procedures |

361
(2)
361
(2)
363
(2)

| | |
| --- | --- |
| | Technical Details (Optional) |

365
(13)
365
(1)

| | |
| --- | --- |
| | Wilcoxon Signed Rank Test and Confidence Interval |

366
(2)

| | |
| --- | --- |
| | Mann-Whitney Test and Confidence Interval |

368
(2)
370
(8)
378
(16)

| | |
| --- | --- |
| | Control Charts and Process Variation |

378
(1)

| | |
| --- | --- |
| | Control Charts for Measurement Data |

379
(9)
379
(5)
384
(3)
387
(1)

| | |
| --- | --- |
| | Control Charts for Attribute Data |

388
(6)
391
(3)

| | |
| --- | --- |
| | Additional Topics in Regression |

394
(12)

| | |
| --- | --- |
| | Variable Selection in Regression |

394
(6)
395
(2)
397
(3)

| | |
| --- | --- |
| | Diagnostics in Regression |

400
(3)

| | |
| --- | --- |
| | Diagnostics for Individual Observations |

400
(1)
401
(2)

| | |
| --- | --- |
| | Additional Regression Features |

403
(3)
403
(1)
403
(1)
404
(1)
405
(1)

| | |
| --- | --- |
| | Additional Topics in Analysis of Variance |

406
(32)

| | |
| --- | --- |
| | Multiple Comparisons with One-Way |

406
(4)

| | |
| --- | --- |
| | Fisher's Least Significant Difference (LSD) |

407
(1)

| | |
| --- | --- |
| | Tukey's Honestly Significant Difference (HSD) |

407
(1)
408
(1)

| | |
| --- | --- |
| | Example Using Fabric Data |

408
(2)

| | |
| --- | --- |
| | Multifactor Balanced Designs |

410
(3)

| | |
| --- | --- |
| | Example Using the Potato Rot Data |

411
(2)
413
(6)
415
(1)

| | |
| --- | --- |
| | Regression Approach to Analysis of Variance |

416
(3)
419
(5)

| | |
| --- | --- |
| | Regression Approach to Analysis of Covariance |

421
(3)

| | |
| --- | --- |
| | Random Effects and Mixed Models |

424
(14)

| | |
| --- | --- |
| | Mixed Models, Expected Mean Squares, and Variance Components |

427
(2)
429
(3)
432
(6)
438
(6)
438
(1)
438
(3)
441
(1)
442
(2)
443
(1)
Appendix
444
(9)
Index
453
(8)
Credits
461