Note: Supplemental materials are not guaranteed with Rental or Used book purchases.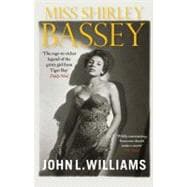 Summary
In 1954, Shirley Bassey was seventeen years old. She had just returned from a cheesy revue tour called 'Hot from Harlem'. Depressed, disillusioned and four months' pregnant, she decided that her dream of being a professional singer was over. A mere ten years later, she was one of the biggest stars in the world. She had sold more records than any other British singer of the day, and was poised to conquer America. Her latest hit, 'Goldfinger', was the theme tune to the year's blockbuster film. No longer the two-bit jazz singer from Cardiff, she was by now an international sex siren, as glamorous and unreal as Bond himself. Miss Shirley Bassey explores this remarkable transformation, both of an individual and of the British society and British psyche that made it possible. From the vibrant, multicultural oasis of Tiger Bay in the Cardiff docklands through the club-lands of Soho and Las Vegas to New York's Carnegie Hall, it is a journey from mere mortal to international icon. Along the way she would encounter homosexual husbands, predatory managers, newspaper scandals, and a range of friends and acquaintances from Sammy Davis Jr to Reggie Kray. John L. Williams draws on original research and interviews to provide a portrait of a young woman on the cusp of stardom, whose rise to fame was in many ways symbolic of a changing world. Brilliantly written non-fiction in the style of David Peace's The Damned Utd or Nick Tosches' Dino, this is the story of a woman who set out to be extraordinary and - against all the odds - succeeded.
Author Biography
John L. Williams is a mystery author. He currently writes for the Mail on Sunday, having worked for the Independent, NME, Sunday Times, and as contributing editor of GQ magazine.
Table of Contents
Introduction For One Night only
p. xiii
Prologue The Gambler
p. 1
Mother And Father
p. 6
In Tiger Bay before the War
p. 18
The Canadian Cafe
p. 28
Life During Wartime
p. 34
On The Street Where You Live
p. 46
The Rainbow Club
p. 52
Down The Docks
p. 66
Hot From Splott
p. 82
Stormy Weather
p. 106
Talk Of the Town
p. 122
Burn My Candle
p. 146
My Body's more important Than My Mind
p. 160
Viva Las Vegas
p. 182
Sophisticated Lady
p. 197
Cruel To Be Kind
p. 219
Shirley The Weirdie
p. 235
Screen Dreams
p. 259
Love And Marriage
p. 275
I (Who Have Nothing)
p. 295
A Knight in Shining Armour
p. 310
The Man with The Midas Touch
p. 326
The Second Time Around
p. 334
Napoleon and Josephine
p. 345
Epilogue After the Rain
p. 363
Discography
p. 369
Appendices
p. 373
A Short History of Tiger Bay
Bute Street and Its Cafes
A Short History of Mahmood Mattan and the Murder of Lily Volpert
A Short History of Minstrel Shows
A Short History of British Striptease
Notes
p. 407
Acknowledgments
p. 419
Picture Acknowledgments
p. 421
Text Acknowledgments
p. 423
Index
p. 424
Table of Contents provided by Ingram. All Rights Reserved.