Note: Supplemental materials are not guaranteed with Rental or Used book purchases.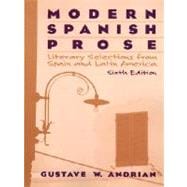 Modern Spanish Prose : Literary Selections from Spain and Latin America
ISBN13:
9780130130525
by
Andrian, Gustave W.
Summary
This collection of prose works and poetry by famous Hispanic authors features intellectually mature and appealing selections whose brevity and simplicity of style do not require adaptation, simplification, or abridgement. The book includes nine new authors to provide a better representation of the "new" generation of writers. Two short one-act plays by Benevente and Buenaventura have been added as well. It includes a variety of selections by Latin American women authors and features selections bypoets Gabriela Mistral and Miguel Hernandez. Ideal for those interested in Spanish literature and poetry and those interested in broadening their perspective of life and culture in the Hispanic world.
Table of Contents
A SELECTION OF PROSE.
1. El limpiabotas, Pedro Espinosa Bravo.
2. El arrepentido, Ana María Matute.
3. La IWM mil, Alicia Yáñez Cossío.
4. La venda, Miguel de Unamuno.
5. El prócer, Cristina Peri Rossi.
6. Una bonita combinación, Mercedes Abad.
7. La maestra, Enrique Buenaventura.
8. Continuidad de los parques, Julio Cortázar.
9. El fin, Jorge Luis Borges.
10. Una carta a Dios, Gregorio López y Fuentes.
11. La historia de Papito, Luisa Valenzuela.
12. En una noche así, Miguel Delibes.
13. El criado de don Juan, Jacinto Benavente.
14. Ensayo de comedia, Marina Mayoral.
15. El limo del Almendares, Lydia Cabrera.
16. La siesta del martes, Gabriel García Márquez.
17. Dos palabras, Isabel Allende.
18. Final absurdo, Laura Freixas.
19. Teoría de la eternidad, Javier García Sánchez.
20. El reportaje, Carme Riera.

A SELECTION OF POETRY.
A Note on Spanish Versification.
21. Para una cubana, Mía, Lo fatal, Rubén Darío.
22. Canción de jinete, Sorpresa, Clamor, Malagueña, Federico García Lorca.
23. Walking Around, Pablo Neruda.
24. Los sonetos de la muerte, La espera inútil, El niño solo, Gabriela Mistral.
25. Canción primera, Aunque tú no estás, Miguel Hernández.