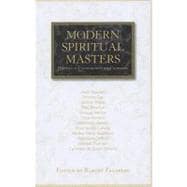 Modern Spiritual Masters : Writings on Contemplation and Compassion
by
Ellsberg, Robert
Summary
"Through biographical reflections and selected writings, this anthology highlights the essential teachings of a dozen modern spiritual masters, each of whom embodied a form of engaged spirituality - attuned both to God and the needs of a wounded world. Each opposed a style of spirituality focused entirely on the inner life, while at the same lime stressing the importance of prayer and silence as the foundation for service and activism. Balancing contemplation and compassion, these figures - including some of the world's best-known spiritual writers - represent a model of spirituality sensitive to tradition as well as the challenges of our time."--BOOK JACKET.
Table of Contents
Introduction
p. 1
Thomas Merton: Contemplation and Compassion
p. 5
Solitude
p. 7
Contemplation
p. 10
Things in Their Identity
p. 10
The Plaster Saint
p. 12
Christ and the World
p. 13
Letter to a Peacemaker
p. 14
Shining Like the Sun
p. 16
A Letter on the Contemplative Life
p. 19
Prayer
p. 21
Mother Teresa of Calcutta: Serving Jesus in His Distressing Disguise
p. 23
How to Pray
p. 25
Contemplation
p. 27
Vocation
p. 29
God's Disguise
p. 30
Love
p. 31
Poverty
p. 32
Joy
p. 33
Holiness
p. 33
Mohandas Gandhi: Great Soul of India
p. 36
Religion
p. 38
The Message of Jesus
p. 42
Nonviolence
p. 47
Prayer
p. 48
Madeleine Delbrel: Missionary without a Boat
p. 51
We, the Ordinary People of the Streets
p. 53
Missionaries without a Boat
p. 57
Solitude
p. 60
Silence
p. 61
Goodness
p. 61
Oscar Romero: Voice of the Voiceless
p. 64
Word and Witness
p. 66
The Political Dimension of Faith
p. 68
From His Final Sermon
p. 73
Martyrdom
p. 74
Catherine de Hueck Doherty: The Gospel without Compromise
p. 76
Desert Silence
p. 78
Prayer
p. 83
Gospel without Compromise
p. 84
Love
p. 87
Howard Thurman: Good News for the Disinherited
p. 90
Encountering God
p. 92
Prayer
p. 93
Being Human
p. 95
Jesus and the Love-Ethic
p. 97
Centered in God
p. 100
Mother Maria Skobtsova: A Monk in the World
p. 105
The Evangelical Type
p. 107
Dom Helder Camara: Mystic and Prophet
p. 119
Abrahamic Faith
p. 121
Meeting Christ
p. 125
Prophecy
p. 127
Prayers
p. 129
Thea Bowman: A Gift to the Church
p. 131
Spirituality
p. 133
Being a Black Catholic
p. 134
Women in the Church
p. 138
Let Me Live until I Die
p. 139
Henri Nouwen: A Wounded Healer
p. 143
Downward Mobility
p. 145
The Eucharistic Life
p. 148
Prayer and Peacemaking
p. 152
The Stranger
p. 157
Dorothy Day: A New Kind of Holiness
p. 161
Glimpses of God
p. 164
Aims and Purposes
p. 169
Room for Christ
p. 170
Here and Now
p. 173
Inventory
p. 175
On Pilgrimage
p. 176
Acknowledgments
p. 181
Table of Contents provided by Ingram. All Rights Reserved.