Note: Supplemental materials are not guaranteed with Rental or Used book purchases.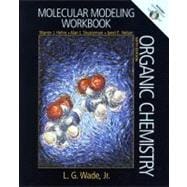 Molecular Modeling Workbook(workbook includes SPartan View & SpatanBuild CD bound inside)
ISBN13:
9780132367318
by
Hehre, Warren J.
Summary
This workbook with CD features SpartanViewTM and SpartanBuildTM software. It includes a software tutorial and numerous challenging exercises that readers can tackle to solve problems involving structure building and analysis, using the tools included in the two pieces of Spartan software. Included are the molecular model files for the activities. Free when packaged with selected Pearson textbooks. A useful workbook for chemistry courses.
Table of Contents
| | |
| --- | --- |
| | Molecular Modeling in Organic Chemistry |

1
(2)

| | |
| --- | --- |
| | Background for Molecular Modeling |

3
(16)

| | |
| --- | --- |
| | How to Use Energies to Calculate Thermodynamic and Kinetic Data |

4
(3)

| | |
| --- | --- |
| | Molecular Orbitals. Quantum Mechanics in Pictures |

7
(5)

| | |
| --- | --- |
| | Electron Densities. The Sizes and Shapes of Molecules |

12
(4)

| | |
| --- | --- |
| | Electrostatic Potential Maps. Molecular Charge Distributions |

16
(3)

| | |
| --- | --- |
| | Tutorial: How to Use Spartan View |

19
(8)

| | |
| --- | --- |
| | Molecular Modeling Problems |

27
(64)

| | |
| --- | --- |
| | Are All Chemical Bonds the Same? |

28
(1)

| | |
| --- | --- |
| | Resonance Structures. The Sum of the Parts |

29
(1)

| | |
| --- | --- |
| | Localized vs. Delocalized Charge |

30
(1)

| | |
| --- | --- |
| | Acid-Base Properties and Partial Charge |

31
(1)

| | |
| --- | --- |
| | Acid-Base Properties and Charge Delocalization |

32
(1)
33
(1)

| | |
| --- | --- |
| | Eclipsed vs. Staggered Tetrahedral Carbons |

34
(1)

| | |
| --- | --- |
| | Steric Control of Alkane Conformation |

35
(1)

| | |
| --- | --- |
| | Mechanism of Ring Inversion |

36
(1)

| | |
| --- | --- |
| | Steric Control of Ring Conformation |

37
(1)

| | |
| --- | --- |
| | What Do Transition States Look Like? |

38
(1)

| | |
| --- | --- |
| | Electronic Structure of Transition States |

39
(1)
40
(1)

| | |
| --- | --- |
| | Structure of Free Radicals |

41
(1)

| | |
| --- | --- |
| | Singlet and Triplet Methylene |

42
(1)
43
(1)

| | |
| --- | --- |
| | Chromatography and Molecular Polarity |

44
(1)

| | |
| --- | --- |
| | SN2 and Proton-Transfer Reactions |

45
(1)

| | |
| --- | --- |
| | Steric Hindrance of SN2 Reactions |

46
(1)

| | |
| --- | --- |
| | Stereochemistry of SN2 Reactions |

47
(1)

| | |
| --- | --- |
| | Stability of Carbocation Intermediates |

48
(1)
49
(1)

| | |
| --- | --- |
| | Skeletal Rearrangements of Carbocation Intermediates |

50
(1)

| | |
| --- | --- |
| | Conformational Control of E2 Elimination |

51
(1)
52
(1)
53
(1)

| | |
| --- | --- |
| | Stereochemistry of Alkene Hydrogenation |

54
(1)

| | |
| --- | --- |
| | Electrophilic Addition of Br2 to Alkenes |

55
(1)
56
(1)

| | |
| --- | --- |
| | Alkyne vs. Alkene Reactivity |

57
(1)
58
(1)

| | |
| --- | --- |
| | The Pinacol Rearrangement |

59
(1)
60
(1)

| | |
| --- | --- |
| | Resonance Control of Conformation |

61
(1)
62
(1)

| | |
| --- | --- |
| | Electron Flow in Diels-Alder Reactions |

63
(1)

| | |
| --- | --- |
| | Thermodynamic vs. Kinetic Control |

64
(1)

| | |
| --- | --- |
| | Addition vs. Substitution |

65
(1)

| | |
| --- | --- |
| | Huckel's Rule. Cyclooctatetraene |

66
(1)

| | |
| --- | --- |
| | Nucleophilicity of Benzene and Pyridine |

67
(1)

| | |
| --- | --- |
| | Imidazole and Pyrazole. Where is the Basic Site? |

68
(1)
69
(1)
70
(1)

| | |
| --- | --- |
| | Directing Effects on Electrophilic Nitration |

71
(1)

| | |
| --- | --- |
| | Nucleophilic Aromatic Substitution. Addition-Elimination |

72
(1)

| | |
| --- | --- |
| | Nucleophilic Aromatic Substitution. Benzyne |

73
(1)

| | |
| --- | --- |
| | Infrared Spectra of Carbony1 Compounds |

74
(1)

| | |
| --- | --- |
| | Push-Pull Resonance. The Basicity of para-Nitroaniline |

75
(1)
76
(1)

| | |
| --- | --- |
| | Intra and Intermolecular Hydrogen Bonding |

77
(1)
78
(1)

| | |
| --- | --- |
| | Enolate Acidity, Stability and Geometry |

79
(1)
80
(1)
81
(1)
82
(1)
83
(1)

| | |
| --- | --- |
| | Structure of the Double Helix |

84
(1)

| | |
| --- | --- |
| | Structure of Glycine in the Gas Phase and in Water |

85
(1)
86
(1)

| | |
| --- | --- |
| | Structure of Polypeptides |

87
(1)

| | |
| --- | --- |
| | Spin Traps and Radical Scavengers |

88
(1)

| | |
| --- | --- |
| | Fatty Acid and Fats. What Makes Good Soap? |

89
(1)
90
(1)

| | |
| --- | --- |
| | Spartan Build. An Electronic Model Kit |

91
(6)
Index of Models
97