Note: Supplemental materials are not guaranteed with Rental or Used book purchases.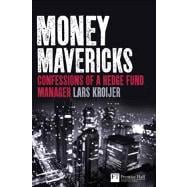 Money Mavericks : Confessions of a Hedge Fund Manager
ISBN13:
9780273731986
by
Kroijer, Lars
Summary
Money Mavericks: Confessions of a Hedge Fund Manager charts the founding, seemingly interminable rise and eventual closure of a fund which operated in London during the febrile years of 2002 to 2008. Shedding light on the incredible inside workings of hedge funds, it's a tale of a bubble industry in a bubble town during the bubble years. It tells the story of some very smart people who were trying to do something that was incredibly hard: beat the market. If they failed, the repercussions would be swift and severe. If they succeeded, the rewards would be massive. Having grown from a small and mainly US investment activity to become a global trillion-dollar circus, the hedge fund industry is often unfairly portrayed as a fee-charging gambling den. But forget what you've heard: this is the true story of the life of a hedge fund. 'I was immersed in the hedge fund industry for years and now I want to address the myths and misperceptions that surround the hedge funds. I often feel that my six years of running Holte Capital was one long blur of human drama with triumph and failure following each other in quick and merciless succession. If you have ever been given the impression that the world of hedge funds is driven by meticulously-planned and well-coordinated dark forces, I hope my story will enlighten you.' Lars Kroijer
Author Biography
Lars Kroijer was the CEO of Holte Capital Ltd, a London-based special situations hedge fund which he founded in 2002 before returning external capital in the spring of 2008. Prior to establishing Holte Capital, Mr. Kroijer served in the London office of HBK Investments focusing on special situations investing and event-driven arbitrage. In addition, he previously worked at SC Fundamental, a value-focused hedge fund based in New York, and the investment banking division of Lazard Freres in New York. Mr. Kroijer graduated Magna Cum Laude from Harvard University and received a MBA from Harvard Business School.
Table of Contents
Acknowledgements
p. ix
Introduction
p. 1
Getting ready for Holte Capital
p. 5
Becoming a hedgie
p. 7
Taking the plunge
p. 19
Starting a hedge fund
p. 29
On the road
p. 43
Limping to launch
p. 51
Becoming the real deal
p. 61
Mickey Mouse fund
p. 63
Breaking through
p. 69
Scaling up and meeting the Godfather
p. 77
The real deal
p. 85
Being corporate
p. 89
Activist investor
p. 97
A day in the life
p. 107
On the front line
p. 117
Getting fully examined
p. 119
Blood in the streets
p. 127
Edge
p. 131
Made it?
p. 137
Friends and competition
p. 145
Making your commissions count
p. 149
Are we worth it?
p. 157
The fast road down
p. 165
Feeling grim
p. 167
A bad day
p. 175
A bad run
p. 183
Going home
p. 189
Rethinking Holte Capital
p. 195
Are hedge funds really safe places for your money?
p. 201
Table of Contents provided by Ingram. All Rights Reserved.